It's Taco Tuesday! Here are 3 ice cream tacos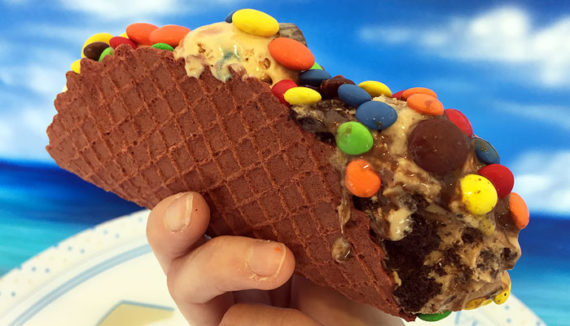 Taco Tuesdays usually mean extra deals and long lines at your favorite Mexican place. But now they have added significance: ice cream tacos.
The first time I saw waffle ice cream tacos was at Ben & Jerry's in Ward Village. They launched their Chillaco ($6.99) toward the end of April, and it's a limited-edition item (basically, it's available until supplies run out). This concoction features not one, but two house-made waffle tacos — a soft outer taco and a crunchy inner taco — sandwiched together with a gooey caramel layer. It's stuffed with two scoops of ice cream and topped with chocolate sauce and Oreo cookie crumbles.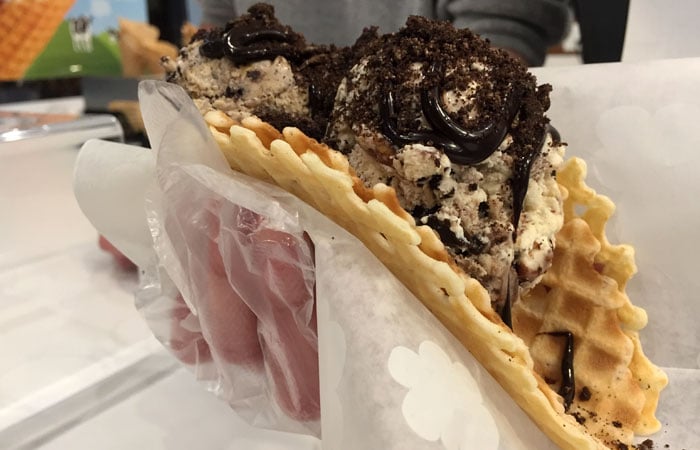 This one's worth trying, due to the generous scoops of ice cream and the double taco layer. Just ignore that 800-calorie note at the bottom of the menu description.
This made me curious to see if I could find something similar at local ice cream shops. As I discovered, there are only a few other places on the island that serve ice cream tacos.
So, which one's the best? Here's a rundown of three. You decide which one meets your sweet tooth needs.
CC Cookies & Cream's CC taco
You can get chocolate waffle tacos any day at this ice cream shop in Kailua, but the red velvet waffle taco ($6.25) is only available on Tuesdays.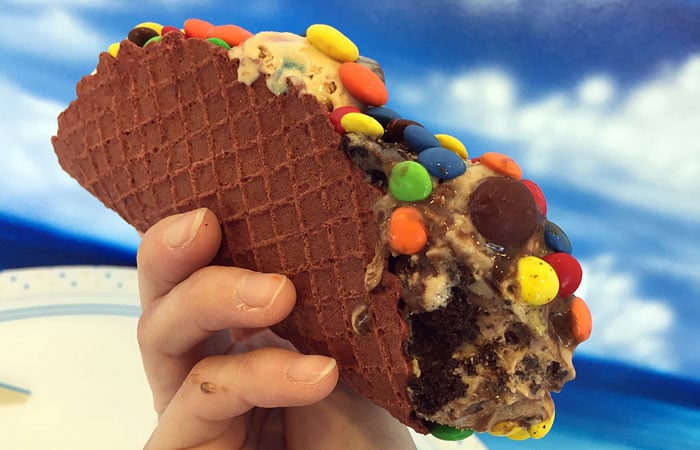 Ice cream tacos come with any three scoops of ice cream and three toppings of your choice. Pictured: chocolate chip cookie dough, Kona Coffee chocolate pie and cookies & cream ice cream topped with M&Ms, Reese's pieces and Nutella drizzle.
Three scoops of ice cream sounds massive, but it's really not. The scoops are tiny — like, gone-in-three-bites-or-less tiny. But this is a great way to sample several flavors of glorious ice cream at once. The Kona Coffee chocolate pie is one of the top flavors, and probably my favorite of the ones I got. The coffee flavor is strong, but the rich chocolate balances it perfectly.
The waffle taco is the crowning glory. While the red velvet flavor is subtle, it's almost paper-thin and perfectly crispy all around, like homemade, fresh-off-the-griddle waffles should be.
Waffle tacos are made to order, but I guarantee it's worth the slight wait. Plus, on Taco Tuesdays they're 75 cents off. All the more reason to go.
CC Cookies & Cream • 609 Kailua Rd. • Kailua • 262-7726
Barrio Cafe's ice cream taco
Barrio Café used to serve ice cream tacos only on Tuesdays, but now you can call before you head out to Wahiawa to see if they have it. I get mine on a Saturday.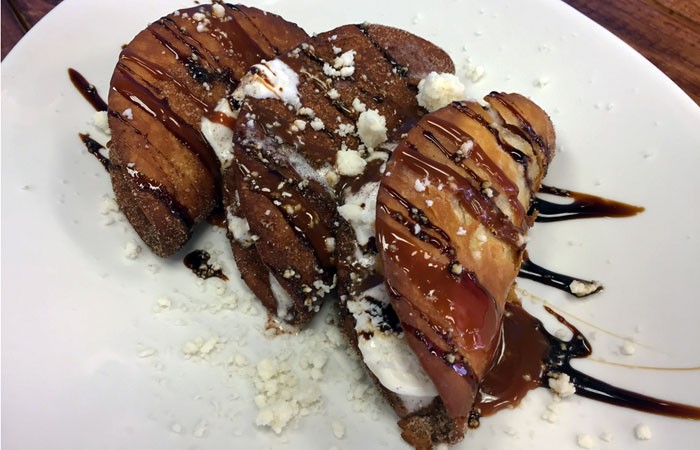 Each order ($5) comes with three small tacos and three tiny scoops of ice cream.
Before inhaling these, I expect the same sugar rush that I get from CC's ice cream taco. But Barrio's is completely different.
This one's not a sugar overdose. The petite flour tortillas are deep-fried to a golden-brown and liberally coated in cinnamon sugar. They're basically like churro-flavored tortilla chips — super, super crunchy.
Each taco contains a tiny scoop of vanilla ice cream (Breyer's, I'm told), but that's not the main attraction. The game changer is the cotija cheese. There are chunks in each taco and all over the plate. Barrio's owner says she adds it to balance the flavor so it's not overly sweet.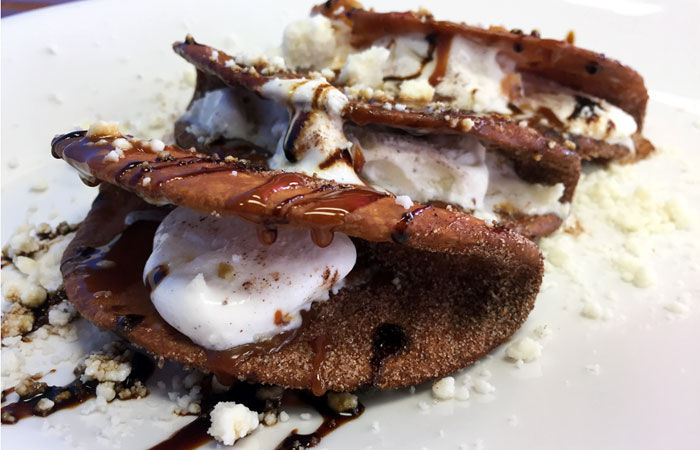 Who would have thought that cheese in an ice cream taco could work so well?
Barrio Cafe • 672 Kilani Ave. • Wahiawa • 622-3003
Cream n' Roll's waffle taco
Rolled ice cream is the current trend, and Cream n' Roll — which grand-opened in Moiliili in early June — is one of the newest shops on the island to feature it. Each cup of rolled ice cream costs $7; a waffle taco is 50 cents more. Small price to pay for a tantalizing, Instagram-worthy treat.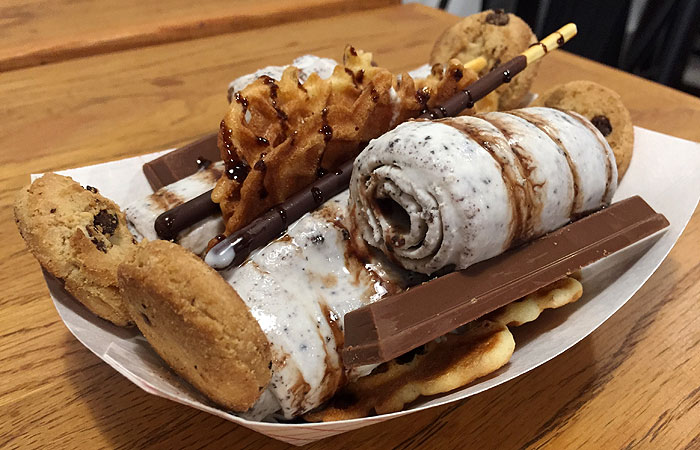 This waffle taco ($7.50) features the original base flavor with cookies 'n cream mixer, chocolate chip cookies, Kit Kat, Pocky sticks and chocolate syrup.
To create a waffle taco, you pick a base flavor (original, milk tea or matcha), a mixer (choices range from black sesame to ube), two toppings and a drizzle (chocolate syrup, honey, condensed milk or caramel).
Waffle shells are made in-house, but not to order. I'm surprised by the waffle's thickness — it's not as delicate as CC's, but I like the breadier texture and slightly crispy exterior. It's completely reminiscent of thick, chewy breakfast waffles. I suppose the waffle needs to be durable to hold four luscious rolls of ice cream. The ice cream itself is good — immediate sugar rush — and the DIY appeal explains the long lines out the shop's door.
You have to pound this ice cream — it melts fast.
Cream n' Roll is worth checking out for the waffle taco, but be forewarned — the ice cream melts at an alarming rate. So don't spend too much time taking pictures of your creation.
Cream n' Roll • 1010 University Ave. • Moiliili • 943-1508
All these ice cream tacos are totally different, so it's hard to say which comes out on top. It all depends on what you're craving. But I will say it's worth making the trek out for any of them … especially on these hot summer days.