Is this Instagrammable soft serve worth $16?
The answer depends on how Insta you are and if you're feeling extra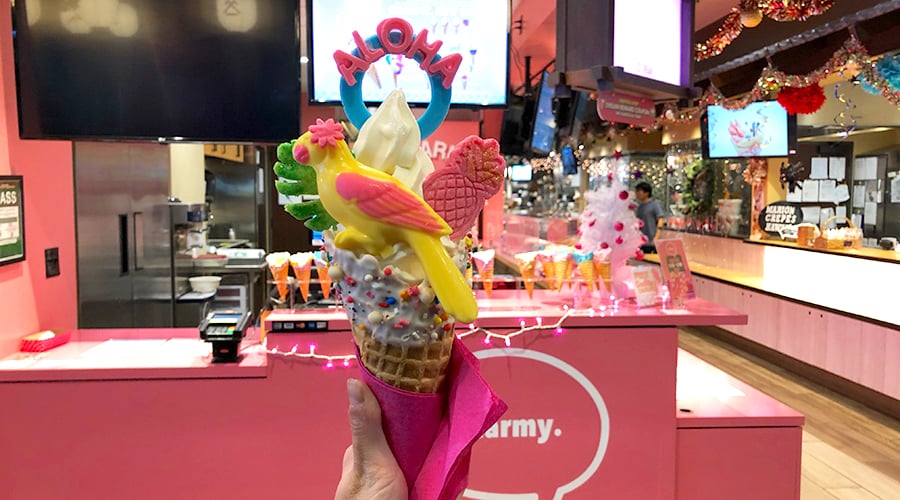 Q: Is this highly Instagrammable soft serve worth $16?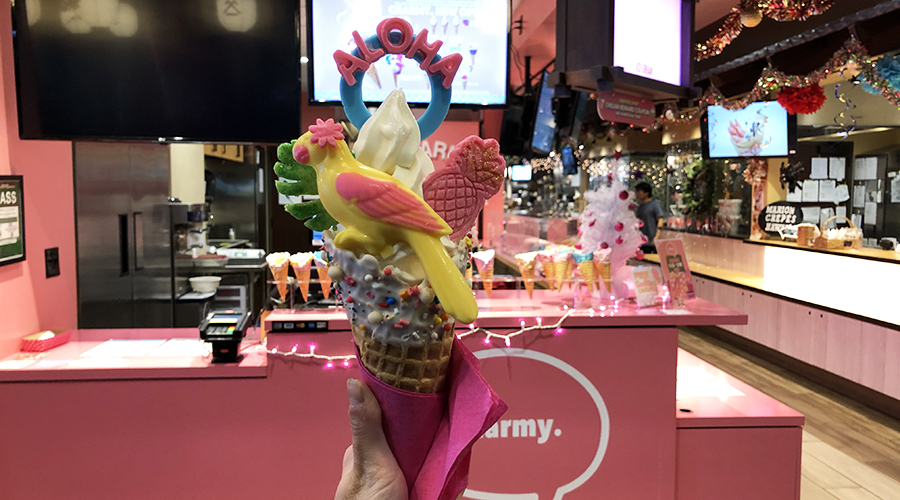 I've been on a soft serve splurge lately. With SomiSomi Honolulu, Aloha Confectionery and Gimme Chills opening just in the last few weeks, satisfying my dessert craving is easier than ever.
Now yet another shop has opened, making it the fourth soft serve at Ala Moana Center: Charmy in Shirokiya Japan Village Walk.
It's easy to find. Just look for the bubble gum-pink kiosk across from Marion Crepes. The hard part is deciding whether to blow $16 for their ultimate Instagrammable cone.
Charmy has been open for about a month now and hails from Tokyo's trendy Harajuku district, where it has a cult-like following. So the prices shouldn't surprise you.
The Hawaii cone is only available here. It's actually not on the menu, but ask any staffer about it and they'll give you this: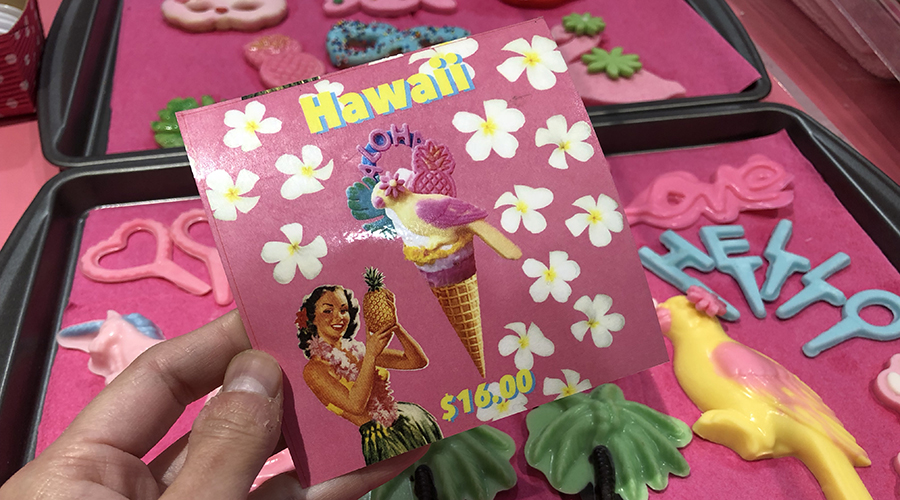 What you get for $16
Your choice of soft serve (vanilla, strawberry or swirl) + two shortbread cookies (leaf and pineapple) + chocolate bird + cone of your choice
I sampled both soft serve flavors and went with traditional vanilla, which is icier and less creamy than the soft serves from Aloha Confectionary and SomiSomi. If you like sorbet, go with strawberry. It's refreshing, more tart and a great option for those who prefer fruitier flavors. As a sorbet, strawberry is also dairy-free, a welcome choice for those like me who are borderline lactose intolerant.
About the toppings: The shortbread cookies and chocolates are made in house. Thankfully, the chocolates don't taste as waxy as they look. They're made of white chocolate and a healthy dose of food coloring. The waffle cone toppings are all made here, too. Some even have bits of dried mango and raspberries on the rim.
Once you've chosen your soft serve flavor(s) and waffle cone (the hardest part, IMO), you can watch your creation being made. Then of course you'll have to take a picture by the Charmy sign or by the adjacent pink telephone booths. This dessert was obviously designed for the Gram — so be sure you document it.
Added incentive: If you tag Charmy Hawaii on Instagram, you can get a free chocolate or topping on your next visit. If there is a next visit.
A: Maybe.
Whether your $16 was well spent honestly depends on your soft serve preference, how Insta you are and how extra you're feeling. My foodie friend raves about Charmy.
If you want to treat yourself to an over-the-top soft serve — and do it for the Insta — then you'll have plenty of photo opps here.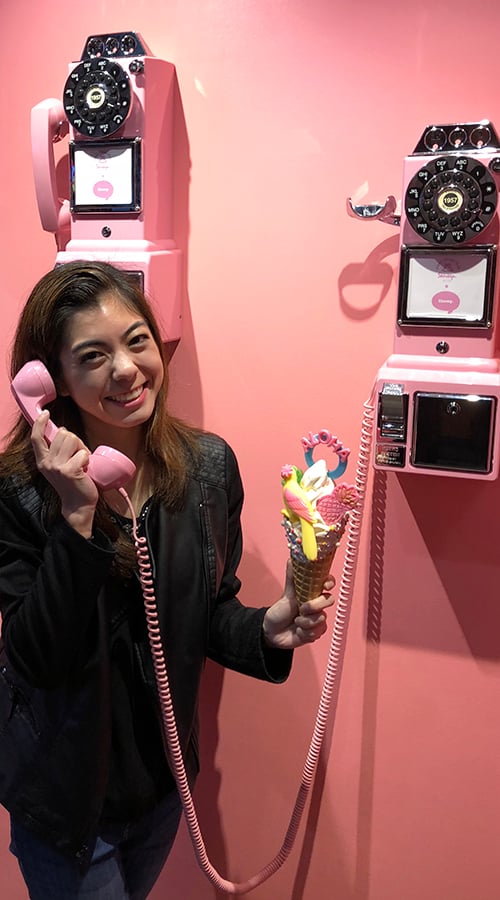 But if you're looking for top-notch soft serve that matches the price point, I would pass. This one's not bad, and I'm glad I tried it. But it's icy and not as creamy as I would like, plus the flavor's not as strong as other soft serves. It was worth the gamble once, but for $8 — which would get you Charmy's plain soft serve without any toppings — I'd rather head to Aloha Confectionery, where the intensely milk-flavored soft serve cone comes decked out with toppings.
Charmy Hawaii (inside Shirokiya Japan Village Walk)
1450 Ala Moana Blvd.
Ala Moana
Mon-Sat 10 a.m.-9:30 p.m., Sun 10 a.m.-8:30 p.m.
Instagram: @charmy.hawaii
See our other soft serve coverage:
Gimme Chills: a new soft serve shop with a Korean twist
Wait, Ala Moana has a third soft serve: SomiSomi is open
Two soft serve spots opened at Ala Moana. So let's compare
Kawaii alert: New Kokoro Cafe's Instagrammable desserts