Insider's guide to Hallowbaloo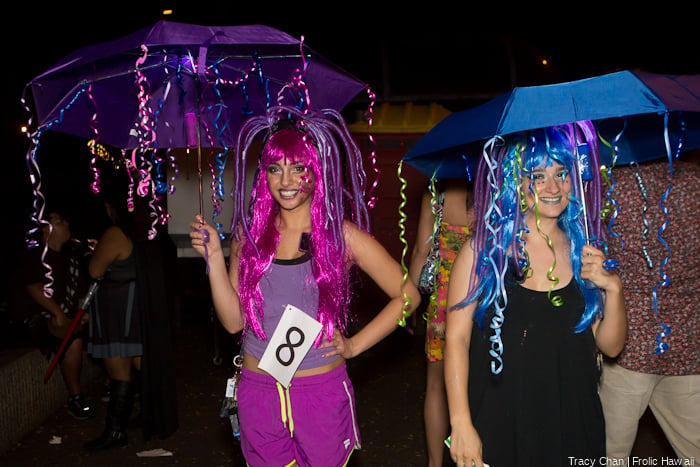 (Sponsored)
Why do we like Hallowbaloo so much? Why is Saturday's street fest THE place to celebrate Halloween? Take it from one who's covered it for years: Here's what to look for at this year's Hallowbaloo.
For performance times and a complete schedule, please visit hallowbaloo.com or follow the festival on Facebook, Twitter and Instagram.
Hallowbaloo Music and Arts Festival
Saturday, Oct. 29
4:30 p.m. – 2 a.m. (block party runs til 11 p.m.)
Hawaii State Art Museum
Corner of Richards and Hotel streets
Cost: $15 for the block party (limited availability); $40 presale (last tier available, 21+ ) for Club Hallowbaloo. $75 for Fast Pass (express priority entry into block party and Club Hallowbaloo venues, 21+)
The costumes
The advantage of an outdoor festival is that truly magnificent but bulky outfits that wouldn't fit into a club work perfectly on the street. And often people will bring a better costume game to a street festival because they'll get to show off in front of more spectators than they would in a club.
Psst, Game of Thrones fans, there's a really good chance that you'll be able to take a photo with JHM Productions' Iron Throne again this year.
The visiting talent
Hallowbaloo has brought out strong headlining talent since its first year, including international names like soul legend Booker T. Jones, New Orleans hip-hop and bounce artist Big Freedia, Australia's Xavier Rudd and California indie rockers Delta Spirit.
This year we're in for a treat as Erykah Badu returns to Honolulu as her DJ persona Lo Down Loretta Brown with some funky, high-energy neo-soul, hip-hop and R&B musical mixes. She'll be joined on The Grandest Spectacle Stage (HiSAM front lawn) by talented Nigerian-American slam poet and singer Iyeoka and groovy guitarist/drummer duo Charlie Hunter and Scott Amendola.
The local DJs and musicians
Organizer Mark Tarone taps talented friends including dancers, DJs, musicians, street performers and sound and lighting pros to put on a production worthy of a world-class stage. Expect to see a lot of local creatives this year: musicians Makana, Quadraphonix, Tavana, Good Foot, Siire and Jamarek and the crew from Activ8 Electro Jazz Circus; and some of our favorite feel-good DJs including DJ Mr. Nick, DJ Annalog, Melody Jay, Toki and Godiva. The music will range from Island music to funk and soul to alternative rock.
The street and aerial performers
Amazing aerial and fire artists from Samadhi Hawaii and Kalalea Dance will be gracing the lawn and trees at HiSAM. Twisting and twirling in the air, they are truly a spectacle to behold and add to the festive atmosphere.
Keep an eye out for other street performers, too: magicians, stilt walkers and who knows what else!
The food
So good it's scary! Start with dinner and make a night of it with the street food vendors at the block party. Grab a locally sourced burger and ulu (breadfruit) fries from Square Barrels, or a yummy crepe from Delice Crepes. Other vendors serving signature bites of various cuisines include Nosh, Hawaii Hotdogs, Istanbul Restaurant, Hawaii Fresh Farms, Olay's Thai Express and India Cafe. Kombucha lovers, be sure to check out Sky Kombucha Bar & Lounge.
The venue
When it was in the heart of Chinatown, Hallowbaloo was a completely off-the-hook street festival. But logistical and permitting issues resulted in a move over to the Richards Street side, where the Hawaii State Art Museum could showcase the art and music the festival is known for.
You might not know it, but HISAM has a lot of history behind its beautiful white walls and arches. Built in 1926 on the site of the former Armed Services YMCA Building, it used to be a hotel – there's actually still a swimming pool. Inside, the museum's three galleries house a permanent display of art that reflects the essence of Hawaii's ethnic and cultural traditions through the creativity of local artists.
If you buy a ticket to the VIP Hallowbaloo Ball, you'll get to see a little more of this historic building. Plus you'll have a great view of the festivities from the second story balcony and access to an air-conditioned lounge, delicious food and cocktails.
The Hallowbaloo Club Crawl afterward
After the block party is over, costumed revelers traditionally spill out into the Chinatown nightclub district for a club crawl. Participating venues include Bar 35, Nextdoor, Downbeat Lounge, Manifest, Ong King Arts Center, The Arts at Marks Garage and Scarlet Honolulu. This year brings the addition of Aloha Tower Marketplace as a second hot spot.
A free trolley will take you to Aloha Tower venues Nashville Waikiki, Hooters and Gordon Biersch. It's 11 clubs for one cover, but we recommend you get presale tickets to Club Hallowbaloo, as they have sold out in the past.