In the Mood for Tonkotsu Ramen? Head to King Street
(Sponsored) Golden Pork Tonkotsu Ramen Bar serves ramen and tsukemen (dipping noodles) with a specialty broth that's simmered for 23 hours.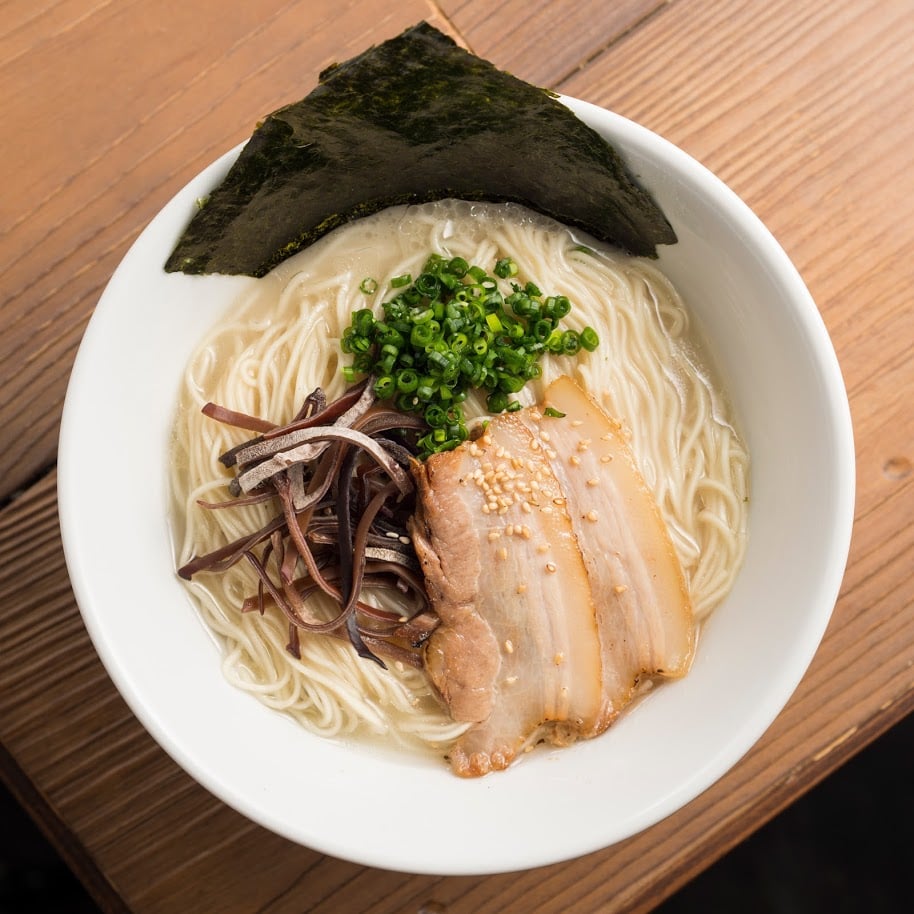 Now through January 2021, use your First Hawaiian Bank Mastercard at any 2020 Hale 'Aina Gold-winning restaurants and you'll receive double points on your purchase.
Unctuous, savory and sating, tonkotsu ramen is one of those dishes I have to be in the mood for. But when I do have a craving, there's no adequate substitute. Tonkotsu (not to be confused with the breaded and deep-fried tonkatsu, a rookie mistake) ramen originated in Fukuoka, Japan, and remains one of the prefecture's specialty dishes. Its broth—which gets its silky thick texture from pork bones, boiled for several hours—is the star of the show and best highlighted with sturdy, al dente noodles.
The 2020 Hale 'Aina Silver winner for Best Japanese Noodles, Golden Pork Tonkotsu Ramen Bar is located on King Street near Sheridan Street and specializes in—you guessed it—tonkotsu ramen. Actually, that's the only type of broth the restaurant offers. You won't find shoyu, shio or miso ramen on the menu; instead, it focuses on making one broth and doing it well. Here, the broth is cooked for a whopping 23 hours and made fresh each day, resulting in a wonderfully concentrated and flavorful soup that's offered in three flavors: classic, spicy and black garlic.
Guests can choose between a steaming bowl of ramen or tsukemen (quite possibly my favorite Japanese noodle dish of all time, and surprisingly difficult to find in the Islands), a dipping-style dish where noodles and broth are served separately. And, while the broth remains the same, everything else, from noodle thickness to portion size to toppings, are all customizable to your tastes.
Golden Pork's menu includes an impressive appetizer list, which ranges from traditional (gyoza, tako wasabi, grilled mackerel) to fusion (Golden Pork Bun, Caesar Salad, soft-boiled egg kimchee), along with an assortment of rice dishes, desserts and 21-and-older drinks.
For more information, visit Golden Pork Tonkotsu Ramen Bar's website or follow @goldenpork_hi on Instagram. To place an order, call (808) 888-5358 or order online through Bite Squad, Uber Eats or DoorDash.