In Our February Issue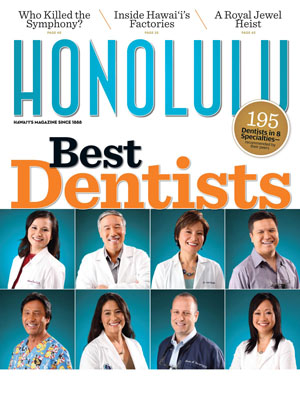 Interesting fact we learned as we pulled together this Best Dentists issue: Hawaii's senior citizens have the highest rate in the nation of keeping their own, natural teeth past age 65. The quality of our dental care may have something to do what that. If you need to find a dentist, start your search with the "Best Dentists in Hawaii," where you'll find 195 dentists in eight different specialties.
How do we know they are the best? We detail the methodology in the article, but the short version is we used a peer survey of the dentists themselves to find out which dentists they themselves would recommend.
At HONOLULU Magazine, we like to take you behind the scenes to understand how things work in the world around us. I'm excited about two features this month, which do just that.
One is a photo essay, "Machine Age," in which we visit a few of the factories and industrial plants that do everything from put bread on our tables to keep the lights on in our homes. H-Power. Tesoro. Love's Bakery. All these and more. So many of our workplaces look alike these days—cubicles and computers—that we were fascinated by these places where people use the most amazing looking machines to make real things. We hope you are too.
The other backstage glimpse is on a more sober subject, the loss of the Honolulu Symphony at the end of 2010. Associate editor Tiffany Hill spent months talking to symphony musicians, supporters, board members and staff through the bankruptcy proceedings. Her article, "The Day the Music Died," on page 118, analyzes what went wrong. View the video preview.

You'll find a related piece of local history trivia on my Editor's Page. Hardly anyone remembers this now, but the symphony closed down for nine years after World War I, before getting revived in the 1920s. Perhaps what we're seeing is another pause and not the end.
Pick up the February issue in stores, or buy the digital edition now.