'Ili'ili Cash & Carry Debuts New Pizzas by the Slice Every Tuesday
One day a week, the Mō'ili'ili store's new Roman-inspired pizzas take over the case with eight varieties.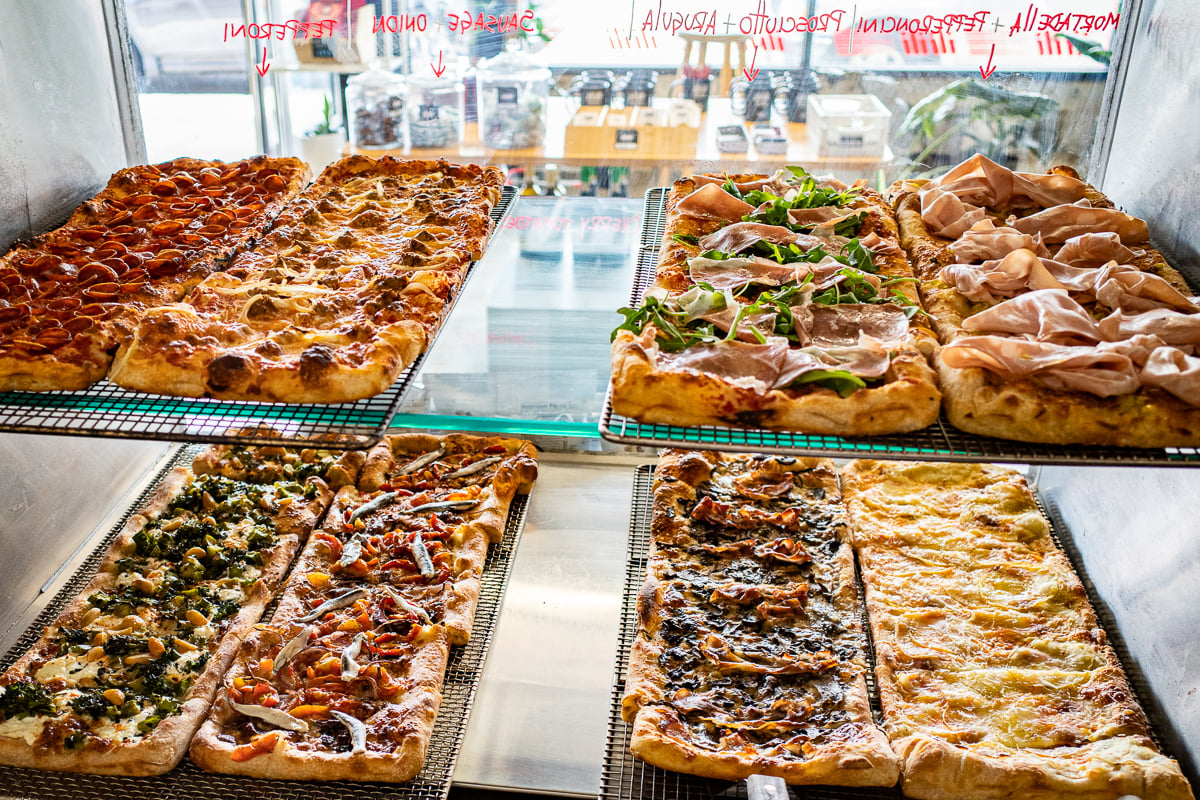 Nearly two and a half years since opening 'Ili'ili Cash & Carry on Beretania Street, Alejandro "Aker" Briceno and Lindsey Ozawa haven't stopped tweaking. Whether it's the product mix lining the shelves or the hydration level of the pizza dough, not much is the same as day one. Recently Briceno and Ozawa decided it was time to roll out a new style of pizza. Inspired by the Roman-style pizza al taglio, or pizza by the cut, the eight new pizzas are offered on Tuesdays, signaling another evolution for the bodega.
"I've had this idea at the back of my mind for years," Briceno says from the kitchen window. "I figured now was the time to start. It's a lot more work, but we've been tweaking our recipe since we opened. Even the pizza we make today isn't the same as the ones we made when we first opened."
This pizza style differs from 'Ili'ili's standard offering of New York round and Sicilian square pies. With the new dough and long and narrow steel baking pans, Roman-style slices are limited to Tuesdays because it would disrupt their workflow otherwise. The results are a thinner crust with bubbles that create crispy edges.
The eight variations range from the familiar pepperoni, sausage and onions to slightly more adventurous and luxe additions of sliced mortadella and anchovy fillets. Others skew more artisanal, like potato with spicy 'nduja sausage, and prosciutto with arugula. Slices are $6 each for walk-in customers. In Italy, pizza al taglio is priced by weight (per 100 grams) and cut to order with scissors. You tell them how much you want, it's cut and weighed and you're out the door. The process is simpler at 'Ili'ili, but the spirit of pizza al taglio is the same. I like that these slices span the width of the pan, even if that means only the two end slices have corners.
---
SEE ALSO: Mō'ili'ili's New Pizza and Hoagie Shop Opens on Beretania
---
When these pizzas debuted, I popped by for a snack. Chef Hui's Mark "Gooch" Noguchi was raiding the pizza case when I walked in. We got our slices and ate them on the bench outside. Pieces of mortadella on my slice concealed neon green shreds of pepperoncini. The contrast of the mildly porky sausage with the sharp, acidic spikes of pickled peppers on the chewy, thin crust made this easily one of the best bites I've had this year.
On another visit, I grab two more slices: the potato and 'nduja and the mushrooms and pancetta. Both earthy and comforting, these pizzas pair ingredients as if they were soulmates.
If you're not in a rush, I promise that sitting out there with a slice in hand is one of the best forms of therapy. Luckily, these new pizzas aren't in a rush to leave either. They'll be around indefinitely as Briceno and Ozawa continue to tweak the dough recipe.
Available Tuesdays from 11 a.m. to 7 p.m. or sold out. 2065 S. Beretania St., @iliili_cash_carry