Ice cream taco face-off
Which local spot does it better?
Taco Tuesdays usually mean extra deals and long lines at your favorite Mexican place. But now, they have added significance: ice cream tacos.
There are only a few places on the island that serve ice cream tacos, but which one's the best? Here's a face-off between two ice cream tacos, and you can determine which is better suited for your sweet tooth.
CC Taco: CC Cookies & Cream
While ice cream waffle tacos are always available at CC, the red velvet waffle taco ($6.25) is only available on Tuesdays (chocolate waffle tacos are used otherwise).
Three scoops of ice cream sounds massive, but it's really not. The scoops are tiny — like, gone-in-three-bites-or-less tiny. But this is a great way to sample several flavors of that glorious, locally sourced ice cream at once. The Kona Coffee chocolate pie is one of the top flavors, and probably my favorite of the ones I got. The coffee flavor is strong, but the rich chocolate balances it perfectly.
The waffle taco is this concoction's crowning glory. The red velvet flavor is subtle, but the texture is on point. It's paper thin and perfectly crispy all around, like a batch of homemade, fresh-off-the-griddle waffles should be.
Waffle tacos are made to order, but I guarantee it's worth the slight wait. Plus — if you get a CC taco on Taco Tuesday, there's a slight discount (75 cents off). All the more reason to go.
CC Cookies & Cream | 609 Kailua Rd. | Kailua | 262-7726
Ice Cream Taco: Barrio Café
Barrio Café's ice cream tacos were initially featured only on Tuesdays, but now, just call the café before your visit to see if they have it. I get my tacos on a Saturday since supplies are available.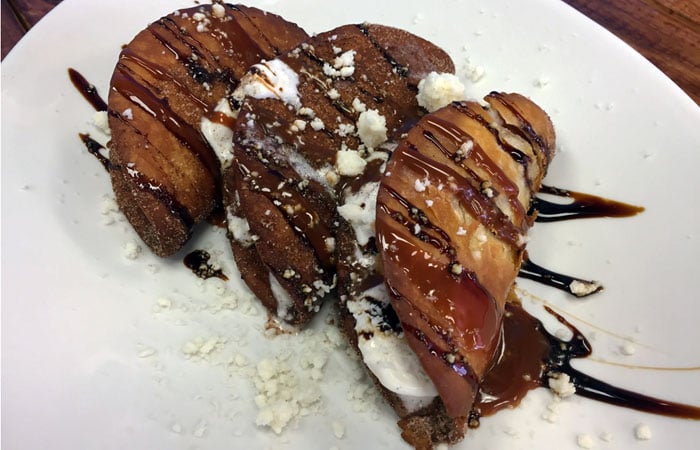 Before inhaling these, I expect the same sugar overload that I get from the CC's ice cream taco. But, Barrio's sweet taco is completely different.
Yes, it's sweeter than a savory taco, but it's not a sugar overdose. The petite tacos (made from flour tortillas) are deep fried to a delectable golden-brown and liberally coated in cinnamon sugar. It's basically like a churro-flavored tortilla chip.
Each taco contains a tiny scoop of vanilla ice cream (Breyer's, I'm told), but that's not the main attraction. The game changer is the Mexican cheese (Cotija). There are chunks in each taco and all over the plate. Barrio's owner says she adds Mexican cheese to these ice cream tacos to balance the flavor, so they're not overly sweet.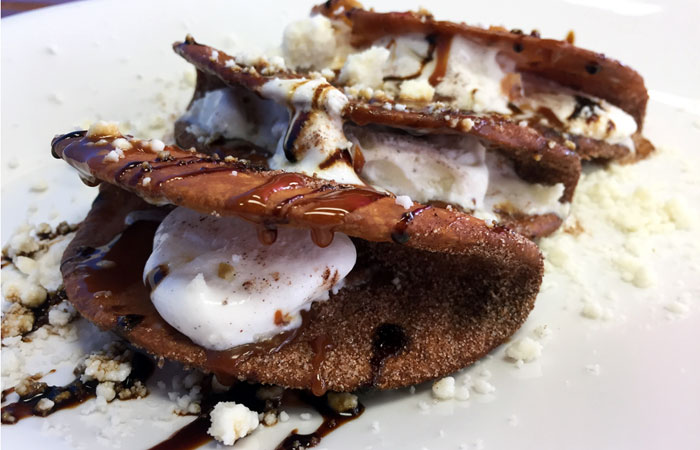 Because these two ice cream tacos are totally different, it's hard to say which comes out on top. It all depends on what you're craving. But I will say the trek out to Kailua or Wahiawa for either is worth it … especially with those hot summer months coming up.
Barrio Café | 672 Kilani Ave. | Wahiawa | 622-3003