Ice Cream and Malassadas Worth the Drive to Lā'ie
New Zealand-style ice cream cools you off and Penny's has the best malassadas on the island.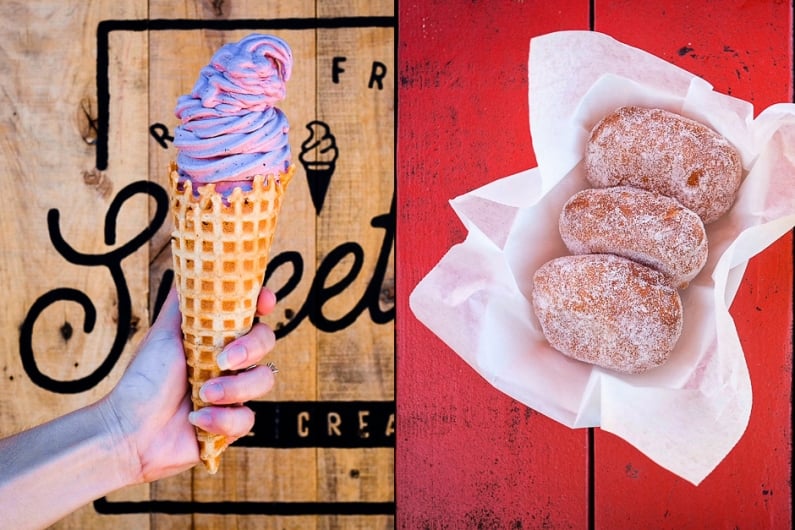 "Sweet as" is a Kiwi term most often used instead of "awesome" or "great." It's also the name of the newest vendor at Polynesian Cultural Center's Hukilau Marketplace and the first of two sweet reasons you need to hit up Lā'ie ASAP.
I came across Sweet As on Instagram. They claimed to have O'ahu's first and only New Zealand-style fruit blended ice cream. I didn't know what that meant but I knew I needed to have it.
What makes it NZ-style? Do they use dairy from NZ? A Vitamix blender? Is kiwifruit an option? These and a dozen other questions filled my brain. I looped in Kelli Shiroma, Frolic Hawai'i associate editor and undisputed queen of soft serve cones, and convinced her to clear her Friday schedule for a circle-island jaunt. What started out as a small goal to explore the windward coast ended up being a daylong sugar coma.
Sweet As is next to the smoothie stand in the center of Hukilau Marketplace, a collection of shops and eateries that line the entrance to the Polynesian Cultural Center.
The three ladies in line ahead of us were locals, two from 'Ewa Beach and the third from Waianae. As they double-fisted $8 cones and $10 smoothies, they proclaimed the ice cream completely worth the hours-long journey from the opposite side of O'ahu.
Having driven the same distance from Makakilo, that made me even more eager to try it. Was it the 91-degree heat speaking or was the ice cream really that good?
Start with a base of vanilla, coconut haupia or chocolate ice cream or a vegan coconut sorbet, all made by Roselani Tropics on Maui. Next, select one or  two frozen fruits from an ice chest filled with mango, strawberries, blueberries, mixed berries and pineapple. They'll sometimes have a special flavor of the week like peach or local apple banana. 
Two large scoops of ice cream and one cup of frozen fruit are loaded into a cone-shaped machine. At the touch of a green button, the hand-built Little Gem blender from New Zealand springs to life and swirls out your perfectly blended fruit ice cream creation. It's so satisfying to watch it dispense effortlessly into your fresh waffle cone.
Piña coladas are my guilty pleasure so I go all in for the haupia base blended with pineapple. The ice cream, strong-armed out of a tub, swirls out as a luscious, fruity soft serve. The delicate waffle cone is crisp and holds up just long enough to contain most of the drips—though napkins are highly recommended as the ice cream will succumb to the heat faster than you think.
Kelli goes on the recommendation of the gal working the stand, who says to blend strawberries and mixed berries with vanilla ice cream. The result isn't as sweet as we expect, but the texture holds up better in the unrelenting heat. It's just okay. Since there are way more options, you should dial in what you really like. 
What surprises me more is the size: It's at least double that of a standard McDonald's vanilla cone. For $9 (ask for the $1 kama'aina discount) it's pricey but can easily be shared between two adults. A keiki cone is roughly the size of a McDonald's cone for $6 and a cup is $8.
Before we jump back in the car, we detour to Penny's Malasada truck near the tour bus drop-off area and parking lot. Penny's has another truck in Kahuku (as if that's any closer) but PCC is their original outpost, opened just over a year ago.
Walking up, we notice a bunch of people knocked out at shaded picnic tables with empty brown boxes and sugar-dusted smiles. There's a small line waiting to place their orders at the pink-and-blue truck. We suspect we may have stepped into heavy sugar coma territory.
Being malassada purists with an ounce of will power, we follow our Kiwi ice cream with a basket of three plain white sugars and a mango lemonade. Kelli wants an iced coffee, but the cold brew isn't ready at 11:30 a.m. With only one person working the truck when we arrive, the malassadas are fried up in smaller batches. They'll often close for 10 minutes at a time to fry more.
I would never rush perfection so this is completely fine with me.
Baskets (or boxes) come with three, six or 12 malassadas, the last $20.68 a box. Stuffed malassadas cost more per piece and rotate daily with various custards, creams and fruity fillings. If you're just downright crazy, you can take on the malassada challenge, which pits you and 12 piping hot malassadas against three minutes on the clock. Finish them all and you'll win a year's supply of malassadas.
Biting into a Penny's malassada is like diving into a plush, delicious bed. The yeasty airiness is unparalleled and the satisfying egginess of the dough hits all the right notes of a proper doughnut. These sugary pillows are light, chewy and easily scarfable (if you're not worried about burning your mouth). I grew up on Leonard's Jr. malassadas from the red-and-white truck in Waikele and have eaten many others in my time. One bite of Penny's instantly changes me: They're the best malassadas money can buy.
That malassada challenge may not be so out of reach after all. I'm sure my dad could do it without breaking a sweat. I try bringing a box home but they don't even last the walk to the car.
There's always next time.
Editor's note: We know, we know! Malassadas is spelled two ways in this post. As part of the HONOLULU Magazine family, Frolic follows magazine policy of spelling it with two s's, which is how it's spelled in its native Portugal. When including it as part of a proper name, like Penny's Malasada truck, we spell it the way it's intended.