I Ended Up at Mahi'ai Table in Kapolei Three Times in One Week … and Loved It
The restaurant's first menu update since opening transitions superbly from pau hana snacking to family-style dining.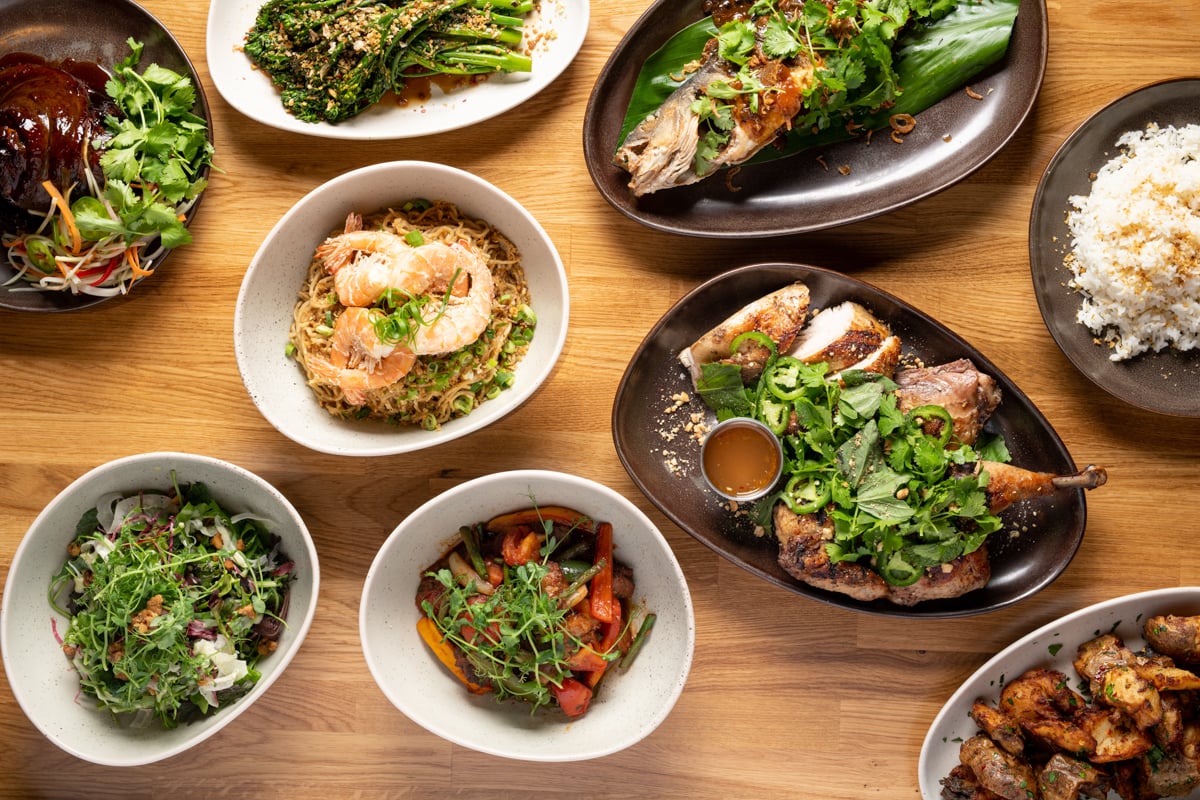 I'm not bragging when I say that I ate at Mahi'ai Table, the restaurant inside Foodland Farms at Ka Makana Ali'i, three times within a week. I mean, that wasn't even the plan. My first visit, Foodland invited me to try items on the new menu. That weekend, after Poke Fest, I find myself back with the Frolic team for impromptu pau hana drinks and snacks. A few days later my parents, who are staying in 'Ewa Beach, decide to organize one last family dinner before they head back to the mainland. "How about Mahi'ai?" Mom innocently suggests.
"Can!" I reply, knowing I'll have to brave the peak of rush hour traffic from town. Why? Because my parents are worth it, but so is the restaurant's first menu update since it opened last summer.
---
SEE ALSO: First Look: Foodland Farms' New Store and Restaurant, Mahi'ai Table
---
While chef de cuisine Jonathan Donoghue holds onto a few entrées for solo diners like the juicy Hawai'i Meats Burger and the earthy Ali'i Mushroom Pizza, many of his additions are family-style platters and shareable pūpū that are discounted $2 during a midafternoon happy hour. That makes the transition from pau hana to dinner too easy.
Speaking of pau hana, it's daily from 2 to 4 p.m., and also includes discounted beers and cocktails. But I'm here for the food.
Start with the "Poke" Potatoes ($8), a new dish that taps into Foodland's poke prowess but switches up the 'ahi for torn and fried potatoes. The spuds get tossed with oyster sauce and a three-chile aioli before creamy avocado, pops of masago, sweet Maui onion and curly frisée are layered on top. It's a delightful mix of sweet, salty and spice that lingers on the brain—I order it on each of my subsequent visits because it's that good.
At my table, the Scallion Bread ($8) disappears faster than the kitchen can make it. Mahi'ai's pizza crust gets dressed with ginger scallion sauce, fired and topped with gochugaru chile powder and Parmesan cheese. Hot tip: Ask for a side of ranch dressing—it completes the carb indulgence with a spot of cool creaminess. One dish that doesn't disappear are the Lechon-style Brussels, bathed in patis vinaigrette with Maui onion, Ho Farm tomatoes and crispy pipikaula. These do not live up to their name. Instead, the Brussels sprouts are a little too bitter with none of the vinegary punch that livens up the Filipino delicacy they're named after.
---
SEE ALSO: First Look: Foodland's Chic New Restaurant Et Al in Kāhala
---
The Sticky Ribs ($16) are one pūpū that can easily transform into an entrée with a bowl of rice. Fall-off-the-bone baby back pork ribs get painted with a sweet Korean-style glaze and fried shallots. These are so tender, saucy and meaty that my dad orders a second round for the table and pounds half of the plate himself.
Seeking savory, I order the Beef and Tomato ($32). A study in homestyle comfort, the melting cubes of beef short rib juxtapose well with crisp bell peppers, Ho Farm long beans, Maui onions and juicy tomatoes. You won't find crispy noodles on top of Donoghue's version, but this rich stew begs for white rice. Vietnamese-style grilled whole chicken ($27) is simple but moist and gets a decent boost of flavor from fresh Thai basil and nuoc cham dipping sauce.
Finish off with the Li Hing Strawberry Cream Puffs ($9), massive choux-like pastries blown up with sweet strawberry-mascarpone and laced with li hing powder. A full order of three is more than enough for a party of six and we end up taking two home for a sugary breakfast the next morning.
---
SEE ALSO: First Look: 7 Things We Like about Foodland's First Eatery including Fresh Poke, Cocktails and Hot Food with a Local Twist
---
Although I'm still partial to Mahi'ai's signature Ube Pie, the new Rocky Road Pie ($9) is a worthy contender. I fall hard for the fudge brownie crust with chocolate custard and baked peanut butter.
It was tough to judge the success of Mahi'ai Table in its early months because of pandemic-induced restrictions on dine-in operations. Nearly a year later, it seems the restaurant has a better focus and groove for its west side audience. During our family dinner, nearly every table was full and musician Jason Midro was belting out jams.
If I could find a restaurant in town like Mahi'ai Table, I'd be there as often as I could. But until then, I'll head out to this Kapolei gem again and again.
Open daily from 6 a.m. to 9 p.m. (last seating at 8 p.m.), 91-5431 Kapolei Pkwy, (808) 670-2770, mahiaitable.com, @mahiaitable