We Tried It: I Am a Roller Derby Girl in Honolulu
Injuries, drama, dedication, victory—associate editor Tiffany Hill laced up her skates to rumble in Honolulu's fastest-growing sport. Scroll down for our exclusive video.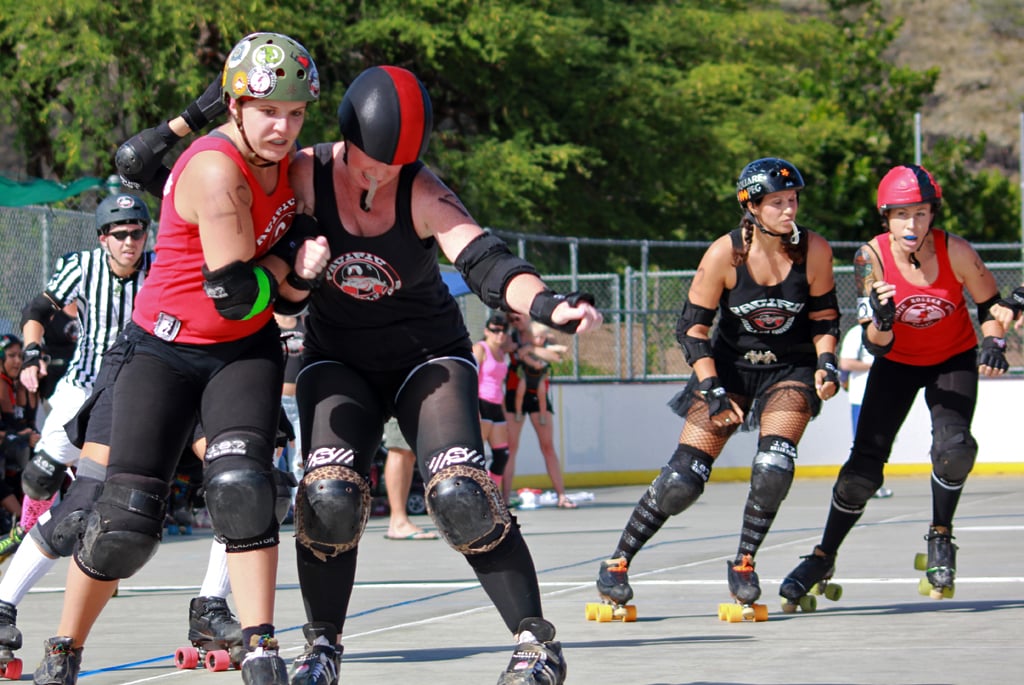 Pow! It all happened so fast.
One second I'm looking over my left shoulder (wrong way, in hindsight), the next second I'm on the ground. No worries; I've fallen many, many times before. OK, get back up, I thought. Only I couldn't. I wasn't in pain, but something was off. My left hand went instinctively to my right shoulder. It felt weird. There was a saggy gap between where my shoulder should be, and where it was. I officially freaked the hell out as I realized I had dislocated my shoulder. I heard the pounding of the EMTs' shoes as they ran over. I struggled to catch my breath. The EMT later told me that I "hyperventilated back into place." I didn't even feel my shoulder go back in. He helped me up and over to the bench area. The crowd clapped as I plopped down next to my teammates. Fifteen minutes later, I was back in the game. My name is Scornful Redenblocker and I play roller derby.
I originally stumbled upon Hawaii's roller-derby scene by way of the late, great John Heckathorn, HONOLULU's former dining editor. He showed me a photo of a tough-looking derby girl he had met. It was fate, when I met Sylvia Flores, aka Tadbit Nasty, a few weeks later at an online news conference. She handed me her card, emblazoned with an illustration of a fierce girl baring her teeth, pigtails under her helmet, the words Pacific Roller Derby underneath. She put me in touch with Pacific Roller Derby's (PRD) then-New Girl trainers, and the rest was blood, sweat and tears. Literally.
Before I met Tadbit, my knowledge of roller derby was limited to the time I watched the movie Whip It on Netflix. Movie theatrics aside, roller derby looked fun (turns out, it is). It's also one of the fastest-growing sports nationwide, with a thriving community in Hawaii. On Oahu, women skate for PRD, as well as the Kapolei-based startup, Aloha City Rollers. There's the Maui Roller Girls, and the Big Island has two leagues: Paradise Roller Girls and the Echo City Knockouts. Kauai boasts the Garden Island Renegade Rollerz. We all practice outdoors, on basketball/volleyball courts or in street-hockey rinks.
When you think of roller derby, babes fighting in fishnets might pop into your head. Or maybe you watched the popular, WWE-style bouts with big, choreographed hits televised in the 1970s and '80s. It's still very much a contact sport, but nothing is staged, and its participants are athletes, not entertainers. You're not allowed to skate—and wouldn't want to—without a helmet, mouth guard, wrist guards, elbow pads and kneepads, all atop old-style quad skates with toe-stops. Most derby players skate on flat tracks, not banked ones like in Whip It.
A Bone-Crushing Beginning
I listened to upbeat music on my iPhone as I headed to my first practice. I was nervous. I met up with Alexis Morales, better known as Axle Greaser, or Axle, and Frances McGee, Abominatrix, or Abomb at the Kamiloiki Park hockey rink in Hawaii Kai. When you think of a derby girl, you picture Axle. She's fierce, built and loud, with a pierced nose and tattoos. She's also patient with beginners, and hilarious. With tight curls and funky socks, Abomb is petite, agile and a skillful jammer.
This past summer, I was one of Axle and Abomb's first fresh-meat skaters, the affectionate term for a derby newbie. The two helped me lace up my skates and adjust my trucks. They gave me strips of duct tape to put over the toes of my skates. (While Mainland skaters don't use it, duct tape is essential in Hawaii, where gear gets beaten up quickly from skating outdoors.) After putting on borrowed gear, I stood up and stepped onto the track. I felt like a shaky fawn taking its first step. The last time I'd been on skates was, oh, the third grade. It had been awhile. I gripped the wall and fell down, just trying to stand there. I eventually made it around the track, and caught what, at the time, felt like some solid speed. I'm doing it! After crash stopping into the wall, I looked over at them, with their fancy moves, making it all look easy. That'll be me one day, I vowed. Afterward, we grabbed dinner at Azteca. Over tacos, they schooled me in Derby 101: I'm going to fall, a lot, but everyone started where I did. It takes time. Derby is painful, but awesome. Duct tape is your best friend. "And we don't go home and dress up for the after-parties," said Axle. "You wear your uniform and don't shower." I had entered the curious world of roller derby.
I was hooked immediately. The New Girl practices on Tuesdays and Saturdays became the highlights of my week. It was slow going, to say the least. I learned the intricacies of derby stance: feet shoulders-width apart, bent knees, butt out, chest up. "It's like you're squatting over a toilet," Axle and Abomb would say. "Get lower." They also taught me how to fall, properly. Double-knee falls and the more frequently used single-knee falls are a new girl's best friends, at a time when gravity is your worst enemy.
My third practice in, I was still conquering the basic skills. But not before falling backward (literally, and metaphorically). I fell hard that day on my left arm. It hurt significantly worse than the other, million times I had fallen. This is not good, I thought, suddenly feeling ill. I continued skating, but, by the end of practice, I couldn't move my arm without flashes of pain shooting upward. Driving home was excruciating. The next day, I went to my doctor, and I had an X-ray taken. It was official: I had fractured my elbow. Well, I made it to 24 before breaking anything. More than anything I was frustrated. Frustrated I couldn't skate, frustrated by only being able to use one arm (it's hard to wash your hair). For three weeks, I wore an awkward white mesh sling and had countless people ask if I had won the fight, followed by two weeks of physical therapy (thanks for your help, Carol!). I'd be damned if I'd end my fledgling derby career that way. So I dusted off my skates, laced them up and gave it another go.
Rink Rash, Bruises and Broken Bones, Oh, My
Derby injuries: bruises, abrasions—rink rash—broken bones, hematomas, concussions. You will get hurt in the empowering, yet unrelenting beast that is roller derby. Serious, ambulance-ride-to-the-hospital injuries are a real possibility.
At a recent practice, Crystal Muzacz, Bricks Hit House, or Bricks for short, fell and suffered a compound fracture to her left forearm. "I knew what I signed up for," she told me when I visited her in the hospital, a morphine drip numbing the pain. A fellow new skater like myself, she's already impressive on the track. People go flying when she lands hits. Undeterred by the screws and metal plates in her arm, Bricks says she'll be back on her skates as soon as she's able. She stills comes to practice to watch and cheer us on. Calamity Crush, Kelly Thune to non-derby people, has been skating since 2007, including for the Minnesota Rollergirls, nationally ranked at No. 13 and for the Kauai league, before joining PRD. During her time on skates, Calamity has torn both shoulder rotator cuffs, and broken her right hand and left wrist. She's worn down the cartilage in both knees.
It's also common for skaters to injure others during bouts or at practice. Katie Burman-Stevens, aka Collideascope, is a powerhouse skater. Not only does she have the moves, she's strategic. It's a combination that results in wins for her team, and sometimes injuries for others. She's the one who dislocated my shoulder, and she's cracked the ribs of another skater. When she first started skating, she herself injured her lower back.
You get hit, hard, and you fall. But you get right back up. You are a badass. Roller derby is hard on your body; it's not something every woman could handle. Those who skate, whether it's been for six months or six years, are proud of what they've accomplished, including the bruises, scars, broken bones and more accrued along the way. You don't take injuries personally. It's part of the sport. The night my shoulder popped out? Collide hugged me and we drank beer.
Why do something so painful and dangerous? "Roller derby gave me the confidence to do what I want," says Marissa Inhofer—Misfit Maiden—Misfit for short. "I had always wanted a mohawk, for years, but never had the balls to do it. But one day, I just did it, and loved it!" Misfit has been skating since 2005, and was teammates with Calamity with Minnesota Rollergirls. She later coached skaters in New Zealand and Australia. "I sold everything I owned and moved to New Zealand, by myself," she says. "I was able to do that because of roller derby."
She's not alone; most derby girls, past and present, wherever they are, have similar sentiments. "It is my extended family and my support system. My therapy and my gym membership," adds Calamity. "I look at derby as a lifestyle and an identity, not just a hobby."
You get a rush of confidence and strength when you lace up your skates and round the track's corners with precision and speed. When you land a hit, and even when you fall, you pop right back up. You get used to full-body contact, and revel in it. These days, I am always sporting at least one bruise. You even develop a perverse pride in them, your war wounds. Most of mine aren't too bad, but there have been two times, so far, that I've had baseball-size bruises coloring my thigh. It hurt to lie in bed. I am a derby girl.
Roller derby is bonding over similar injuries (after I dislocated my shoulder, Axle gave me a hug and told me the same thing happened to her), or geeking out over skates. Mainly, it's encouraging each other, on and off the track. Earlier this year, when Tadbit's car was broken into and all her gear stolen, skaters came together and donated money and gave her their spare gear. The sense of ohana extends to visiting teams, too, whether it's offering up your couch for a night, or bringing soda and chips for a barbecue.
Sure, not everyone gets along 100 percent of the time, but watch skaters during a drill at practice, or after a bout—even if she did trip you 20 minutes ago—and you'd never know. "Derby creates friendships between people who may have nothing in common," says Andrew Bugreyev, a PRD coach since 2010. "There's that common misery, that shared experience and the humility of being on the same path."
In my short time with the league, I've bonded with the girls with whom I skate, a diverse group of strong, smart, funny women: teachers, marine biologists, opera singers, occupational therapists, hair stylists, tattoo artists, mothers. Derby players aren't just lesbians, or 6-feet tall, or listen only to punk. And if some are, so what? Some of us are 5-feet-tall, have a weird love for owls and work in a cubicle. Derby accepts everyone. "I'm always blown away by how everyone supports each other," says Misfit. No matter where we came from or what we do, when we step onto the track, we are all derby players.
From Fresh Meat to Derby Player
I skated nervously around the track, dodging scattered white pellets, escaped ammunition from the air-soft range next door (they're small, but they will take you down). Last August, I had started attending New Girl practices at an old, ratty volleyball court in Kalaeloa. We had to bring our own toilet paper for the bathroom, and feral cats came out at night. At that time, Mike Crinella, aka Handsome, and his wife Kim, Kat-Atomic or Kat for short, ran the practices. (They have since left PRD and started Aloha City Rollers.) On that particular day, Handsome was going to hand out invitations for to an intensive, six-week derby boot camp. I had just started skating again, and hadn't had much practice to begin with, so I wasn't exactly a shoo-in. I don't think I'm gonna make the cut. I watched the other girls, who were already doing things I had no clue how to do. My heart sank even more.
He silently skated up to me, handing me a paper. It read, "You are cordially invited to roller derby boot camp. You have shown the potential skill and determination that it takes to become a derby girl." Allright! So maybe I'm not that bad! "Thank you!" I shouted.
It was a grueling six weeks. Eleven of us would meet each Sunday, Monday and Wednesday evening for practice, which usually lasted until it was too dark to skate.
We'd skate in a pack, in pace lines, on one foot, between cones. We did crunches until we couldn't move. We learned how to stop—standing up—"Feet wide, knees in," Handsome would yell, as we'd try to plow stop. He'd make us repeat our Mohawk stop (a 180-degree stop using your toe stops) over and over. During boot camp I learned the rules of roller derby, how to hit, do crossovers and why it's important to air out your gear, not that it won't smell anyway.
Like learning anything new, roller derby elicits a love/hate relationship. Like the first time I jumped over a water bottle and landed it. Or when I made it through the pack in the jammer-has-no-friends drill. I love this sport! But then there were drills, and still are, during which I want to stop in frustration. When I weakly hip-check a teammate, or miss altogether, or when I'm the only one on the ground. I suck, what am I doing here?! Tears have been shed.
I don't know if I'm ready, I thought. What if I fail? What if I'm the only one? My stomach had been in knots all day. It was finally here: the end of boot camp, our test day. I had to pass a 45-question, multiple-choice test on the rules of the game and perform a minimum skills test, demonstrating I knew how to fall, stop, hit and block. I also had to skate 25 laps in less than five minutes. The written test would be no problem; I was more worried about the whole show-us-you-can-skate-now skills I'd have to perform for the testers. I had come a long way from my baby deer days, but I was no Suzy Hotrod. (Google her, you'll see what I mean.) But I couldn't become a WFTDA skater, or compete, unless I did. I wiped the nervous sweat off my brow and geared up. The written test? Passed. Mohawk stops? I didn't fall! Laps? After a false start for accidently cutting the track, I skated them in 4.35. It was official, I was bonafide, derby girl!
Derby often breaks you down before lifting you back up. It is now a part of who I am. Derby is where I became Scornful Redenblocker. I racked my brain trying to come up with that name. Your name is your alter ego. We are Calamity, Tadbit, Collide, Axle. Skaters often don't know each other's real names, and it's OK. Skaters have to submit their alter egos for approval on a national registry. It was a long process for me. I originally wanted to do a spin on a journalist. Barbara Brawlters? Taken. Then I tried literary characters. I racked my brain trying to create a witty name and bugged my boyfriend about it constantly, to his annoyance.
"It was challenging for me," says Collide. "It took four months." She, too, had scoured the online registry. Then she thought of the kaleidoscope. "I wanted something multifaceted, always changing." And she loved to hit, hence, Collide.
Lisa Hogue, who has been skating since 2009, chose the name Miso Rowdy—Miso for short. Her first choices were also already registered. "So, I decided that I wanted to have something with an Asian flair. I picked Miso Rowdy because it is Asian-themed and tough sounding without sounding violent or offensive. I wanted something my daughter could wear on a T-shirt or that my son could hold on a sign."
How to Play Roller Derby
Roller derby bouts are fast paced. It takes time to understand what's going on, not only for spectators, but for participants, too. Derby is played on a regulation-size oval, flat track. Bouts are an hour long, broken into two-minute jams. There are two positions in the sport: jammers and blockers. Five girls from each team—one jammer and four blockers—are on the track at once. Jammers are the point-scorers; they get points for each opposing player they pass. A blocker's job is to help her jammer get through the pack, while simultaneously blocking opposing skaters.
Contrary to what many people think, skaters can't hit or block using their elbows, hands, feet or head. There are rules! Players use their hips and shoulders to hit, and block with their butts. The Women's Flat Track Derby Association (WFTDA) rules are detailed. Refs have a hard job. They stand in the middle and outside of the track and use whistles to signify the start and end of a jam, lead jammer status and penalties, such as illegal hits, skating out of bounds and more. Get too many and you'll go to the penalty box.
My name came to me by chance. I love popcorn and was making a late snack. Orville Redenbacher. It popped into my head: Redenblocker. Hmmm, Orville. Orville. Something ending in -ful. Scornful? Mocking, jeering. Yes, Scornful! I feverishly searched "Scornful Redenblocker" on the online registry. Score! No one had yet thought to pick a name using the popcorn mogul. I introduced it to the girls next practice. "Is it cheesy?" I asked. "No, but it's corny," said Handsome. I finally had a derby name, one that suits my personality. It's Scorn for short. My number? 2:35, the amount of time it takes to pop popcorn in my microwave.
Leave the Heels, Bring the Leotard
As far as sports cultures go, roller derby's is unique. Its participants are legitimate athletes, but you'll also see some rocking fish net stockings with colorful knee-high socks. They coordinate costumes for after parties, which have been known to involve full-body leotards. Or you show up in uniform, your number, written with a black sharpie, still on each shoulder.
"My favorite part of the culture is that we get to dress ridiculously," says Katie Garcia, aka Mêlée Antoinette. "After we've given our all on the track, we get to decompress and have fun. The whole community is full of hilarious, clever people."
"Roller derby emerged from a counter culture," says Bugreyev, comparing it to the underground punk scene. He would know; Bugreyev has hosted PRD afterparties at his bar, The Mercury, since 2009. "Skaters legitimized that counter culture by being good at what they do. What you see is what you get."
What you get, in addition to a love for shorts and knocking people down, is a tight-knit community. "I [can] go anywhere in the world with a derby league and find a ride from the airport, a couch to sleep on and a practice to drop in on, " says Miso, who transferred from Washington's Ft. Lewis Bettie Brigade league.
"We've come a long way," says Calamity about the sport. "I love that people are taking us seriously as athletes now, and not just looking at us as sexy babes in tutus." Last year, roller derby players worldwide organized the first world cup. It's also a possible contender in the 2020 Olympic games.
The South Shore Sirens
This year, Pacific Roller Derby debuted two new home teams: the Leeward-based Leahi Diamond Dolls and the town-based South Shore Sirens. I'm a proud Siren and couldn't have asked for a better first season, dislocated shoulder and all.
That March bout taught me a lot: that dislocated joints look worse than they feel, but, more important, that roller derby has made me a stronger person, physically and mentally. After sitting out for 15 minutes, I told Andrew to put me back in. When it was over, Misfit handed me one of two gold, spray-painted wheels, her DIY player-of-the-bout awards. "Scorn," she said. "Your shoulder freakin' popped out, but you still skated."
Make no mistake, it's still completely nerve-racking. At this point, I may have learned most rules and basic strategies, but when those whistles blow signaling the jam start, it's still a whirlwind. A jammer gets by me as I attempt to hold the inside line. I get called for a penalty. I forget to hit with my hip instead of my shoulder.
Derby Gear

Quad skates. Protect them with duct tape. The more layers, the better.

Helmet. Often decorated with your skater name and stickers.

Mouth guard. You quickly learn how to speak with your mouth guard in.
Knee pads. Make sure they fit well and are padded. You will rely on them like cars rely on gasoline.
Elbow pads. These last longer than knee pads.
Wrist guards. Air out your gear! Wrist guards can get smelly.
Suitcases. It's what you lug around your skates and gear in.
I always get nervous before bouts, and even scrimmages, not because I might get hurt, but because I want to do well, for my team and for myself. "It's good to be nervous," says Collide, when I tell her. "You turn that nervousness into adrenaline."
I still fall. Every practice, every bout. "It doesn't matter how many times you fall," says Calamity, also a Sirens captain. "It matters whether or not you get up." All veteran skaters tell me this, and they mean it. I know it's true. I'm still looking forward to when I'm more agile and controlled.
Patience is a must. "Greatness takes time. I am working on recognizing that, in derby, I am a work in progress," says Armida Coughlin, aka Lucky Punch. Punch is Axle's mom and got into the sport because of her daughter. How great is that?
"OK, ladies, on the track! Tonight we're doing burpies, squats, sit-ups and push-ups," says Misfit, going over the night's off-skates warm-up. Every Monday and Wednesday, from 7 to 9 p.m., the Papakolea Community Development Center is ours. We use chalk to draw our track, avoid the volleyball net poles—dubbed the murder poles—during drills and talk story on the bleachers afterward. It's old, the roof leaks in a downpour, and bugs swarm the lights above, but we wouldn't want to skate anywhere else.
We scrimmage, run hitting drills, build walls, recycle the jammer. As much as roller derby is physical, it's equally mental. "I always leave practice feeling great even if I've had one of the worst days," says Angie Kaufman, aka Vigilangie. "Yes, in order to play derby you have to be strong and tough. But the reason I keep coming back is because these are my kind of people."
My newfound love of the sport and the people I share it with keep me coming back. It has been rewarding both physically and mentally. I've even learned to embrace being sore. Stand too close to me, and you might notice that I frequently smell like Icy Hot, a sort of eau de menthol.
In the end, all this hitting, getting hit and falling has been great for my confidence. Yes, it can be frustrating to fall, over and over, during a drill, or in a bout. But I get back up, time after time. I remember my first practice, my first weeks in boot camp. I couldn't plow stop, Mohawk stop, hip check, do a crossover. Hell, I couldn't even roll forward five feet without slamming onto the concrete—remember the fractured elbow? When I get frustrated, I think of how far I've come. I'm still a rookie, but I've mastered a short list of skills, and that motivates me to keep adding to that list. Even better are the friendships I've made and the community in which I've immersed myself. Someday, when I'm old, I'll look back on my roller derby days with pride. I am a derby player.