Hukilau Honolulu's Big Mondays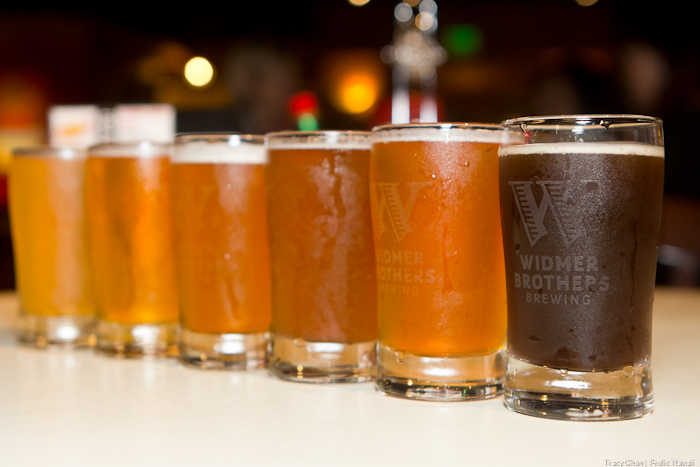 Hukilau Honolulu, located under Executive Center downtown, has started a new "Big Mondays" beer tasting program, which includes pupu and big screens for Monday night sports. Every week from 5 to 8 p.m., for just $25 you can get a platter of pupu and six new beers, some of which will be making their Hawaii debut. In addition, you can get some "beer talk" with Beer 808's Andy Baker.
The Frolic team checked out the first Big Monday, featuring Anderson Valley, Maui Brewing, Goodlife Brewing, Sierra Nevada, Mendocino and Coronado Brewing. Here's their take:
Tracy Chan
Hukilau as a beer pub is believable. The atmosphere is right, the seating encourages small groups of two to four people to settle in and talk story, the tables and bar counter offer enough room to spread out a little with some pupu and several beer glasses. It's quiet enough that when brewmaster Andy Baker came around to talk about the beers, we could hear him clearly.
Cons: The spacious interior isolates each group, even if you're coming with a few close friends but want to hang out with a larger group or interact with the people nearby. Suggestion: Rope off half the space for a beer-tasting lounge. That would make it easier on the brewmaster too.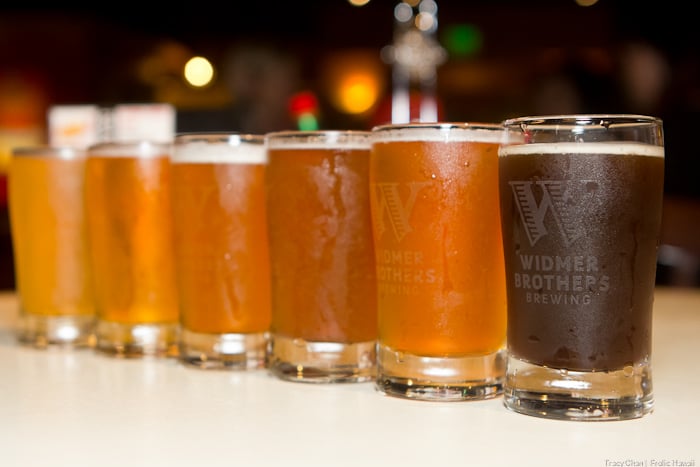 I'm going to be honest, I'm not a fan of IPAs. Why Hukilau chose to launch their beer tasting event with a collection of beers that only a well-schooled minority would fully appreciate, I'm not sure. The first beer in the flight, Andersen Valley's Blood Orange Gose (a cloudy, top-fermented beer made sour with the controlled application of lactobacillus bacteria) sounded good on paper, but I could only ingest it in careful sips because of the sourness. As first impressions go, not great.
That said, NONE of them tasted like Primo (Melissa!) and I was pleasantly surprised by Maui Brewing's Lorenzini Double IPA. The Kihei, Maui company's special Winter 2015 release was delicious, hazy and sweeter than most of the IPA offerings. Named after a shark's "Ampullae of Lorenzini," which allows the shark to detect electric fields in the water, this beer had a higher bitterness rating (80 IBUs) than any of the others but was also the most accessible, with a fruity mango scent, a smooth, mild carbonation and a sweet bitterness from the blood orange and Maui cane sugar it's brewed with. I definitely would drink this beer again, and it went great with the steak and calamari.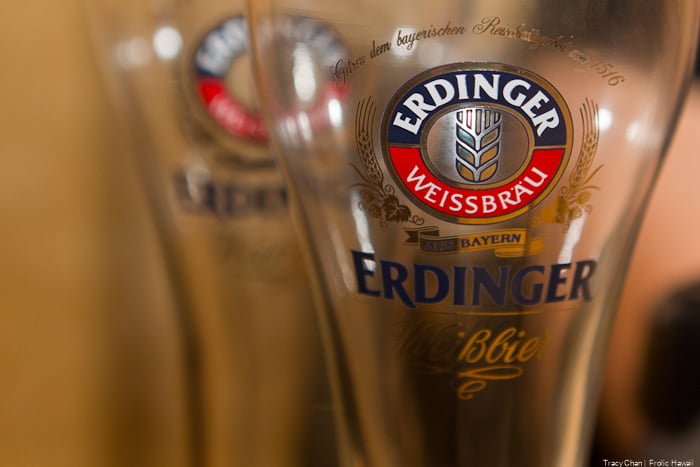 One cool thing about attending the beer tasting was the free Erdinger beer stein we got to take home, while supplies lasted. This tall, elegant glass stein is an incredibly classy way to drink beer. It's shaped for getting the maximum flavor and enjoyment out of your favorite wheat beer/hefeweisen. No promises that Andy can get these steins again, but we hope so!
Grant Shindo
I was pleasantly surprised at the selection that Hukilau offered for this first Monday beer event. Leading off with the Anderson Valley gose was a bold move for any beer lover. Personally I don't like sours and the citrus from the blood orange is a pucker-inducing sip that lingers on the tongue. The Sierra Nevada is a good introduction for the inexperienced craft beer drinker with lots of hops, big flavor and overall a solid choice.
A huge trend in the craft beer scene is the rise of the IPA. These bitter sips are gaining popularity across America and have become a mainstay in the craft beer movement. We tasted the Maui Brewing Lorenzini double IPA, GoodLife descender and Talon double IPA.
The last beer of the night was the smooth, almost caramel-flavored Erdinger dunkel. This dark beer is a great choice to end the flight. I'm looking forward to future events, as the price is definitely right and the selections are well-informed.
Hukilau Honolulu
1188 Bishop St. (downstairs)
808-523-3460