How to buy ultra-fresh, non-GMO tofu at Aloha Tofu's factory
The 70-year-old business is doing curbside pickup for all kinds of fresh tofu, soy milk and natto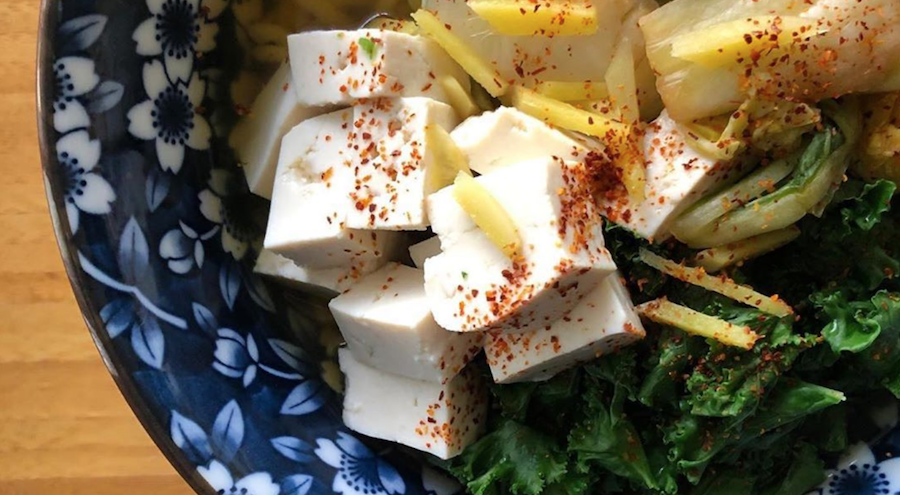 "Tofu's not a sexy type of food," admits Paul Uyehara, Aloha Tofu's president. "It just kind of hangs out in the background." The 70-year-old company has come up with new products to join the familiar favorites in the green tubs—all of which start out around 3 a.m. when workers at the Aloha Tofu Factory start transforming vats of soybeans into comforting blocks of protein.
These go up for sale to the public every day at 7 a.m. You call your order in to 845-2669 and workers deliver your order to your car. Although I've been doing it for years, going to the factory on Akepo Lane still feels like a visit to a local food speak-easy, maybe more so now that COVID-19 precautions limit visits to one mask-wearing customer at a time.
Newer products are lunch-box sized cups of oboro or firm tofu (6.5 ounces for $2.20 or two cups for $3 special) as well as a twin-pack of natto (two 2.5-ounce cups for $2.65). Both come with a small packet of the new 'Ohana Soy Sauce, a dashi shoyu that's brewed for Aloha Tofu in Hiroshima with kelp and bonito. The process lends the shoyu a smokiness that's designed to pair with tofu. Uyehara's wife, Misa, who is from Hiroshima, came up with the idea. The company is also working on packaging for a smaller block of firm tofu (16 ounces instead of 20) that will stay fresh for 21 days instead of the current six days.
See also: Your guide to pickup and delivery of local snacks and essentials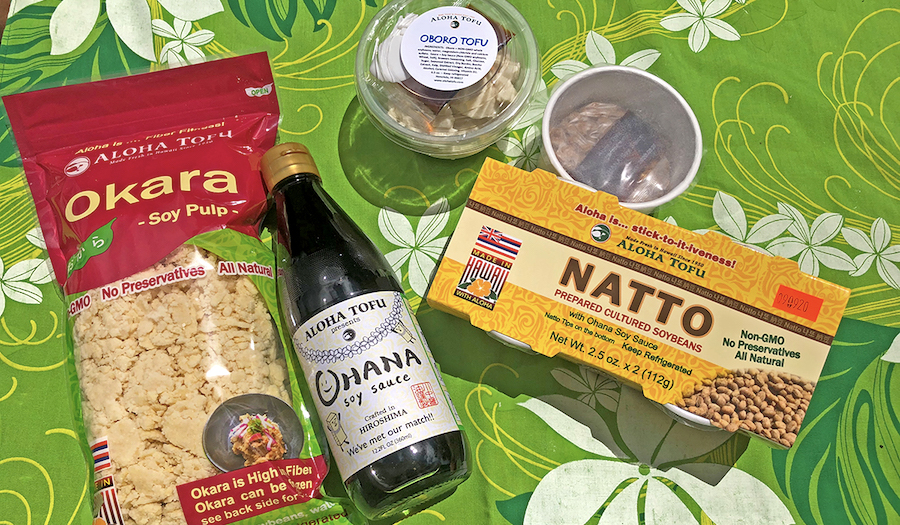 Uyehara and the rest of the team pivot with the times, adding and evolving products they embellish with their own tiny touches. The bottle of 'Ohana shoyu includes a cartoon depicting the bottle arriving from Japan and being greeted with a hug by an animated tofu block figure, also sporting a lei in other parts of the label. Underneath "Crafted in Hiroshima," the label proclaims, "We've met our match!!" The soft tofu label includes the phrase "Aloha is … Love and Respect!"
Perhaps surprisingly to some, natto has been trending up. The love-it-or-groan-about-it food, made from fermented soybeans, replete with that pungent scent and unmistakably sticky, gooey texture, is getting a boost from the buzz over fermented foods improving gut health. "Our natto sales are pretty strong," Uyehara says.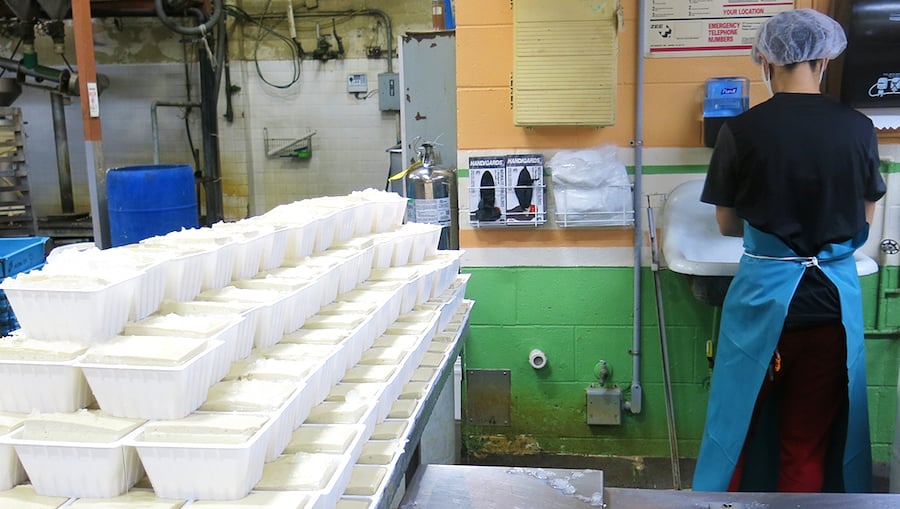 The factory has scaled back production about 15% because of the pandemic, and reduced sale hours to mornings, he says, but he hasn't had to lay off any of his 30 employees: 28 full time and two part time. Retail sales make the difference. While some meat prices have spiked during the pandemic, and some stores have run short, tofu has remained a reasonably priced protein option, with a good health reputation.
However, the pandemic demolished restaurant sales and disrupted retail sales. "Our restaurant customers are struggling to survive, produce companies are having to deal with the extreme drops, and our supermarket clients, although they are as busy as ever, have to deal with worker fatigue," Uyehara says.
See also: These 4 Oahu egg farms sell direct to customers
Aloha Tofu falls into a middle category of local businesses, a larger manufacturer than most mom-and-pops but still not as big as other food operations, explains Uyehara. Two other O'ahu tofu companies called it quits in the past decade: Kanai in 2011 and Honda in 2015.
Going to the factory direct means customers can get the freshest tofu at a better price—sometimes half the price of stores that must add a markup. And going to the factory also gives a behind-the-scenes peek at tofu being made in the background.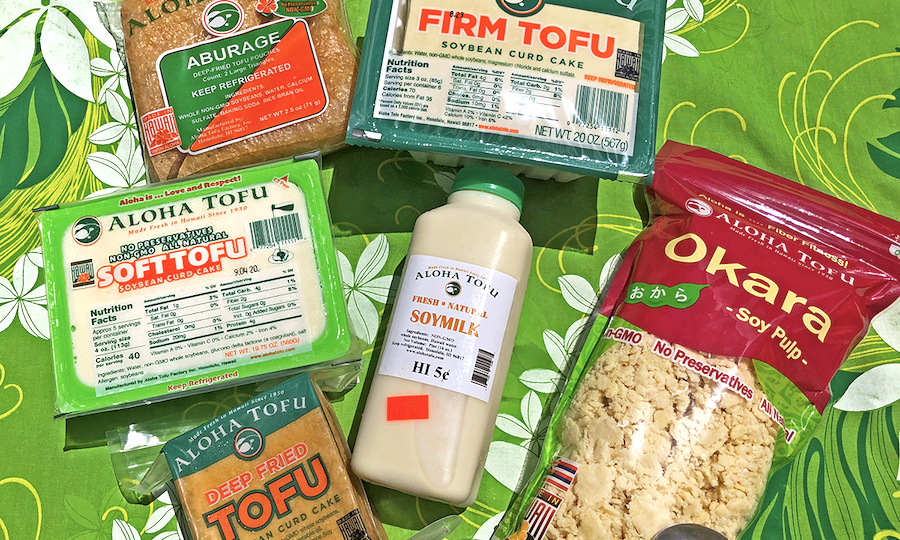 While the 20-ounce blocks of firm tofu in the familiar green boxes remain the most popular item, soft tofu is a mainstay as are other soy products: deep-fried tofu, aburage, okara (the part left back after tofu is made) and even soy milk.
Uyehara's grandparents, Kamesaburo and Tsuruko Uyehara, founded the business back in 1950, moving three times and rebuilding after a devastating fire in 1966. Paul Uyehara's son, Kai, 22, has been helping out with the family business but his dad, 53, says there's no pressure on him to make any long-term career decisions.
The Aloha Tofu work ethic runs strong. Just three days after his father passed away, Uyehara took time to sit down to talk about the business. Pandemic hours have been 7 a.m. to noon daily except Wednesdays and Saturdays when the factory closes at 11 a.m.
See also: Local comfort: Warm, toasty loaves from La Tour Bakehouse
Uyehara feels fortunate that the company has been able to keep producing local food for the community even during the pandemic that is causing so much worry and hardship.
"I hope we in Hawai'i continue to be kind to each other," he says.
961 Akepo Lane, (808) 845-2669, aloha-tofu.com, @alohatofu