How a Hawai'i Restaurant Launched the Soufflé Pancake Craze
Waikīkī's Cream Pot originated the pillowy breakfast and brunch treat in 2009, long before soufflé pancakes surged in popularity.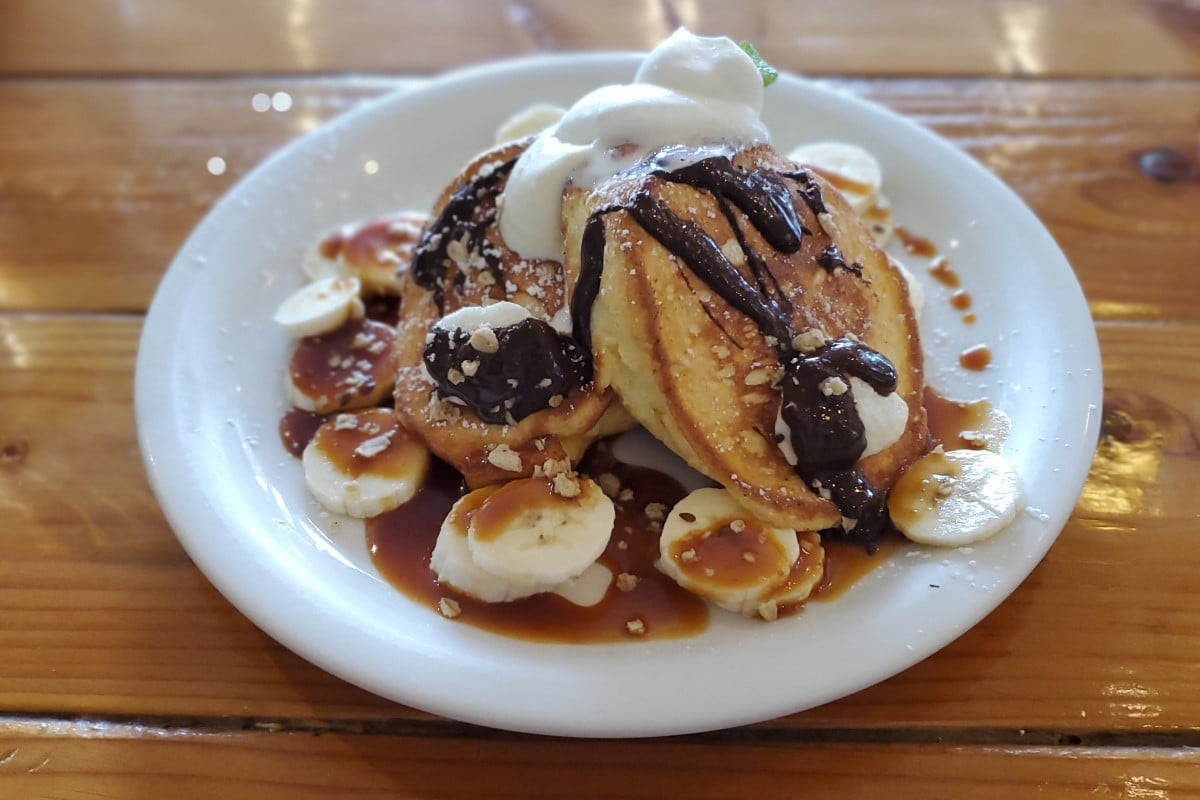 If you google "soufflé pancake," pretty much every result returns with the keywords "Japanese soufflé pancake." The fluffy treats seem to have evolved from Japan's obsession with American-style breakfast pancakes, which really took off with the arrival of Hawai'i restaurant Eggs 'n Things in Tokyo in 2010. With the way the Japanese are known for imitating and improving upon other cuisines, it makes sense that they would latch onto the thing that made American pancakes stand out—their fluffiness—and push the envelope farther, creating something new and perhaps better.
But that's not how Nathan Tran sees it.
"We're the originators of that item," the owner of Waikīkī's Cream Pot restaurant tells me. "We were the first ones period to do it. The trend started in Hawai'i," and has since found its way to Japan, China, Korea, New York and back here, with soufflé pancakes on the menu at places such as Aloha Kitchen, Goma Tei, Cloud Nine Café and Sun Tea Mix.
---
SEE ALSO: We Found Japanese-Style Soufflé Pancakes at a Ramen Shop
---
"I make soufflés myself all the time, but I don't like pancakes, so when we opened up (in 2008), we didn't want to do pancakes," he says. But with about 85% of Cream Pot's customers coming from Japan, so many tourists were asking for pancakes that he decided to put them on the menu in 2009—with his own twist.
View this post on Instagram
The new soufflé pancakes—topped with vanilla custard, whipped cream and various fruit—were a hit for the quaint French-countryside-style restaurant across from the Ala Wai. "We were big with the Japanese from the get-go and in so much Japanese media from that," Tran says. He was approached about franchising the location but said no. "Eventually they started sending in spy teams to steal my menus."
---
SEE ALSO: Travel Around the World (Without Leaving Hawai'i) For Breakfast at These 7 Restaurants
---
"We were the only ones doing it for the longest time. Then they started doing it in Japan. … Some of the Japanese chefs starting to copy it, it was kind of shameful how they did it. They claimed to create it." Since everything was written in Japanese, Tran's customers would tell him about it, how these chefs claimed they were inspired to come up with this new treat. He called BS. "All my original customers know that."
It wasn't until a few years ago, when the trend skyrocketed, that the restaurant added "The original place for souffle pancakes" to its menu. And they're popular. Besides the standard flavors ($16.50 each, $20.50 for mixed berry), other specials have included pumpkin, double raspberry, clementine, and blueberry compote and lemon custard. I recently ordered the s'mores special ($20.50), with slices of banana, marshmallows, chocolate and salted caramel sauce. The incredibly soft, warm pancakes taste traditional but are so airy I couldn't understand how they managed to hold together without collapsing. "We separate 1,300 to 1,400 eggs every day," Tran says. There's no baking powder in the recipe, just a balance of flour and custard to get it to rise in the convection oven after pan-frying the basic shape. It's free-standing and done freehand, no molds or domes or metal rings, making them that much more impressive. "It's very laborious."
View this post on Instagram
"It's been a good 13 years now. I've really enjoyed doing this," Tran says. "Over the years nothing much has changed"—the menu and décor are largely the same as a decade ago, with rustic metal pans hanging on the wall and a delicious-sounding array of Benedicts—"except for the customers." With Japanese tourism still on hold, now is a great time for locals to discover not only the original soufflé pancake, but one of the best hidden gems of Honolulu's breakfast landscape.
Open Wednesday through Monday 6:30 a.m. to 2:30 p.m. (last order 2 p.m.), closed Tuesdays, 444 Niu St., (808) 429-0945, creampothawaii.com