Honolulu Hotpot Hale Is a Souper Sleeper Hit on Ke'eaumoku
Marbled beef by the yard, offal, bean curd and fungus are some of the optional add-ins at Honolulu Skewer House's sister restaurant.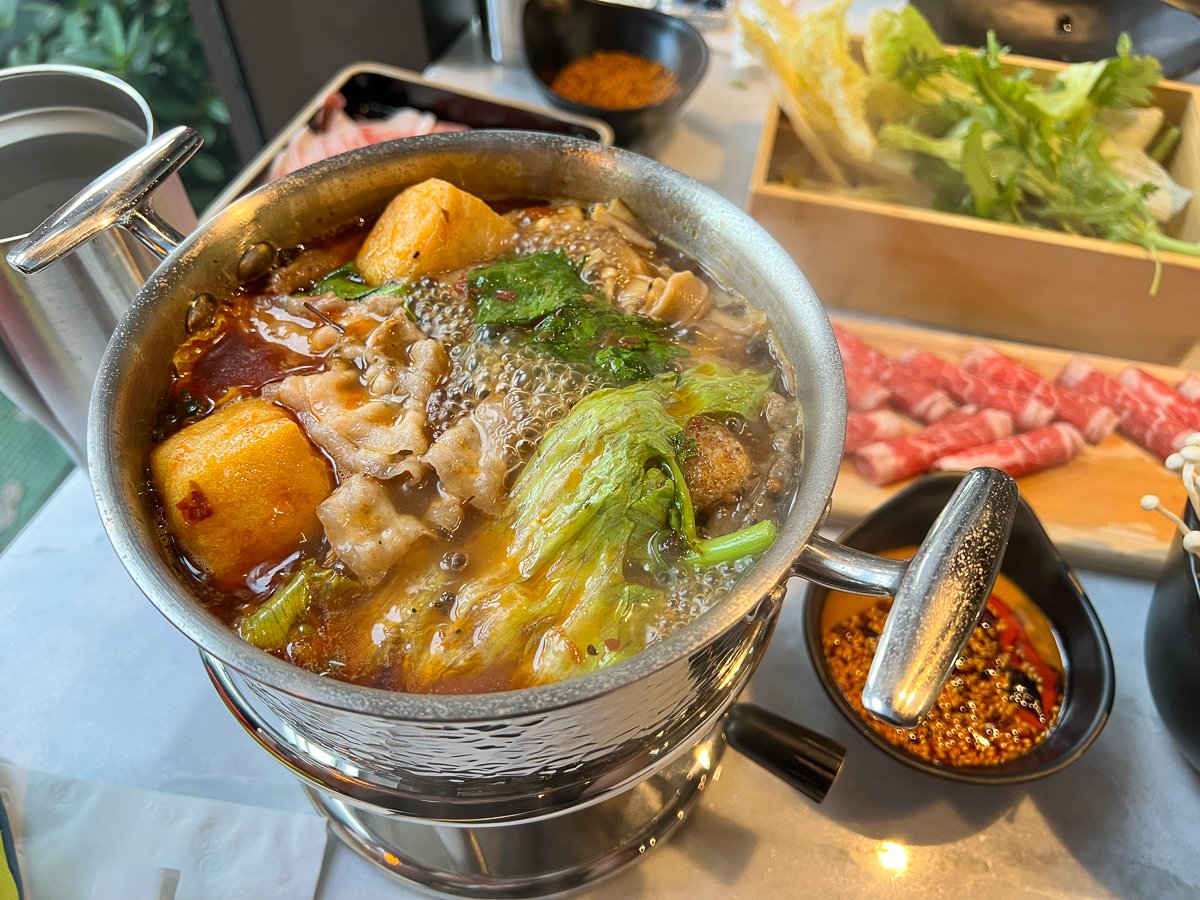 Hot pot broths come in myriad flavors, from medicinal and earthy to numbing and enriching. Their preparations are about as diverse as what you can dunk into them, but one aspect ties them all together: We are absolutely obsessed. Perhaps it's seeing a spread as abundant as a Thanksgiving feast or the act of cooking as you go—whatever the reason, hot pot is always a yes for me.
On the heels of Kapolei's new Aunty's Hotpot House, a new sleeper-hit hot pot restaurant has appeared in town. Chances are you've passed it without even knowing. Tucked inside the lobby of Pacific Guardian Tower on Ke'eaumoku Street, Honolulu Hotpot Hale takes a page from sister restaurant Honolulu Skewer House in aiming for a premium DIY experience.
---
SEE ALSO: Aunty's Hotpot House Brings a Familiar Name and Face to Kapolei
---
In the past, hot pot was a communal affair centered around a single bubbling broth. Like many newer spots, Hotpot Hale doles out pots and butane burners for each guest. Your choice of soup, all beef-based, includes a dish of dipping sauce or seasoning ($7.99). But unlike most hot pot restaurants that explain ad nauseam about their broth options, Hotpot Hale lists five without explanation. Just go with your gut. I opt for the mild house broth with a sweet sesame dip while my friend goes for the recommended Chinese sauerkraut broth with the same cumin- and chile-flecked seasoning served at Honolulu Skewer House. Other options include a spicy broth loaded with dried chiles and spices, plain beef and a tomato soup. Additional dipping sauces are $1.99 each.
Next is the fun part: selecting what goes into your bubbling vat. Thin strips of rolled, marbled prime beef short rib ($27.99, $49.99), brisket ($21.99, $37.99) and Angus chuck roll ($21.99, $37.99) are served by the half- or full yard. You can splurge for the A5 Miyazaki wagyu rib eye for $79.99 for four ounces, but I wouldn't. Kurobuta pork belly ($19.99 for eight ounces) and New Zealand lamb ($23.99 for eight ounces) round out the meat selection.
The remaining items are grouped in sets like the "B1," which has beef tendon, book tripe, throat and luncheon meat ($17.99) and the "S1" with Kaua'i shrimp, fish fillets, abalone and squid ($21.99). At this point, you can keep it mundane or you can get super adventurous with the braised duck feet ($10.99) and beef stomach ($15.99). We add on the mushroom ($12.99) and leafy veggie ($9.99), and bean curd ($12.99) sets to go with our half-yard of short rib and plate of pork belly.
---
SEE ALSO: Honolulu Skewer House's New Locale Has a New Twist: DIY Tabletop Grilling
---
We add on the Little Fried Pork ($12.99) or xiao su rou and a scallion pancake ($4.99) to round out the meal. These don't go into the pot but they make for great snacks as you wait for the soup to boil. Dip the breaded pork morsels in the chile spices and eat with the flaky scallion pancake for maximum effect. Also, get your own scallion pancake, they're too good to share.
You pay a premium for eye candy at Hotpot Hale, where meat displayed on wooden paddles and boxes arranged like mise-en-place arrive. Forget those colored plates of veg and fish balls wrapped in cling film. For once, hot pot feels upscale. And with the amount we've ordered, a third person could easily have joined us.
My mild broth packs some heat with dried chiles and Sichuan peppercorns, especially if you tend to slurp by the spoonful. I doubt I'd be able to handle the fully spiced option, but the sweet sesame dipping sauce is my saving grace. My friend's soup is loaded with diced pickled mustard cabbage and has a tinge of brine with an herbal finish. It reminds her of Popo's hot pot. Throughout the meal, servers come around periodically to refill your broth or replace the butane burner until you're done.
As the industrial-modern restaurant fills up, the servers become hard to find as they tend to others. We expect that in a new opening like this. Two weeks in, reservations are the way to go to guarantee a table. Lunch is on the horizon once they figure out the menu, but the idea is for a quick-serve concept with noodle soups. The parking situation is not the best, as there are limited options in the area.
The only thing left to do is to cool off with a big bowl of shaved ice. There's one on the menu but we skip it to walk over to the new Meet Fresh dessert shop in Ala Moana Center, which we'll have to save for another post.
Open Monday to Saturday from 5 to 10 p.m. Reservations encouraged. 1440 Kapi'olani Blvd., (808) 888-8869, @hnlhotpothale