HONOLULU Family Easter Recipe: Easter Hot Cross Buns
Keep keiki's hands busy by kneading, rolling and customizing these traditional treats.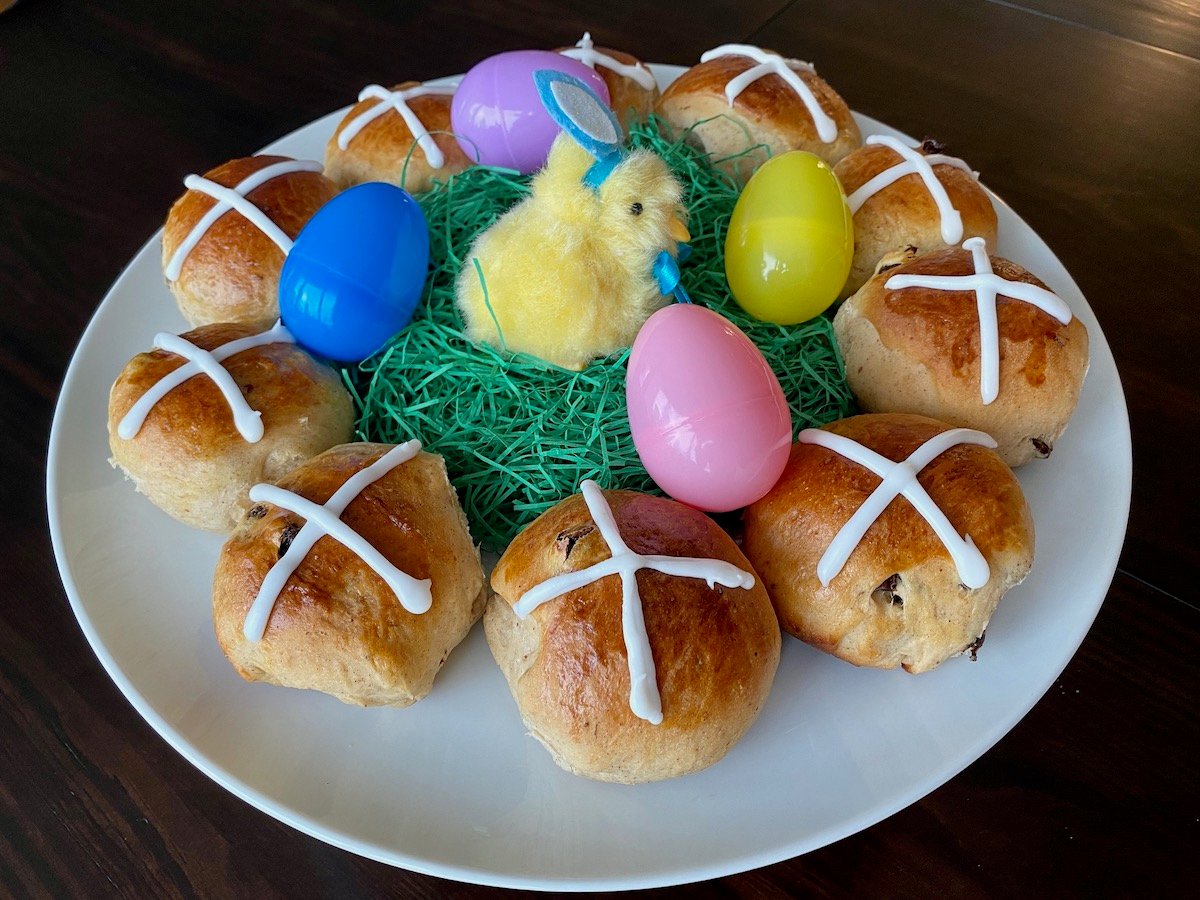 Easter doesn't feel right in our home without hot cross buns. These spiced yeasted rolls bearing a cross mark on top are traditionally eaten on Good Friday. I have to say that stuffing sweet bread in my mouth sounds like the perfect way to celebrate the end of Lent (even though, often I haven't given up anything for the observance).
I've perfected my technique over the years since the early days when the texture of the buns was more like a hockey puck than a pillow. This year I was excited to share the tradition with my 5-year-old son, Duke. We love to bake together, and he's become quite an eager helper in the kitchen.
Luck would have it that I had leftover instant yeast in my refrigerator from my baking frenzy during the pandemic lockdown, but I was nervous that it may be past its expiration date. Happily, everything worked out and the buns rose to high heights! Tip: Buy fresh yeast, because it's not worth risking it on a recipe like this that takes time and effort. To that point, I will warn you that making buns is an all-day project to allow the bread to rise. But, I promise, the fluffy buns are worth it!
Despite the time commitment, I love that this recipe uses simple ingredients that you probably already have on hand, and that it doesn't require a stand mixer. Instead, you knead the dough by hand, which is the best part for the kids. Our dough turned out particularly sticky, which Duke relished, but we remedied the situation by dusting on more flour.
Holding on to tradition, I followed the below recipe to a T, but Duke couldn't resist making his own modifications, namely picking out the raisins, shaping his dough into a donut shape and adding a load of sprinkles. If you're like Duke, try these alterations to make the recipe your own:
Swap-in dried pineapple or mango in place of the raisins for an island-style version.
Simplify the process by using store-bought cinnamon roll dough and pipe the provided icing in a cross shape on top after baking.
Reduce the sugar (think: sugar high!) by excluding the icing. Instead, score the dough with cross mark indentations using a knife prior to baking.
Hot Cross Buns
Customized from the Food Network Kitchen recipe. Makes a dozen buns.
Ingredients
½ cup water
½ cup whole milk
1/3 cup unsalted butter, melted
1 egg yolk
1.5 tsp. vanilla extract
3 cups all-purpose flour
½ cup sugar
½ tsp. salt
½ tsp. ground cinnamon
½ tsp. ground nutmeg
3 tsp. instant yeast
½ cup raisins, or other dried fruit
1 egg beaten, for brushing
For the icing:
2 cups powdered sugar
2 T. whole milk
Instructions
Combine the water and milk in a microwave safe bowl. Warm for 30 seconds in the microwave. Whisk in melted butter, egg yolk and vanilla extract.
In a separate bowl, whisk together flour, sugar, salt, cinnamon, nutmeg, and instant yeast. Make a well in the center of the flour mixture.
Pour the water/milk mixture into the flour mixture and stir with a wooden spoon to create a shaggy, sticky dough. Stir in the raisins. Turn the dough out onto a lightly floured countertop and knead for about 8 minutes until soft and elastic. Form into a ball.
Brush the inside of a large bowl with butter. Put dough in bowl, turning to coat lightly with butter. Cover with plastic wrap. Let rise at room temperature until doubled in size, about 1 hour 30 minutes.
To form the rolls: Butter a 9" x 14" baking pan. Turn the dough out of the bowl and divide into 12 equal parts. Tuck the edges of the dough under to make round rolls and place them seam-side down in the pan, leaving a little space in between each roll. Cover the pan with plastic wrap and set aside in a warm place until the rolls rise for 45 minutes.
Meanwhile, preheat oven to 375 degrees.
Remove the plastic wrap and brush the tops of the buns with the beaten egg. Bake rolls until golden brown and puffy, about 20-25 minutes.
For the glaze: Stir together the powered sugar and milk. Transfer to a plastic zip top bag and make a small cut in the corner of the bag. Ice the buns in a thick cross shape over the top of the cooled buns.
---
Order HONOLULU Family's Surprise Easter Bunny Box here!
---
Looking for more Easter Fun? Check our Easter Corner for a roundup of events and activities, at-home craft ideas and even virtual storytimes!