HONOLULU Family Easter Recipe: Easter Candy Bark
It only takes a few ingredients—and a microwave—to make this super simple, super adorable candy bark.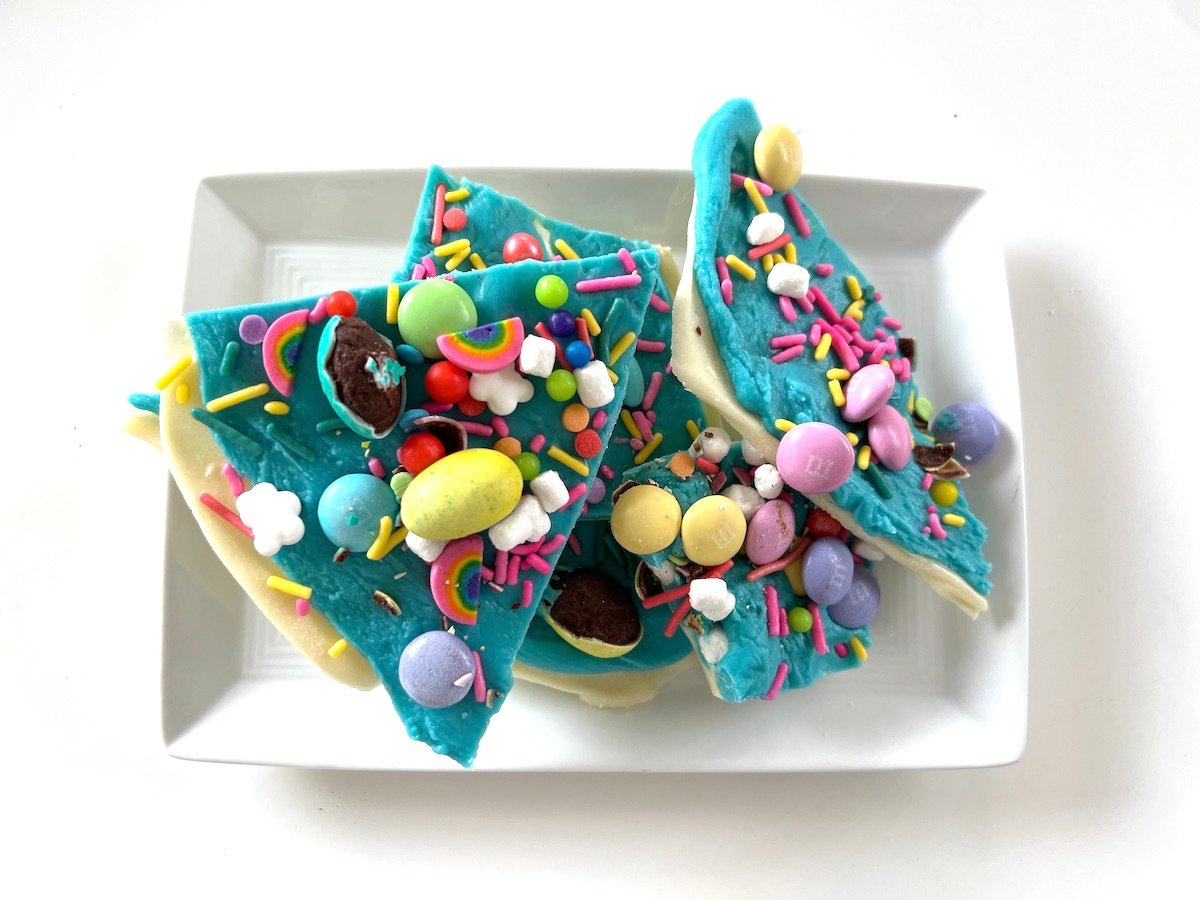 If you've got rambunctious kids who don't stop moving, this recipe for candy bark is for you. First off, it's super easy—and you really only need a microwave. Second, kids of all ages can do this—young ones will need adult supervision using the microwave—and it'll keep them busy for at least 17 minutes. Plus, this bark makes festive gifts for teachers, babysitters, teammates and neighbors. Just remember: If you let your already-energetic snack on the decorations, you may need a second activity to burn off all that sugar! You've been warned!
Ingredients
8 oz.

semi-sweet chocolate or white chocolate, coarsely chopped
8 oz. candy melts, any color, coarsely chopped
1 cup assorted Easter candies (crushed robin eggs, pastel M&Ms, pastel sprinkles, marshmallow bits—really anything you want!)
Instructions
Line a large baking sheet with parchment paper or a silicone baking mat. Set aside.
Melt the semi-sweet or white chocolate. Use a double boiler or microwave. (I used a microwave.) If using the microwave, stop and stir the chocolate every 20 seconds to help avoid seizing. Pour onto prepared baking sheet and spread out into a large rectangle. Set in the refrigerator to chill for 20 minutes or until no longer wet-looking.
While the chocolate is cooling in the fridge, melt the candy melts. (Use same method as above.) Let the melted candy sit for 5-10 minutes before pouring on top of the cold bottom layer. Spread the melted candy melts into an even layer on top on the chocolate, then decorate with candies.
Allow the bark to set at room temperature in a cool, dry environment on in the fridge (which is faster). Once hardened, break into pieces as large or as small as you want. Serve, or pack in plastic gift bags and give away.
Order HONOLULU Family's Surprise Easter Bunny Box here!
---
Looking for more Easter Fun? Check our Easter Corner for a roundup of events and activities, at-home craft ideas and even virtual storytimes!