Hidden gem: Upscale Hawaii Food Truck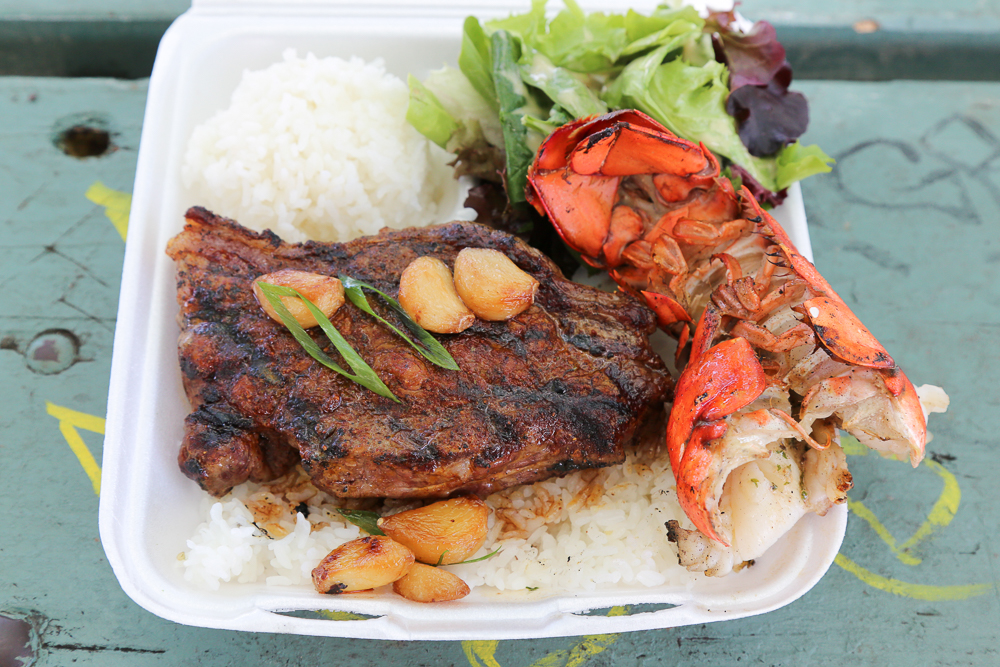 A while ago my Instagram feed started showing big, juicy steaks, lobster tails and garlic shrimp from a little-known food truck called Upscale Hawaii. After seeing mouthwatering posts over and over again, I needed to go. I rounded up a few foodie friends and drove to Kalihi, to an unlikely spot along Kapalama Canal.
The menu is simple and portions huge and tasty. Most plate lunches range from $9 to $15 and premium dishes like ribeye steak and steak and lobster are both $20.
Choose from steak, garlic shrimp, salmon, lobster tails, ahi steak and fried poke or make a combo for a hearty lunch or dinner.
Each dish comes with a topping of roasted garlic cloves. I like cutting them into neat pieces; others smash them into their steak.
During the day, there's parking next to the truck as well as along the canal. There's no seating (the truck is parked in front of the owners' grandma's house), so find a good place to have a picnic or take it home or back to work. We headed over to Peter Buck Mini Park across the way on Houghtailing and had lunch on one of the handful of shaded benches.
So the big question: What's a truck with a name like Upscale Hawaii and steak and lobster on the menu doing in this spot? Well, owners D Cruz and Mike Valdez, who had no commercial kitchen experience but liked to cook and eat well, were talking story in their garage and ended up deciding to open a food truck. They prep out of their kitchen at the old Mitsuken location and ended up on Kohou Street because it offered more parking for customers.
Once people found them on Instagram and Yelp, they started getting a steady stream coming for lunch and dinner. Be sure to follow them on Instagram (@UpscaleHawaii) for up-to-date menu and hours.
Upscale Hawaii Food Truck
1510 Kohou St.
Instagram
Lunch: Wed, Fri, Sat 11 a.m.-2 p.m.
Dinner: Tues-Fri 6 p.m.-10 p.m.