Hidden gem: Uber Factory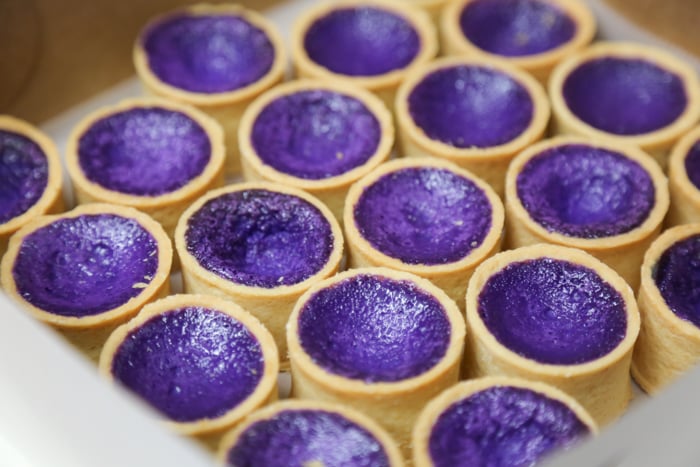 Andy Dalan loves ube so much, he's created a trail of dishes featuring the purple yam. At Yogurstory he concocted ube pancakes and won the Rice Festival cooking contest with another ube creation. In 2014, instead of making a cake for a friend's birthday party, he baked some tart shells and filled them with creamy ube. The ube tarts were so popular he started getting requests for potlucks, weddings and Manny Pacquiao fights.
Now Dalan, executive chef at Waimea Valley's Proud Peacock Restaurant, has opened up a Saturday bakeshop in Wahiawa featuring — what else? — ube tarts!
Uber Factory is right off Kamehameha Highway in the same strip mall as Killer Tacos, halfway down the one-way parking lot. There's only about a dozen stalls, so you'll probably have to find street parking, especially if you go right when they open at 9 a.m.
The little tarts have a slightly sweet, incredibly satisfying ube filling and are served chilled. Each bite leaves you wanting more, even though you just ate six and really want to save one for your friend to try. After staring at the box, you eat the last one and make a silent promise to order more next time. What your friend doesn't know, won't hurt him.
Dalan's tarts have gained quite a following. Every Saturday there are ube tarts, plus one or two choices of special tarts. Those who forget to pre-order line up before the shop opens, since they often sell out.
So far Dalan has introduced three new flavors: black lava caramel (salted caramel), kulolo coconut crunch and a Tootsie Roll chocolate tart.
To pre-order, go to the Uber Factory Facebook page and message them with your name, phone number, how many tarts you want and pickup date and time. Dalan will confirm the order and remind you that it is cash only and available for pickup on Saturday at the factory.
Uber tarts are $10 for eight, $30 for 25 and $60 for 50. Special flavors are $12 per pack of eight.
Uber Factory
71 S. Kamehameha Hwy
Facebook.com/UberFactory
Saturday 9 a.m. – 4 p.m.