Hidden gem: The Sugar Hut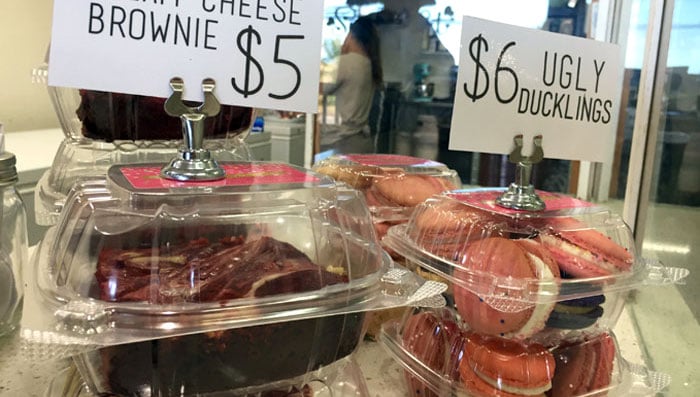 Who knew that I would find some of the best macaron ice cream sandwiches of my life in Waianae.
My first taste of The Sugar Hut was actually at the Moanalua High School craft fair, where they were selling macarons from a kiosk. I've been following The Sugar Hut on Instagram ever since, and I always drool over pictures of the macaron ice cream sandwiches, known to fans as Mackies.
But you can only find these famous Mackies at The Sugar Hut's bakery in Waianae. I've trekked out twice from Moanalua to get my hands on one. Of course, that's not all I left with.
Go in with a game plan, or some type of idea of what you want to buy. Otherwise, you'll seriously want everything in the display case. While Sugar Hut is famous for their handmade macarons ($2 each) and Mackies, they also sell truffles, cream puffs, blondies and more.
I end up getting an OREO Mackie — their most popular flavor — along with two macarons, a red velvet brownie and pumpkin mac crunch to try. My stash doesn't even last two days.
I'm a sucker for pumpkin crunch, and this pumpkin macaron crunch ($5) doesn't disappoint. While pumpkin crunch is known for being, well, crunchy, Sugar Hut's version presents a charming twist. The crust is a bit chewier, thanks to the fresh macaron bits mixed in, but you get a subtle crunch from the plentiful mac nuts. The pumpkin filling is fragrant but not overly pumpkiny, and the whipped topping is airy and guilt-free.
Whether or not you like this brownie ($5) will depend on your personal preference. It's huge, dense and ultra-chewy. I don't mind, but if you prefer lighter, cake-like brownies, it's best to pass on this one.
With flavors like Cotton Candy, Nutella, Cookie Butter and Guava to choose from, ordering macarons can be difficult. Macarons are usually $2 each, with a price break if you get a half dozen or a dozen. No judging if you do — they're that good.
I'm torn between OREO Mud Slide and the original OREO Mackies, but once I'm told OREO usually sells out, that solidifies my choice. I'm given a container with my Mackie — oh, you know, in case I can't finish the entire sandwich in one sitting. I smile politely and put it in my bag.
There isn't much seating area in the bakery, but there's a small bench outside where you can enjoy your treats. I relish each bite of the Mackie. The vanilla ice cream is coated with OREO cookie crumbles, and the larger-than-life macaron cookies are spongy, fresh and chewy.
My only regret — that it's not Friday, when Sugar Hut has a two-for-$8 deal on Mackies.
The Sugar Hut
87-070 Farrington Hwy.
722-7539