Hidden Gem: Rise and Shine Cafe in Mililani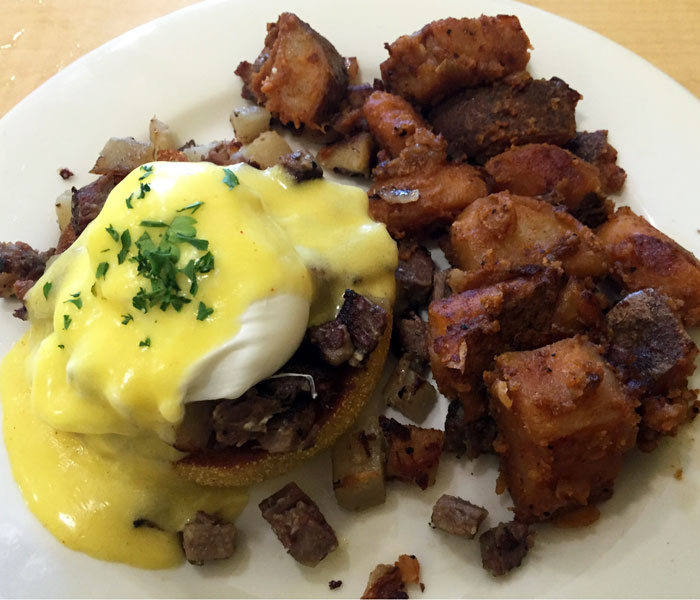 Since my first visit, this unassuming spot in Mililani's Gateway Center has skyrocketed to the No. 2 spot on my list of go-to breakfast places … right after Scratch Kitchen and Bake Shop. When I was on a Rise and Shine binge, I thought nothing of driving there from my Moanalua home three times in one week.
I have a huge sweet tooth, which got me so sidetracked that on my first two visits, I didn't even make it to the breakfast menu.
The bakery treats are made from scratch, with different items featured daily. Customer favorites include the larger-than-life cinnamon rolls ($2.95) and lilikoi cheesecake ($3.95).
The roll is piping hot, soft, chewy and doughy, and you get that sticky, sinfully sweet cinnamon glaze in every mouthful. Cinnamon rolls are made fresh each morning, and they sell out before lunch. Your best bet: Show up soon after the cafe's 7 a.m. opening if you have your heart set on one.
The lilikoi cheesecake doesn't just have a lilikoi glaze — the cheesecake itself has a lilikoi flavor. Imagine Aloha Maid Lilikoi Passion juice in dessert form. The cheesecake is lighter and delicious — not dense or overly rich, and with the right amount of sweetness.
Since I'm a peanut butter fiend, the chocolate cake with peanut butter frosting reigns as my go-to dessert. The chocolate cake is moist and crumbly, and the peanut butter butter cream's smooth, silky texture complements it. My dining companion gets one bite … and one bite only.
Our server vouches for the sweet bread French toast ($9.25), fresh corned beef hash & eggs ($11.95) or any of the benedicts. Since the corned beef is made inhouse daily, I opt for the corned beef hash eggs benedict ($11.95 half, $14.95 full).
The fresh corned beef is everything I imagine it to be — succulent and flavorful, with a melt-in-your-mouth texture. The hollandaise is delicious; I like it especially because it's not overwhelmingly eggy. But those breakfast potatoes steal the show. Seasoned and crispy on the outside and hot and mushy on the inside, they are phenomenal. I wish I ordered the full portion just for the potatoes.
At lunch our server recommends any fish entree and the pastrami reuben sandwich. She says that day's local fish special ($14.95) is one of her favorites — it features a panko-crusted fish with sweet soy buerre blanc sauce — and it's only offered once a month.
I'm sold — especially because of the fish of the day is ahi. We order that and the local fresh fish plate ($14.25), which includes your choice of grilled, blackened or furikake fish with white or brown rice and garden or Caesar salad. We choose furikake because we're curious to compare with our favorite from The Alley Restaurant.
The furikake layer is soggy and doesn't deliver the crunch I expect, but I like the dish because it comes with a ridiculously flavorful garlic aioli. It's not overwhelmingly garlicky, but it's addictive enough to make me want another container pronto.
The thin ahi slab is covered with an equally thin layer of golden-brown panko, but it's also not as crunchy as I anticipate. The fish itself is light, soft and ultra moist, but that subtly sweet buerre blanc sauce makes this a winner. The entire fish is swimming in a pool of that sweet sauce, making every bite tantalizing.
It's probably a good thing Rise and Shine is out in Mililani Mauka. Otherwise there'd be no question I'd be out there way too many mornings.
Rise and Shine Café
95-1057 Ainamakua Dr., #F-6
260-9312
riseandshineoahu.com
Monday-Saturday, breakfast 7-11 a.m. and lunch 11 a.m.-2 p.m.
Sundays (breakfast only): 7 a.m.-2 p.m.