Hidden gem: Guava Smoked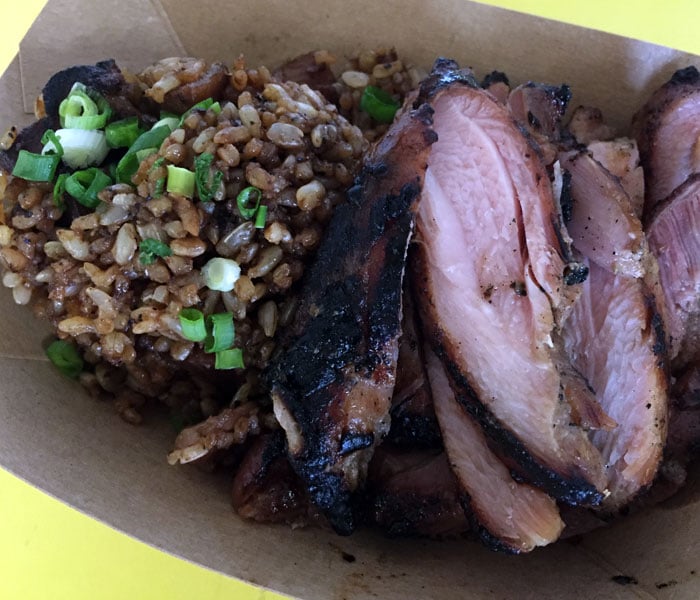 I first visited Guava Smoked when I was craving fried rice. Now, my problem is getting past the fried rice and ordering other menu items, that's how much I like that fried rice. But Guava Smoked has plenty of other local dishes, and lucky for me, it's just three minutes from my office.
Guava Smoked gets its name from the wood that's used to smoke the meat. Makes sense. If you recognize the name, it's probably because you've seen Guava Smoked at the Blaisdell Farmers Market on Wednesdays or the Kailua Farmers Market on Thursdays. Their Kalihi Street storefront has been open for about two years — you'll see the sign on Kalihi, but the entrance is on Republican.
On my most recent visit, I show up around 10:30 a.m. to collect my takeout order. Soon there's four other customers in line behind me.
If you aren't familiar with the menu, a larger-than-life version — complete with pictures — is posted on the wall. It's helpful for customers like me who want to see what each dish looks like prior to ordering. All bowls and plates come with hapa rice, but you can upgrade to fried rice for $1 more. Just do it; you'll thank me later.
The Smoked Fried Rice ($6.69) is one of my favorites on the island because of those meaty pork chunks. I love the grainy texture of the rice, but the succulent pork and chicken make this memorable. It's addictive; don't say I didn't warn you. Your best bet is to get this fried rice on a Monday, Tuesday or Friday — any one of the non-farmers market days, so you can secure your order before they run out.
The kalbi short ribs are one of Guava Smoked's most popular entrees, so I get that as part of the Mixed Plate ($13.38). You get two different meats — I choose smoked pork (mild) and the short ribs — as well as two scoops of hapa rice and mac or Nalo greens. Other meat choices include chicken, salmon bellies, butterfish and duck (Wednesdays, Thursdays and Saturdays only).
The kalbi is on the firmer side, but I don't mind the extra chewing because of the smoky flavor. I'm fine with the pork's mild spice level because it has just enough kick without setting my taste buds aflame. I'm surprised by how thick — and fatty — the pork is. I enjoy the savory taste, but I think I prefer the smoked pork chopped into smaller pieces, as it is in the fried rice.
I upgrade to fried rice for this bowl, and the chicken morsels are tender, juicy and succulent. They're not as fatty as the pork pieces, but they still boast lots of flavor. This is good option if you prefer boneless chicken (the plate lunches come with chicken thighs/drumsticks).
The chunks of pork here are meaty and visibly fatty. They're not melt-in-your-mouth status since they're so thick, but the savory flavor is unreal. The price seems a little steep for what you get, but you'll appreciate the succulent, generously sized pork pieces.
Curiosity gets the best of me after I'm told the Smoked Meat Chili is winnahs. I'm sold after one whiff. The chili has tomato chunks, beans and hearty pieces of pork. But since the pork bits are smaller than what you'll find in the bowls and plates, it's more manageable. The chili itself is super flavorful and not too soupy. Beats Zippy's any day.
Any trip to Guava Smoked isn't complete without getting some of those famous Guava Bars ($3 for two) for dessert. These bars sport the same lighter, crumbly consistency as lemon bars, but they're not tart, zesty or tangy because of the guava flavor. Way to end that ultra savory, smoky meal on a sweet note.
Guava Smoked
1637 Republican St.
Kalihi
351-0003
http://guavasmoked.com