Hidden gem: Gramma's Kitchen on the Big Island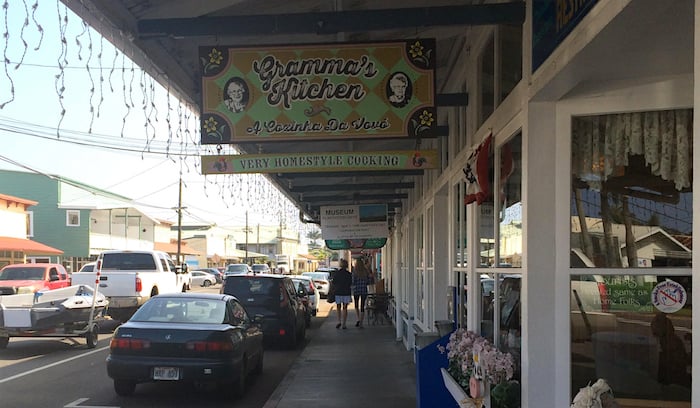 By Karen Iwamoto
Special to Frolic Hawaii
I only get home to the Big Island at New Year's, so I had big plans for my annual trip. But the truth is I spent most of my time eating leftovers and decompressing (read: not hiking 8 miles round-trip to watch the lava, or overcoming altitude sickness to see the snow on Mauna Kea).
The day before my flight back to Oahu, I went for a drive along the Hamakua coast and stopped for lunch. Gramma's Kitchen is a local Portuguese-inspired spot in Honokaa Town, a community of less than 3,000 people that was once a thriving sugar plantation. It's in the same neighborhood as the more famous Tex Drive-In, home to the square malasadas.
This is one of the reasons I love taking Hawaii Belt Road, which runs along the Hamakua Coast and surrounds the island like a lei — there are so many side roads and small communities to explore, most with views of the ocean. A lot of Big Islanders making the drive between Hilo and Kona opt for Saddle Road, which cuts inland and promises a faster east-west trip. But while the scenery is beautiful in its own way — otherworldly, even, with a landscape that reminds me of pictures of Mars — Saddle Road is a straight shot that speaks to me more of efficiency than wandering.
I recommend you get to Gramma's Kitchen early because by the time I arrived around noon there was a 30-minute wait. That is more than enough time to walk the approximately three blocks that make up Honokaa's main drag, which includes a True Value hardware store (that smelled of dust and motor oil and reminded me of my grandfather's garage in Hilo), a few boutiques and an ice cream/fudge shop.
My brother had recommended Gramma's Kitchen. He'd actually told me to go on a Friday when I could order their weekly special Portuguese bean soup, which is served in a three-legged bowl. But this was not Friday, so I ordered Portuguese bread French toast. It came with three slices from Punaluu Bake Shop in Kau that were at least three inches thick, plus maple syrup and a side of pleasantly smoky corned beef hash.
Breakfast is served all day at Gramma's and the portions are huge. Other diners were taking short breaks while attacking their loco mocos. Now I understood the long wait to get in. Not only is the space as cozy as a grandma's kitchen, it takes awhile to eat all that food.
The restaurant is based around co-owner Chris Ignacio's memories of filling up in his Portuguese grandmothers' kitchens. It's homey and full of touches like old family photos and flowers on the windowsills. Local and American favorites like corned beef hash, chopped steak and Korean chicken are on the menu, but Chris makes sure his Portuguese heritage is highlighted — breakfast is pequeno-almoco, lunch is almoco and beverages are bebidos.
Sometimes there's Portuguese Vina Dosh (vinha d'alhos), a wine-and-garlic marinated pork dish, and other traditional Portuguese dishes. Since Chris does the cooking, daily specials depend on his mood, his wife Kendra says. Call ahead to find out what they are.
As for me, I'll have to come back for that Portuguese bean soup.
Gramma's Kitchen
45-3438 Mamane St.
808-775-9943
Sunday and Tuesday – Thursday, 8 a.m. – 3 p.m.
Friday – Saturday, 8 a.m. – 3 p.m. and 5 p.m. – 8 p.m.