HFWF16: Urban Luau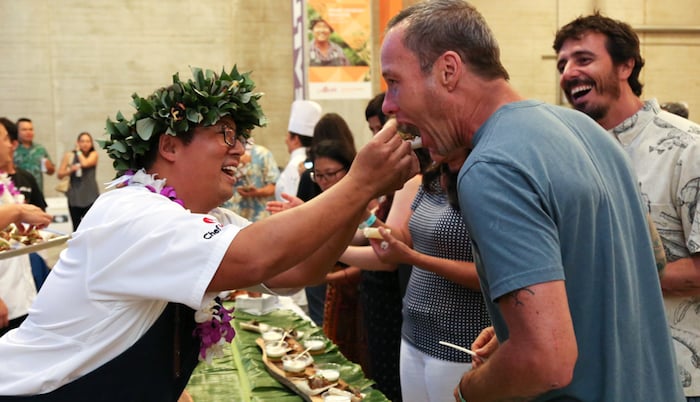 The sixth Hawaii Food and Wine Festival arrived on Oahu on Wednesday night with a round of themed galas, day events, wine seminars and battles for supremacy in haute ramen and brunch stretching through the weekend. The Oahu events follow a series on the Big Island and Maui, with dozens of celebrity chefs from Hawaii, the US, Pacific Rim and Europe showcasing Hawaii ingredients in unique dishes created for the festival.
First up on Oahu: Urban Luau at Kakaako's new Salt complex. Favorite local spots like Helena's Hawaiian Food, Alicia's Market, Highway Inn and Haili's Hawaiian Food served up classics; next to them, buzz chefs dished up haute-cuisine riffs.
Chung Chow of New York City's Noreetuh (second from left) and Ravi Kapur of Liholiho Yacht Club in San Francisco (top row, left) joined Hawaii restaurants and chefs in showcasing Hawaiian-themed dishes. Both Oahu natives, Chow and Kapur run successful restaurants serving up contemporary Hawaiian-inspired cuisine.
Chow's Pono Pork tenderloin pastrami with pickled Napa cabbage, orange supremes and cilantro shoots was a twist on kalua pork with a nod to New York. It won over eaters with a big, smoky flavor balanced by sour and sweet.
One of the night's most unique dishes: Eddie Lopez of the Mill House offered a take on kulolo, served as ice cream spooned into mini cones.
Those who wandered over to Mark Noguchi's table were in for a surprise. The Pili Group chef served bites of a composed paiai appetizer with elements of octopus, fish, dried shrimp and limu directly into diners' mouths. This was followed by a shot of beer. Ultimate pau hana!
Hawaii Food & Wine Festival co-chairs Roy Yamaguchi and Alan Wong. The state's premiere culinary event started on Oahu six years ago and now spans three weekends on the Big Island, Maui and Oahu.
The Hawaii Food & Wine Festival continues with The Hungry Monkey at the Modern Thursday night, Oct. 27, and A Culinary Flight at the Hawaii Convention Center on Friday, Oct. 28.
Here's the full schedule on Oahu.