Here's How Pau Hana Cocktails Equal Bentos for Furloughed Workers
Cocktails for a Cause brings star mixologists together to help unemployed food and beverage workers.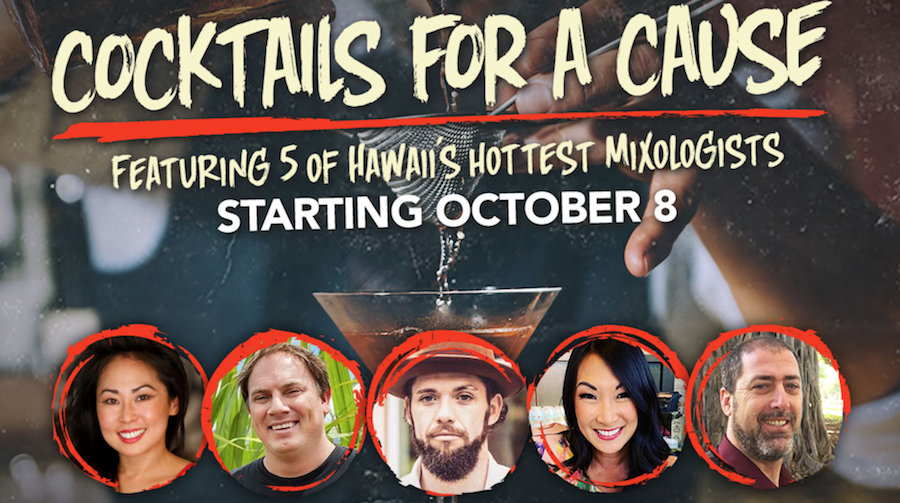 Finally, an idea whose time has come: Shokudo just launched Cocktails for a Cause, a five-week effort to get bentos to furloughed food and beverage workers when you buy exclusive, limited-time takeout cocktail kits. The clincher? Actually, there are two: Each cocktail is a new creation by a top Honolulu mixologist — and each one is only available for three days.
Each $25 cocktail kit comes with pre-mixed cocktails and garnishes for 2 plus a flawless pair of chic craft cocktail rock cubes from On The Rock Hawaii. It's phone pre-orders only (call Shokudo at 941-3701) and each cocktail kit purchased will provide four bentos for furloughed industry workers on a first come, first served basis starting in November. Note: Because of liquor laws, you'll need to order a food item to purchase the alcohol.
Here's the lineup:
Oct. 8-10: Hanakotoba by Alicia Yamachika — Yamachika is a veteran of the cocktail programs at Nobu Honolulu and Livestock Tavern. Hanakotoba means flower language in Japanese; it combines Japan's delicious Roku Gin with yuzu, fresh lemon juice, honey-ginger syrup and lavender bitters.
Oct. 15-17: Guardian by Dave Newman — The owner and creative force behind Pint and Jigger and Harry's Hardware Emporium is creating a cocktail of Angel's Envy Bourbon, Yellow Chartreuse, Montenegro, lemon juice and a dash of orange bitters.
Oct. 22-24: Catapult by Kyle Reutner — The general manager and mixologist of Ko Hana Rum is combining fresh-pressed heirloom cane juice with ginger, lime and Ko Hana Kea Hawaiian Agricole rum.
Oct. 29-31: Ivan Tu by Art Deakins — Deakins is a partner at Kuleana Rum Works; his Ivan Tu cocktail will feature Kuleana's Huihui Rum, coconut water, pineapple drinking vinegar, Darjeeling black tea concentrate, aperol and lemon juice.
Nov. 5-7: Drift Away by Chandra Lucariello — The director of Mixology & Spirits Education for Southern Glazers Wine & Spirits of Hawaii will have a tropical cocktail of Casamigos Blanco Tequila, Dolin Blanc, the juices of fresh Japanese cucumbers and limes, simple syrup and yuzu juice.
All pickups of cocktail kits are at Shokudo. Cheers!
Cocktails for a Cause
Shokudo Japanese Restaurant & Bar
1585 Kapiolani Blvd.
Ala Moana
Call (808) 941-3701 to pre-order