Hear the Story of Hawai'i's First Serial Killer on "What School You Went?"
The next episode of PBS Hawai'i's weekly podcast discusses details of this unsolved crime.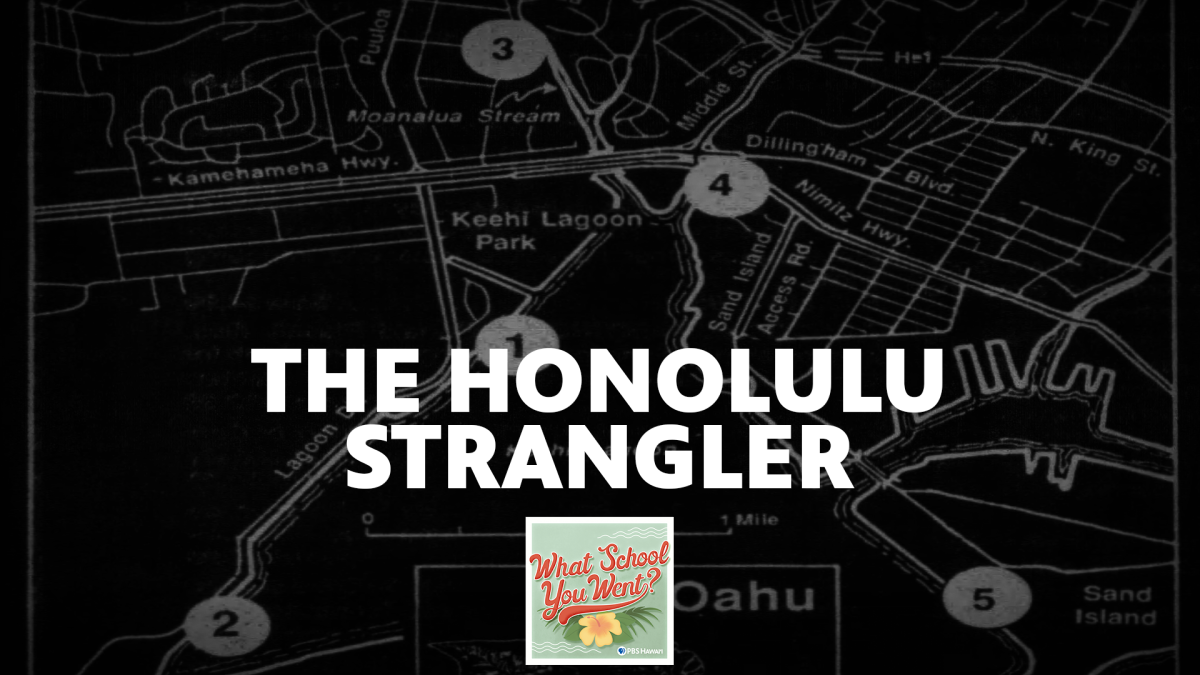 A local task force and the FBI feverishly work to create the profile of a serial killer. Evidence suggests he is not a stalker but an opportunistic and organized killer who abducts women in vulnerable locations, like bus stops and parking lots.
Homicide detectives believe he is Caucasian, between the ages of 30 and 40, drives a cargo van and has no criminal record. He has already killed four women and is likely to strike again. Police warn women to avoid public transit.
This is not a Hollywood movie nor a mini-series on Netflix. This is Hawai'i, home of white sandy beaches, laidback surf vibes and romantic sunsets. But in 1984, it was also home to The Honolulu Strangler.
PBS Hawaiʻi CEO Ron Mizutani recently sat down with Robbie Dingeman, award-winning journalist and editor at large at HONOLULU Magazine, to discuss details of Hawai'i's first reported serial killer. Mizutani and Dingeman, former KHON2 colleagues, reconnected on PBS Hawai'i's podcast, What School You Went? Launched in August 2021, the podcast features all things Hawai'i, including local culture, food, nostalgia and crime.
Their conversation takes listeners back to May 29, 1984, when 25-year-old Vicki Purdy went missing after a night out with friends. Police found her body near Ke'ehi Lagoon, her hands tied behind her back. She had been strangled.
The case went cold until Jan. 14, 1986, when 17-year-old Leilehua High School student Regina Sakamoto went missing. She was last seen waiting at a bus stop in Waipahu. A day later, police found Sakamoto's body less than a mile from where they found Purdy's, her hands also tied behind her back. She too was strangled.
SEE ALSO: Tune in for Local Success Stories on PBS Hawai'i's Newest Program, "Home Is Here"
Two weeks later, on Jan. 30, 1986, three men found the body of 21-year-old Denise Hughes in a drainage canal in the same area. Hughes was last seen at a bus stop and was found strangled, her hands tied behind her back.
The killer struck again, seven weeks later; police found 24-year-old Louise Medeiros' body in a freeway underpass near Waikele Stream. Medeiros had the same injuries as the other women; she was three months pregnant.
Then on April 29, 1986, a woman reported her 36-year-old roommate, Linda Pesce, was missing. Police found her car on Nimitz Highway but there were no leads until May 3, when investigators received a call from 43-year-old Howard Andrew Gay, who claimed a psychic told him the location of Pesce's body.
Gay took police to Sand Island but noticeably avoided one area. Police eventually discovered Pesce's body with injuries similar to the other victims and arrested Gay on May 9. At different times, police said the victims were bound with strapping tape or zip ties. Gay worked at an air cargo operation where he had access to those materials daily. Despite monitoring Gay for years and offering $25,000 for information, police could never directly link him to the murders. Gay died in 2003 in California at the age of 60, never charged for the murders of Vicki Purdy, Regina Sakamoto, Denise Hughes, Louise Medeiros or Linda Pesce.
Learn more about the case on the next episode of What School You Went? which will be released at 5 a.m. on Aug. 17 online at pbshawaii.org and anywhere you get your podcasts. What School You Went? is hosted weekly by Mizutani and explores the traditions and stories that make up the modern-day culture of Hawaiʻi.
---
Every month, HONOLULU publishes a blog written by the folks at PBS Hawai'i, the only locally owned, statewide television station in Hawaiʻi that receives support mainly through donations. Visit pbshawaii.org to learn more about exceptional, locally produced shows and the most prominent provider of educational and national programming. Explore music and the arts. Discover in-depth documentaries. Learn what makes Hawaiʻi so special. Open your mind to the cultures of our people near and far. Expand your knowledge about community issues. Share your voice. Follow PBS Hawai'i on all platforms: @pbshawaii