Tune in for Local Success Stories on PBS Hawai'i's Newest Program, "Home Is Here"
In July the monthly TV show visits The Maui Cookie Lady, UH football and Hui Kū Maoli Ola.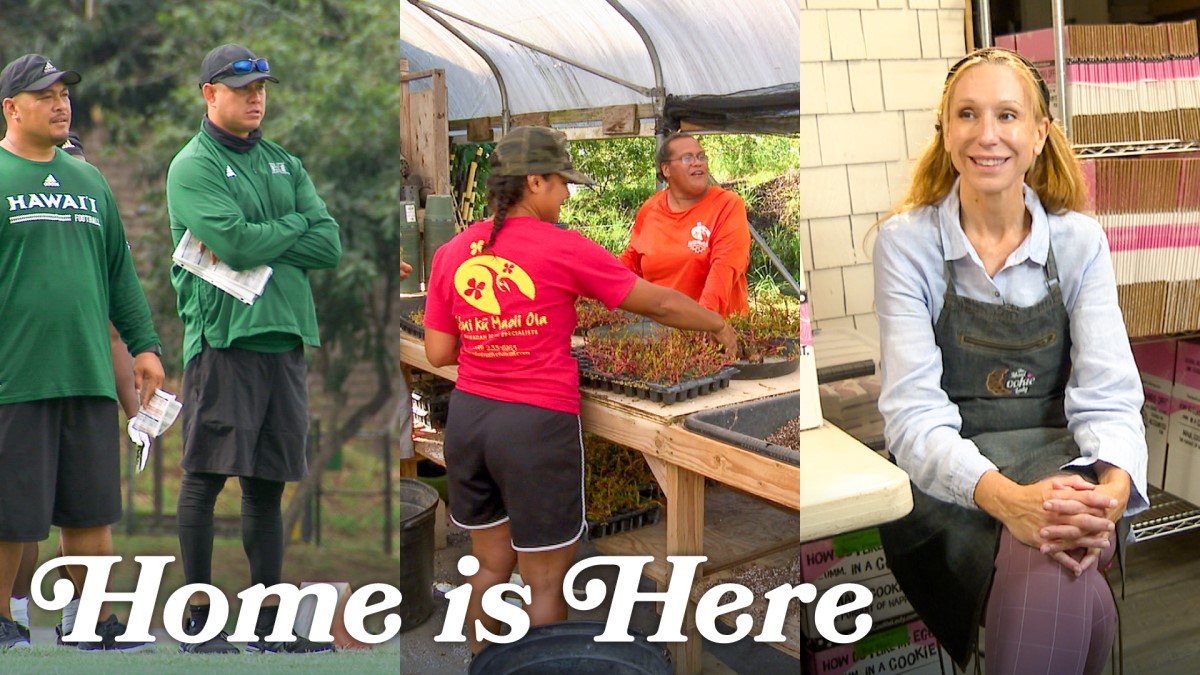 It's PBS Hawaiʻi's mission to represent the cultures and voices of our island home through storytelling and local content. The latest way the station is fulfilling that mission is with a new monthly program, Home Is Here, which also happens to be the station's longtime tagline.
Launched in February, Home is Here aims to share the kinds of stories that can only be found in the Islands, and reminds us about what makes our home so special. This month's installment, airing Wednesday, July 27, visits three local businesses and leaders to show how following your passion can lead to success.
First, Makawao resident Mitzi Toro, a baking hobbyist whose passion earned her the name "The Maui Cookie Lady," shows how her knack for snacks led to a successful small business and national attention from The Food Network, Good Morning America, O Magazine and Dwayne "The Rock" Johnson.
Next, Timmy Chang, a Saint Louis High School graduate and former standout quarterback for the University of Hawaiʻi at Mānoa, talks about returning to his alma mater as head football coach. This fall will be his first season in charge of the team.
What started as a collection of native plants and seedlings back in 1999 has grown and blossomed into the largest Native Hawaiian nursery in the world, Hui Kū Maoli Ola in Kāneʻohe. For the last segment of the show, learn how college friends Rick Barboza and Matt Schirman have used their large-scale retail operation and landscaping service as a means to restore native habitats.
In addition to Home is Here, PBS Hawai'i extends its commitment to local programming by creating content exclusively for its digital platforms. Every episode of Home is Here is supported with bonus vignettes, available for streaming on pbshawaii.org and the PBS Hawaiʻi YouTube channel.
For more local culture stories, catch the weekly podcast What School You Went? hosted by PBS Hawaiʻi CEO Ron Mizutani. Launched in August 2021, What School You Went? encompasses all things local and nostalgic.
Home is Here: Wednesday, July 27, 7:30 p.m. broadcast on PBS Hawai'i and online at pbshawaii.org
---
Every month, HONOLULU publishes a blog written by the folks at PBS Hawai'i, the only locally owned statewide television station in Hawaiʻi that receives support mainly through donations. Visit pbshawaii.org to learn more about exceptional locally produced shows and the most prominent provider of educational and national programming. Explore music and the arts, discover in-depth documentaries, learn what makes Hawaiʻi so special, open your mind to the cultures of our people near and far, expand your knowledge about community issues, and share your voice. Follow PBS Hawai'i on all platforms: @pbshawaii