Hawaii's fastest public Wi-Fi network comes to Our Kaka'ako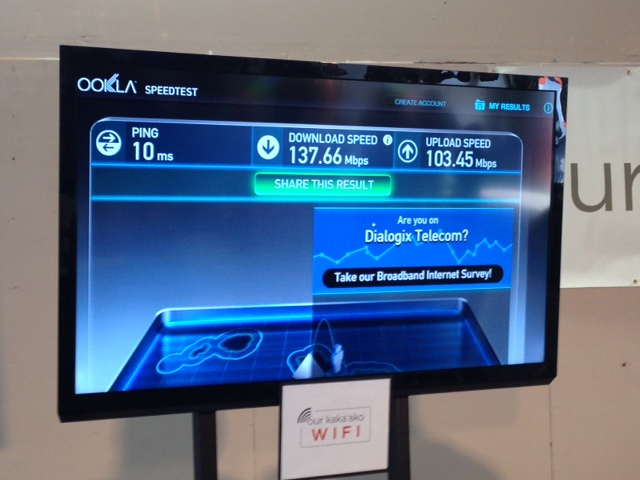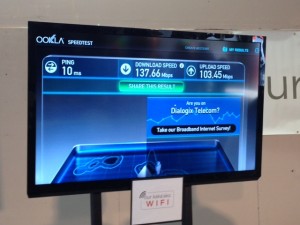 Blazing fast, free Wi-Fi has come to Our Kaka'ako, as Kamehameha Schools Tuesday announced the creation of a huge, public Wi-Fi network that spans a nine-block area bounded by Ala Moana Boulevard and South, Halekauwila and Cooke streets.
The newly activated system — one of the nation's fastest and robust public Wi-Fi networks — launched March 1 and is accessible on any wireless device throughout the Our Kaka'ako neighborhood. Hawaii Dialogix Telecom (HDT), a leading provider of Wi-Fi networks, designed the network and will provide the services to connect it to the Internet.
What's most impressive about this network, which will be finalized in the next two weeks, is the speed. During a test at Tuesday's press conference, the symmetrical upload and download speeds reached 137.66 mbps (download) and 103.45 mbps (upload) — about 10 times faster than what people can typically get at home, and far faster than what's available at other public Wi-Fi around the island. It also can service thousands of people at the same time.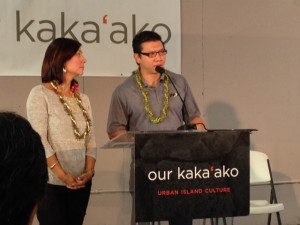 Stephen Hon, co-president of Hawaii Dialogix Telecom, says the network was built to accommodate 500 simultaneous users per access point. With 20 wireless access points destined for the the area, thousands of Wi-Fi users can take advantage of seamless roaming throughout the neighborhood without being kicked off the network when traveling between blocks. The system will be protected by a Next Generation Firewall Solution.
HDT has designed the network with resilience and scalability features to ensure the Wi-Fi service will be able to adequately provide coverage as different stages of Kamehameha Schools' master plan are implemented. This will allow for network capacity to be dynamically allocated to the places where the densest user activity will be occurring, as in the case of the thriving Honolulu Night Market or Eat the Street events. "It's highly scalable and can grow based on need," Hon says.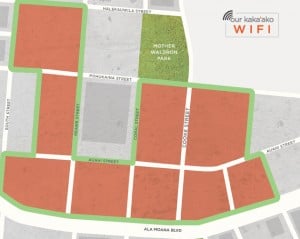 Erin Kinney, development manager for Kamehameha Schools, says with the new network, a person can go to Honolulu Night Market, then have dinner at Cocina and not be kicked out of Wi-Fi. "Our community Wi-Fi will not only increase wireless access for everyone who works and visits the neighborhood, but it will further enhance the innovation and creativity that Our Kaka'ako is known for. We'll be able to strengthen our community in so many positive ways through greater connectivity."
Over the next few months, Our Kaka'ako will host a series of events to showcase the capabilities and strength of the Wi-Fi network. The first event, a pop-up called "Out of Office" scheduled on March 14, will likely attract Hawaii's cofficing community. Along with Wi-Fi and work spaces, there will be food trucks, music and fusball tables for those who come to work in the space that day.
Here's @parkrat with @docrock, two Honolulu techies, with their observations on the new Wi-Fi network: