Hawai'i's Best Korean Shave Ice Is Hidden in a Supermarket
Just past the produce and the latest in Korean aunty fashion, Ke'eaumoku's En Hakkore Café serves up a loaded mountain of shave ice with an espresso shot.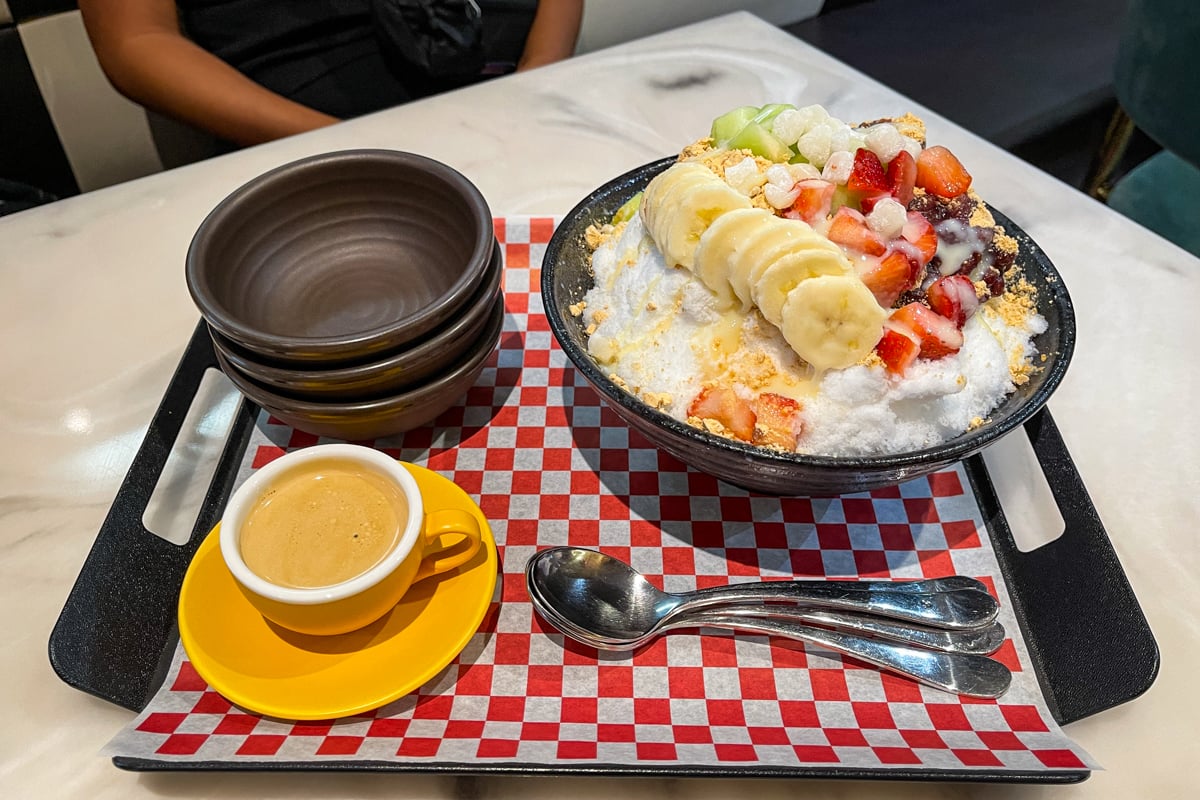 Editor's note: With the coming redevelopment of this part of Ke'aumoku Street, En Hakkore closed in early 2022.
It starts with a block of milky ice: Loaded into a machine, the ice gets shaved thinner than hair on your uncle's head as the rumbling machine shakes the counter of cozy En Hakkore Café. The barista layers ribbons of condensed milk into the fine snow, hidden caves of sweetness waiting to be discovered as you excavate this mountain of a bingsu Korean shave ice.
Bananas, kiwi, Korean melon, grapes, strawberries—whatever's in season at 88 PalPal Supermarket, where En Hakkore occupies a tiny corner behind the produce section—are sliced and added. Mochi, sweet pat red bean paste and bokkeun konggaru (roasted soy bean powder) are placed on top. If you're lucky, you'll even find grilled tteok rice cakes hidden below. A final lashing of sweet condensed milk glimmers as it oozes over the toppings. But wait, there's more.
---
SEE ALSO: Fat Kid Friday: Jumbo-Sized Korean-Style Shave Ice
---
On the side you find a fresh shot of espresso in a demitasse, its crema still in full bloom. Pour it over the bingsu and watch it melt the ice like a cascading springtime river breaking winter's final frost. The mix of strong bitter coffee, condensed milk and sweet fruit is gratifying, especially after schlepping around in Honolulu's summertime heat.
View this post on Instagram
You won't find any fruity syrups or new-age flavors at En Hakkore. In fact, this old-school shave ice's only option is a choice of sizes. The mini ($10.99), served in a ramen bowl, is plenty for one. For $3 more the jumbo, which comes with extra bowls and spoons, is best for sharing with a group.
Open Monday to Saturday from 8:30 a.m. to 9 p.m., Sunday from 10 a.m. to 9 p.m., 825 Ke'eaumoku St., (808) 230-3513