Fat Kid Friday: Jumbo-sized Korean-style Shave Ice
Layered, loaded, over the top — and then you pour fresh espresso over everything
Fat Kid Friday is a video series spotlighting exuberant dishes across Oahu. Crazy, ginormous or over-the-top luxe, these are the broke-the-mouth dishes we push across the table and tell our friends, "Try this. TRY IT."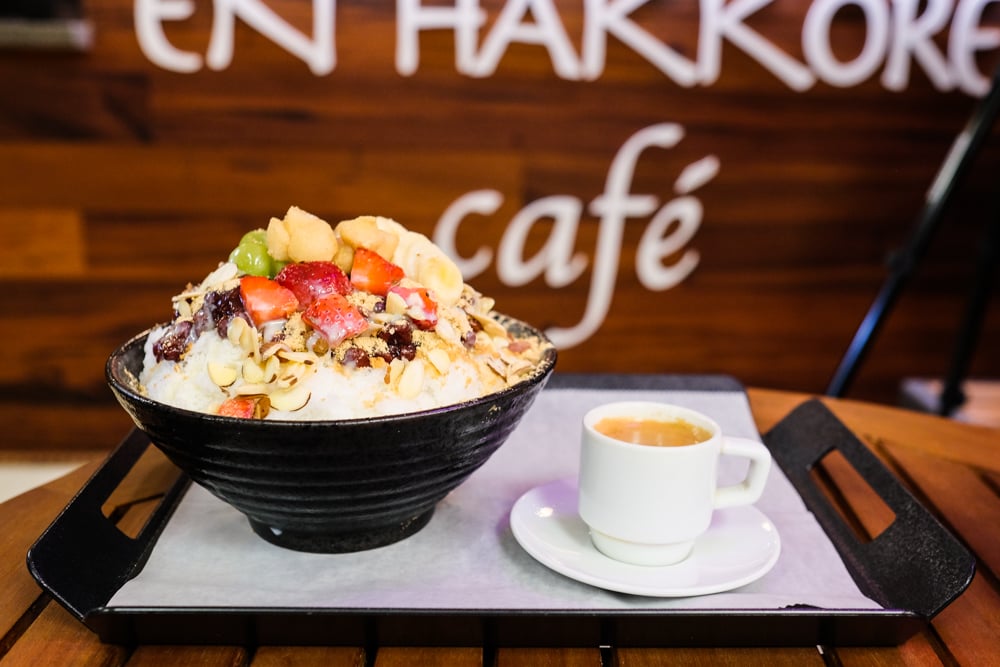 One day, while browsing the many hashtags of Instagram and I caught myself drooling over a glistening mountain of finely shaved ice decorated with azuki beans and cubes of banana, strawberry and grapes. Patbingsu, Korean-style shave ice, is finished with chewy lobes of mochi, toasty almond slivers, sweet condensed milk and nutty roasted soybean powder (bokkeun konggaru in Korean) for a flavorful and wildly textural experience.
It's undeniable that the weather is heating up and we Fat Kids feel the best way to cool off is to dive spoon first into this jumbo-sized ramen bowl of patbingsu amongst produce and ajumma aprons at the back of a Korean supermarket. At $13.99, the larger of two sizes is best shared amongst two or three. Beware, the shot of espresso you add in is a jolt of energy you may or may not have expected.
If it's not the fluffy shaved ice or the tart bits of fruit that keep you digging for more, the mochi and roasted kinako powder are sure to keep you searching for respite.
– Concept and title by Brandon Lee
– Video by Mari Taketa
– Edited by Thomas Obungen
En Hakkore Cafe
88 Pal Pal Supermarket
835 Ke'eaumoku St. I-102
230-3513
Missed any Fat Kid Friday videos? Watch the series:
Green tea warabimochi parfait
Churro waffles
The Heavy D and Royale with Cheese
The Mega-sushi rito
Pocho wraps and E-mochi balls
The $65 Ultimate Loco Moco