Hawaii: In Real Life ~ Whole Ox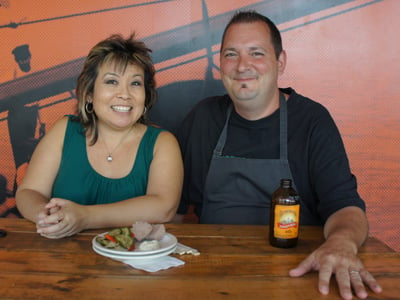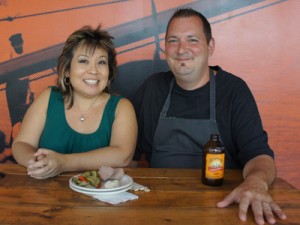 Today's IRL blog is actually twofold: One, to talk about Whole Ox Deli (@WholeOxDeli), and two, to talk about the upcoming Great Chefs Fight Hunger event put on by the Hawaii Foodbank (@HawaiiFoodbank) on March 23. Click here to see last year's photos.
The event started as chef D.K. Kodama's brain child on the lawn at Restaurant Row, since he has four restaurants there. The event has grown steadily each year, and, realizing Hawaii's unpredictable weather could be a problem, they moved the event to Hawaii Foodbank's Mapunapuna warehouse. They now draw about 600 people to graze at 20 food stations and several beverage booths. You pay $150 to help the cause and enjoy some of the best food Oahu has to offer — and believe me, it's a lot of food. I couldn't eat at every station last year, despite the fact that I can eat a lot. So yes, it's worth it.
One of the newcomers to the event this year is Whole Ox Deli. Whether you're familiar with Kakaako's hip vibe or not, you have probably heard of the Whole Ox and the food they serve. Renowned chef Bob McGee, known for sourcing local products before it was at the forefront of everyone's consciousness, is also a very adept butcher. He doesn't just procure the meat he's going to use; he buys the whole animal and uses every bit of it for everything he sells. The result of all of this is a very high-quality plate of … well, whatever he's serving, with some amazing flavors. (My friend Rex went there for the first time the other night, and all kinds of crazy sounds were coming out of his mouth.)
So we caught up with Bob to see what he's serving: Braunschweiger! What is this stuff?
I didn't taste it on camera, but after he walked away, I tried it with Christine Matsuda Smith of the Hawaii Foodbank. If you have preconceived notions about pates and liver products, this is nothing like that. Click here to see our reaction.
But wait, there's more! We went on to talk about the Whole Ox, and Bob shared a story with us from Hawaiian history that I had never heard, but it was quite meaningful. I think you'll find it interesting, too. Visit HawaiiIRL.com to hear more.
In the meantime, get your tickets to the Hawaii Foodbank's Great Chefs Fight Hunger quickly, as tickets sell out quickly. I'll be doing at least one more preview of the event for you in the coming weeks as the chefs decide on their dishes.
KHON segment on Great Chefs Fight Hunger