Hawaii: In Real Life ~ Razor Concepts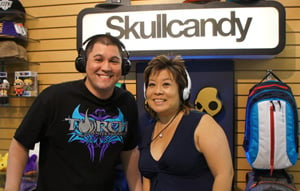 (Note: This week's video was shot on time but is posting late due to the cameraman catching the flu.)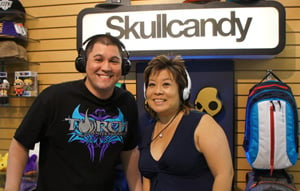 Hands down, one of the funniest live interviews I've ever done was with Kaulana Chang (@MagicianKaulana) of Razor Concepts (@RazorHawaii) two years ago. Despite being media savvy and quick on his feet, Kaulana unwittingly delivered some of the best bloopers that I use as examples to this day. (Click here to see the video.)
Razor Concepts recently moved from its second floor location to a new, bigger space on the first floor in Pearlridge uptown, so that gave me the opportunity to interview Kaulana again and see if we could produce any more bloopers. Alas, Kaulana prepped himself, but is still a good interview nonetheless.
If you visit the store, you'll find that they focus on the latest in T-shirts, dresses, collectibles, toys, accessories, and more. I know this sounds like a mishmash of stuff, but if you visit, you'll understand how it all ties together. Razor's items appeal to trendy niche markets, but they're popular in the mainstream as many young people like to look like they're in the trendy niche. And with their new digs, Razor can display more cutting-edge products to help you keep up with the Joneses.
We didn't have time to look at the whole store, but Kaulana showed us some new things from Skullcandy, arguably one of the trendiest manufacturers of headphones in the country. I was so impressed, I'm going to buy a pair for running when they're available in two weeks.
We got to see more fun and quirky products — some of which just hit the shelves yesterday. Visit HawaiiIRL.com to see more!