Hawaii: In Real Life ~ Isaac Bancaco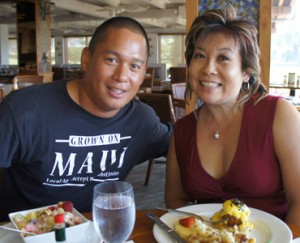 I first met Isaac Bancaco in 2010, after he had just returned home to Maui to become the chef de cuisine at the Grand Wailea's Humuhumunukunukuapua'a. He was on Oahu for the day to met as many media as possible, since he had been away for almost a decade.
"I didn't grow up cooking. I may have gone away to culinary school because it seemed like a good way to meet girls," he joked. He went through a series of interesting career turns after graduating from the Western Culinary Institute in Portland, OR — he started at Ming Tsai's Blue Ginger in Wellesley, MA, and in a couple of months, had the opportunity to be a sous chef there.
"I wanted to come home, but I couldn't turn down such a fantastic opportunity," Banacaco said. "My grandparents insisted I stay to learn and grow. They said home will always be here for me, and they were right."
He stayed for four years with the harsh East Coast winters, then moved to the milder Los Angeles to open two Roy's restaurants in a three-year period. Onyx Fusion Bar & Restaurant discovered him there, and lured him back to Massachusetts, where he stayed for a bit before the Grand Wailea called him back home. He's now the executive chef at Pineapple Grill (@PineappleGrill) in Kapalua, tweaking the menu and balancing the chef's dilemma of price, quality, and fiscal responsibility in using as many local products as possible. A group of us talked story with him over breakfast at the Pineapple Grill this past weekend to get to know him and his work style. You can also follow him on Twitter and Instagram at @Ibancaco to see more.
If you want to see more of our conversation, click here as we talk about how he works with farmers, what he sees as food trends, and his favorite comfort food. Big mahalo to Peter Liu (@PeterLiu47) for being my Maui cameraman! for Oh, wait, did you want to see our food? Here's a quick look at our brunch, which was sponsored by Edible Hawaiian Islands Magazine (@EdibleHawaiian).
Brunch at Pineapple Grill
Picture 1 of 8
We snacked on a platter of 100 percent local products: Papaya with regular strawberries and the smaller, super sweet white strawberries; and lilikoi halves filled with Surfing Goat Dairy goat cheese sorbet. Everything was incredibly sweet, yet there was no added sugar — it was all natural. I think Kimo Simpliciano (@KimoSimpliciano) is responsible for some of this goodness.
Pineapple Grill
Kapalua Resort
200 Kapalua Dr.
Kapalua, Maui, HI 96761
808-669-9600