Hawaii: In Real Life ~ Chinatown Express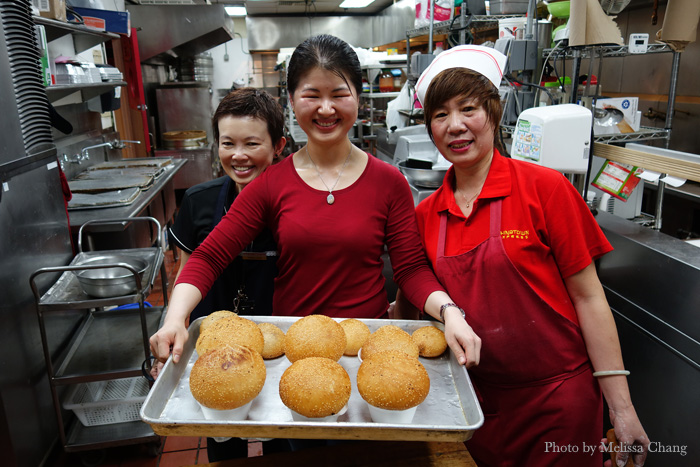 It's that time of year! Chinese New Year is February 19, where we will be welcoming in the year of the ram. If you are at the Chinatown festivities this weekend, you're likely to get some gau, jai, and jin dui.
If you're Chinee like me, this is probably the only time of year you actively seek out jin dui. Unlike most restaurant (note: most, not all) jin dui, the ones sold on the street at Chinese New Year are light and crispy, not dense. I became a snob about this as a kid when our next door neighbor, Mrs. Lee, would bring us a box of her freshly-made jin dui every lunar new year. If you ever have the real deal, it's hard to eat anything else.
Turns out, Chinatown Express at Ala Moana's Makai Market food court has an expert jin dui maker, Ah Ngan. She uses an old family recipe and techniques, and has gone up against the company's dim sum makers to win internal contests. For Chinese New Year festivities (now through February 19), not only does she make her light, airy treats, she makes them larger than usual — about the size of a softball. I haven't seen giant jin dui in the United States yet, so this was quite a treat.
Also, for Chinese New Year, Chinatown Express makes char siu-filled jin dui in addition to the usual black sugar and coconut.
The family that owns Chinatown Express took me into the kitchen to watch Ah Ngan make her famous jin dui from start to finish. The video, below, shows us not just making the dough but how she fries it to make perfectly round balls. Did you know that jin dui has a good luck significance, too? Click the link to find out!
Here's a look at the regular-sized versus giant jin dui. Click here to see more photos.
We took the steaming hot treats out to a table to try them with Elizabeth and her mom and talk about the tradition for Chinese New Year, as well as other good luck foods are serving through February 19. Visit HawaiiIRL.com to see more!