'Hawaii Five-O' Recap: 'Lekio'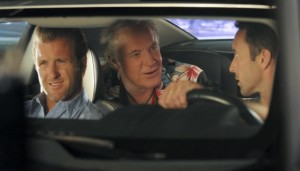 This episode was all about the Caan – James Caan, that is. The legendary actor, known for playing hothead Sonny Corleone in "The Godfather" (or Elf's dad, depending on what decade you were born) and real-life father of "Hawaii Five-0" regular Scott Caan, made a guest appearance in the latest episode "Lekio" and showed how effortlessly an excellent actor can class up even the most mediocre material.
Caan played Tony Archer, an ex-cop from New York now retired in Honolulu. When his best friend, radio DJ Bobby Raines (Dennis Miller), is killed, he's questioned by the 5-0 team and eventually helps them solve the case. If not for Caan's presence, the episode would've been another forgettable one, but his chemistry with both his son and McGarrett was undeniable and resulted in some of the greatest banter in the series yet. I'm usually not a fan of stunt casting, but I love the Caan.
Here's this week's look at The Good, The Bad and The Weird.
The Good
Every scene with Caan, Danno and McGarrett. Caan totally elevated the material and brought his experience and talent each time he was on screen. The banter between the three characters was hilarious and seemed improvised because it was so natural.
"Who are you?" – Archer. "5-0!" – McGarrett. "Five what?" – Archer. The 5-0 team always charges into situations proclaiming themselves as "5-0," and I always wondered if everyone in the state was supposed to automatically know who they were. Archer answered that question for me.
Archer's nicknames for the boys – McGruff, Hairdo, Muscles, Magoo. All hilarious. And Caan's delivery of those nicknames was perfect.
Danno starting the brainwashing of his daughter Grace early, calling all boys evil because they have "motives." So true, Danno, so true.
"Grace was giggling like a school girl." – Danno. "She is a school girl." – McGarrett.
Cameo by local entertainer Jimmy Borges as an underground fireworks dealer. Another local star who has now appeared in both the original and relaunched "Hawaii Five-0." Keep them coming.
Primo beer!
The ending definitely left the door open for Caan to return to help the boys again. I can't wait.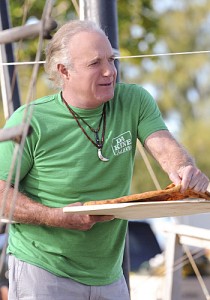 The Bad
Dennis Miller. Not a fan. Always found him too condescending and snarky. Glad it's impossible for his character to return.
The two stoner kids who stole the dead body. The only thing more annoying than their acting was one of them trying to pull off wearing a Rastafarian cap. There are just some things Asian kids should not wear. Fail.
Please, no more wearing shoes in the house! I can't believe they continue to get this wrong.
The Weird
I've never seen locals hanging out at the Hilton Hawaiian Village as much as the 5-0 team does. Sure, we all enjoy the occasional staycation or dinner there, but these guys make it their regular hangout. I guess I would too if the hotel was paying me to promote them.
Masi Oka's acting when he announced his van was stolen reminded me of a little boy who just dropped his ice cream cone on the ground. Is he really that bad, or that brilliant to play Max in such a childish way?
The veteran cop Archer made the 5-0 team look foolish at times with their methods. Too foolish. I wish the 5-0 team didn't appear so inept without Archer's help.