'Hawaii Five-0' ratings fall, for now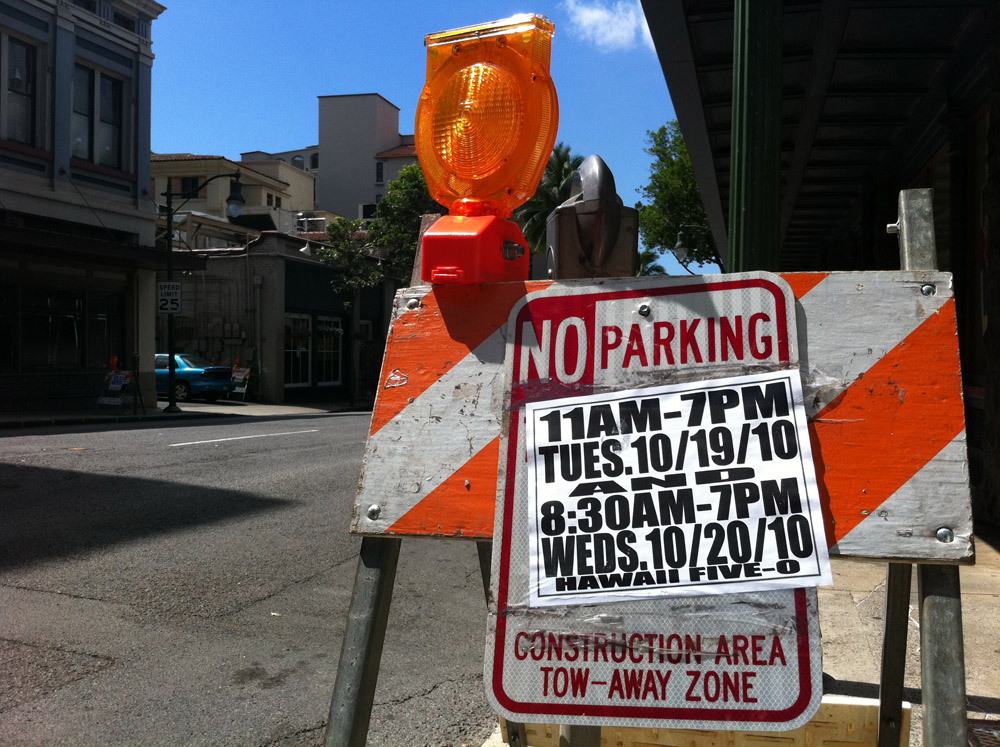 Last night's episode of 'Hawaii Five-0' was perhaps the best yet, but alas, the promise of romance for Det. Steve McGarrett (Alex O'Loughlin) and a guest appearance by Masi Oka of 'Heroes' fame were not enough to extend the show's three week winning ratings streak.
Early Nielsen numbers for Monday have 'Hawaii Five-0' falling to second place overall behind ABC's 'Castle' for the 10 p.m. slot, still drawing a solid 10.5 million viewers.
Still, 'Hawaii Five-0' took first place over 'Castle' in the 'Adults 18-49' demographic, enough for CBS to trumpet today that it had gone 'four for four' with its new season, placing first among adult viewers in both 18-49 and 25-54 age brackets for the fourth consecutive week. CBS said it was the first time since 1987 that the network took the top spot for the first four weeks of a season "in all key ratings measures."
And remember, 'Hawaii Five-0' is the most TiVo'd television show in history. Last week's episode gained another 3.32 million viewers when a week's worth of DVR watching was taken into account. ('Castle,' meanwhile, gained 2.39 million viewers.) With about one million viewers separating the two shows right now, there could still be an upset!
In other 'Hawaii Five-0' news…
Filming at Ala Moana, downtown today
The "Hawaii Five-0" crew was at work early this morning at Ala Moana Beach Park. Det. McGarrett and Det. Danny Williams (Scott Caan) were there, arresting a perp with the quintessential over-the-hood move. Set spotter Stephen (a.k.a. @PHOTOluluTV posted several shots from the shoot.
He even nabbed a brief video clip.
This afternoon, the action moves downtown, and the crew has already shut down Marin Lane just off Nuuanu Ave. They'll be making use of the Hawaii National Bank building at 45 N. King St., and posted signs to reserve street parking for 'Hawaii Five-0' through 7 p.m. tonight, and all day tomorrow.
Drug traffickers, yes. Traffic jams, no.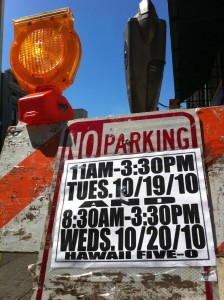 Local viewers take great glee in catching when car chases and short drives on 'Hawaii Five-0' seem to magically jump from one end of the island to the other in the blink of an eye. Alas, the magic of Hollywood doesn't really work in real life.
The Honolulu Star-Advertiser reports that a small typo on a permit application created a huge headache for East Oahu commuters when a 'Hawaii Five-0' location shoot in Aina Haina ran much, much longer than expected, clogging up rush hour traffic.
Turns out there's a big difference between '1000 to 1200' and '1000 to 2200.'
Reporter Gene Park nabbed an ominous quote from the normally chipper Tammy Mori, spokesperson for the state Department of Transportation: "Our folks are meeting with their film crew to make sure this doesn't happen again. Otherwise, they won't be getting permits anymore from DOT."
Play 'Hawaii Five-0' Bingo!
Did Det. McGarrett take off his shirt this week? Was there prominent Apple product placement? You betcha! The plots on 'Hawaii Five-0' may be both predictable and ridiculous, but that's probably why we love it. Don't miss our own Cat Toth's weekly recap: 'H50′ no reality show
And if you thought the best line of the night was, "Triple banana, bitch"? you are not alone.