Hawaii embraces Namesake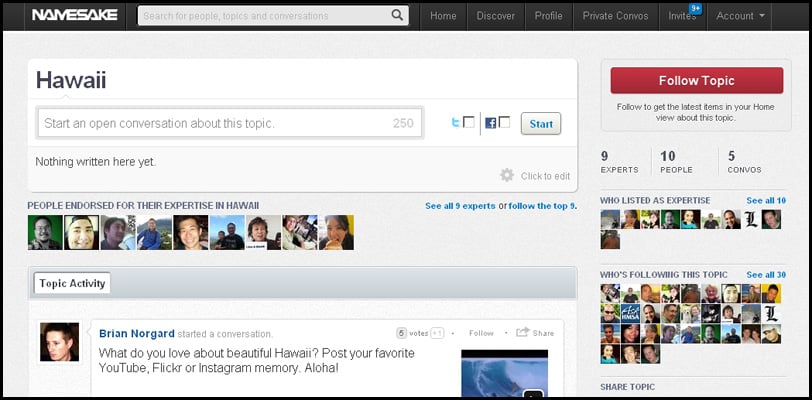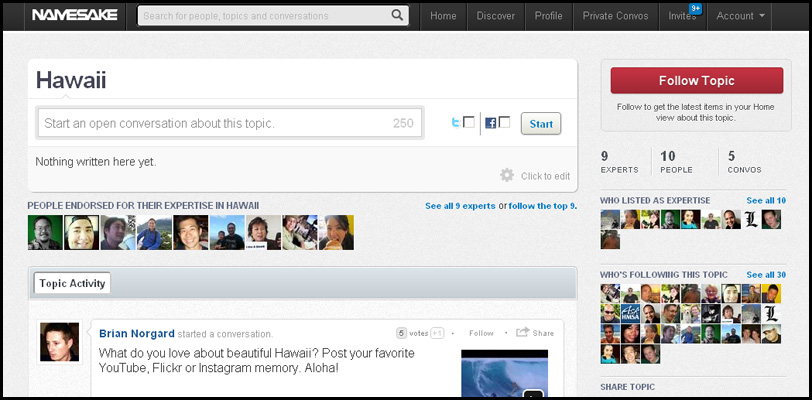 Namespace was founded by Brian Norgard and Dan Gould, two former MySpace executives.
The company mission is "to build trust through conversation. Conversations are one of the most important tools we have as humans to learn, progress and connect."
TechCrunch once described it as "the Match.com for professional opportunities."
"Namesake is a new social media tool that allows peers to recognize and 'vote up' other users for their real-world expertise," explains Kapolei-based technologist Hal Wilkerson. "I think it is relatively early to see the statistical value of these 'endorsements'… but this concept holds tremendous potential if and when it reaches a tipping point for online digital verification."
"As someone who uses this technology for my profession I will keep trying new things," writes Civil Beat spokesman Dan Zelikman. "My problem is all these applications popping up are making me feel like too little butter spread over too much bread."
The archived conversations offer compelling snapshots of events as they unfolded in real time, such as this thread surrounding the killing of Osama Bin Laden.
So sign up. Check it out. Read the latest conversations about Hawaii. And be sure to connect with the Nonstop Tech crew there: John Garcia, Doc Rock, Ryan Ozawa and Burt Lum.
Ryan Ozawa and Burt Lum sat down to discuss the service on their premiere TechSpotting video: