Happy National Grilled Cheese Day! Are you ready for this?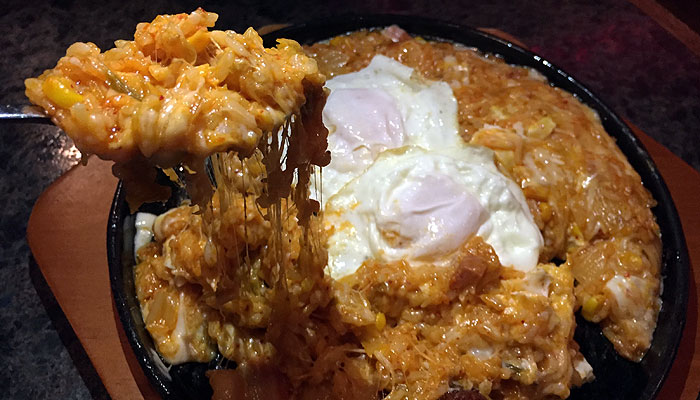 Today is National Grilled Cheese Sandwich Day, because for millions like me, the quintessential American sandwich just never gets old.
But there's always room for variety, so in that spirit here's a version that's unconventional, over the top and … well, let's just say breadless.
It's at Million Pocha, a karaoke spot known for its grapefruit soju, spicy chicken wings and other Korean street food. The dish I'm after: Kimchee fried rice with cheese ($15).
Not gonna lie: I had a similar dish several years ago at a different Korean restaurant and got major acid reflux from the kimchee. But since then I've built up my tolerance. So I'm ready.
Here's what happens when you order the kimchee fried rice with cheese at Million Pocha.
How about that: You get dinner and a show. The mozzarella-cheddar mix is filled with kimchee, obviously, but also Spam, bacon and corn. It's topped with two eggs, which are gently folded in as it's mixed. I'm transfixed by the oozing, bubbling, sizzling sea of cheese.
The dish isn't super spicy. The stringly mozzarella in every bite helps to diffuse the kimchee's heat. For cheese lovers it's sheer bliss.
As much as I still love my grilled cheese in between slices of sourdough or rye, I'd return to Million Pocha for this concoction any day.
Million Pocha
1340 Kapiolani Blvd.
Honolulu
941-1102