Guieb Cafe brings awesome cheap eats to Kalihi
The Waipahu caterer is an instant hit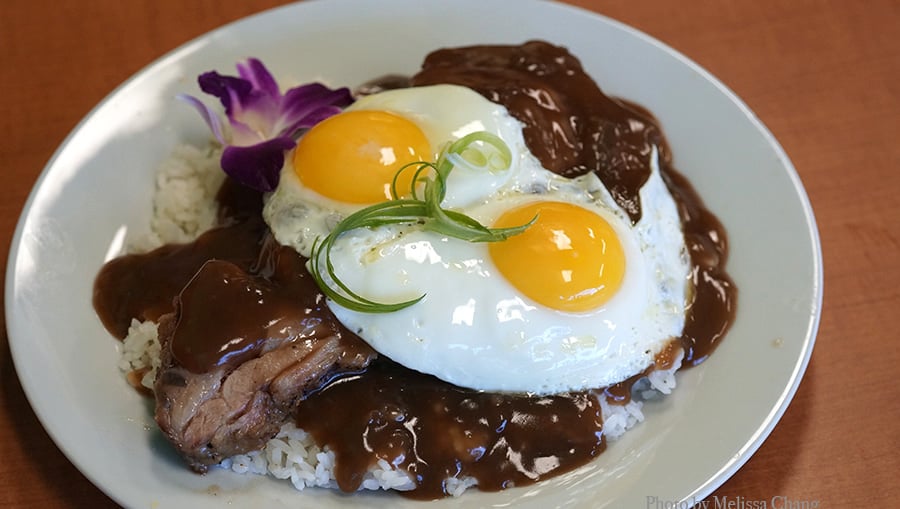 Sometimes the best discoveries are the most random ones. I'd been scrolling through Facebook and saw my classmate, Wina Silva, on a breakfast date with her boyfriend, raving about the food at a newish restaurant called Guieb Cafe. My other classmates went wild and quite a few of them already knew about it. When I asked where it was, several people said, "It's across Kikuya!" — as if I knew where THAT was. Sokay, my GPS would show me the way.
Turns out, Guieb (pronounced "Geb") Cafe is in the back of Diner's, next to Han Yang. No, we don't use addresses around here! Only old-school landmarks!
It seemed like it had appeared out of nowhere, but in fact, it's owned by Ernesto and Maria Guieb, who have owned Guieb's Catering in Waipahu since 2006. Their kids are old enough to help, they found a good spot in Kalihi, and they opened their restaurant in March … and then the pandemic hit. They had to immediately switch to takeout mode and keep plugging at it until restaurants were able to open again for dining in. Now, you can only get a seat at one of their four socially distant tables, and this is a breakfast and lunch spot that gets really busy at peak hours, so try to go at an off time.
Not everything is a home run, but for the most part, everything is really reaasonable and the portions are big — very appropriate for the Kalihi crowd. It's good enough that I went back to try more things, which you'll see in the photos below. And by the way, Silva has been back several times now.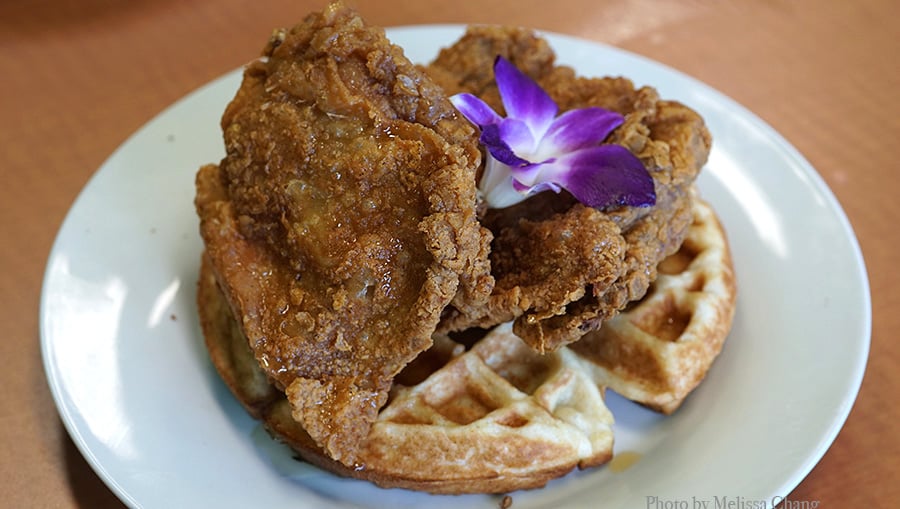 Who doesn't love fried chicken? I don't know what they season it with at Guieb Cafe, but it has a great, old-school flavor. The skin is light and crispy and the meat is moist inside. If I could just eat the chicken by itself, that would be totally fine. Hopefully they expand their menu so you can just order the chicken as a side!
I do want to mention that you can order the chicken as a plate with rice and sides, and that is probably more preferable. The waffles here are a little too soft. A friend who went on a separate occasion and had the purple sweet potato waffle noted that they just need to cook it for one more minute to get it crispy.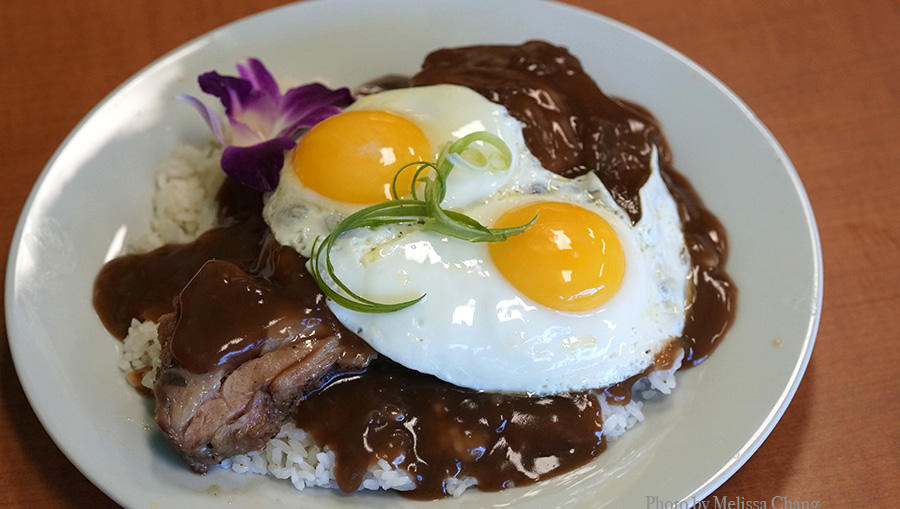 The thing to get is the prime rib — whether you get it as a plate, with eggs or as a loco moco, this is one of those things that they have run out of on occasion. If you order it plain with eggs, it comes with rice and your choice of imitation crab salad or steamed vegetables. If you get the loco moco, it will not have the choice of side, but you'll have all of that rich mushroom gravy. The meat is really tender, and is such a treat for breakfast!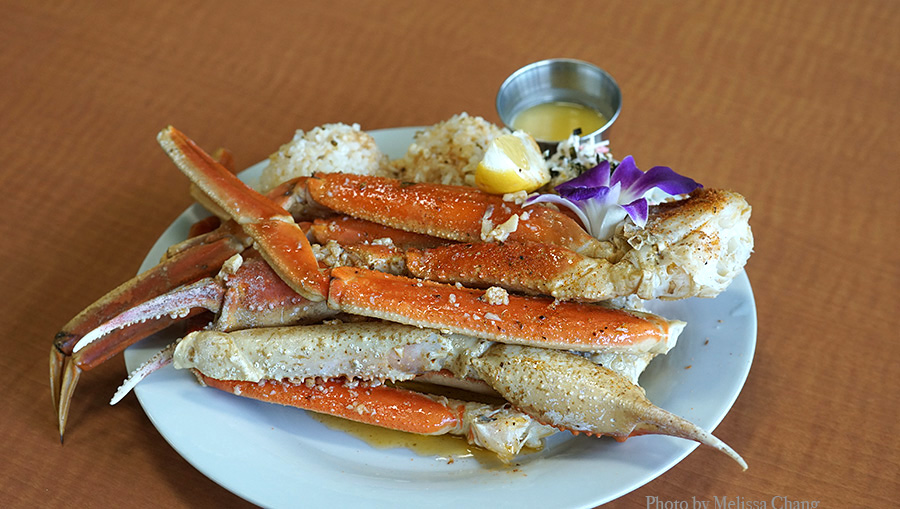 Now, I want to show you their two clusters of crab legs for $15. Pretty good, right? These — along with the rice — get a nice coat of garlic butter, plus butter on the side. They give you a crab cracker (which you don't need for snow crab legs as you can use your hands or a crab sheller) and a crab fork to make things a little easier. Anyway, a plate like this is easily twice the price somewhere else, right? I know a guy who goes to Guieb Cafe for the prime rib and crab legs for lunch — think about it, all that for just $30? Did I just jinx myself? These two things will be sold out next time I go, won't they?
Guieb Cafe has four Benedicts: traditiional, crab cake, caprese and this char siu on a bao bun. I liked this one more than other Benedicts I've had, since I don't like the cardboard-y English muffin. I usually spend some time sawing through it, or I leave it behind. The bao bun is nice and fluffy, making this a fun presentation and easy to eat.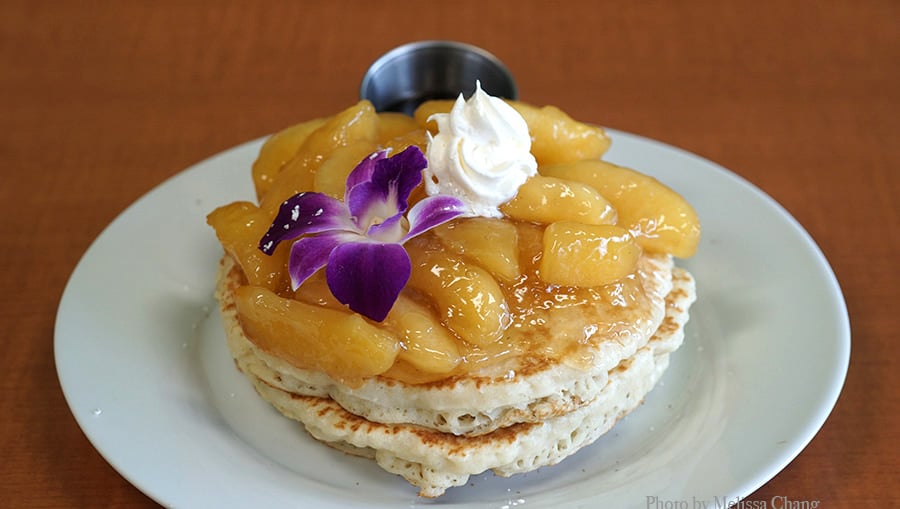 The pancakes here were more chewy than fluffy, but they weren't tough and they tasted good. To be honest, $6 for fancy pancakes, fluffy or not, is such a good deal. They have some other pancakess that may be even more appealing for kids, like Oreo with cheesecake ($6.95) and chocolate chip ($5.95). At that price, you might as well order your family your own little pancake buffet.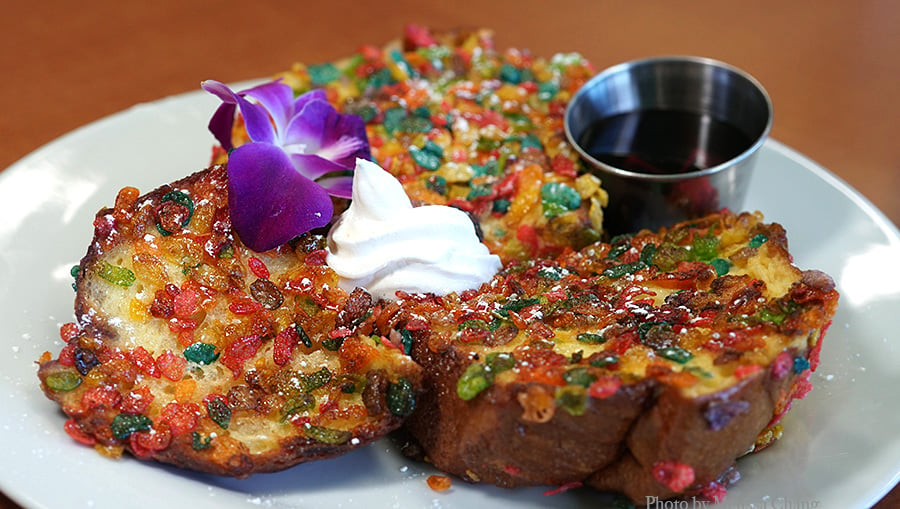 Another one that is probably popular with kids or the sweets lover is their Fruity Pebbles French toast using Portuguese sweet bread. In addition to traditional French toast, Guieb Cafe also offers honey French toast açai ($9.95) and Nutella French toast ($7.95).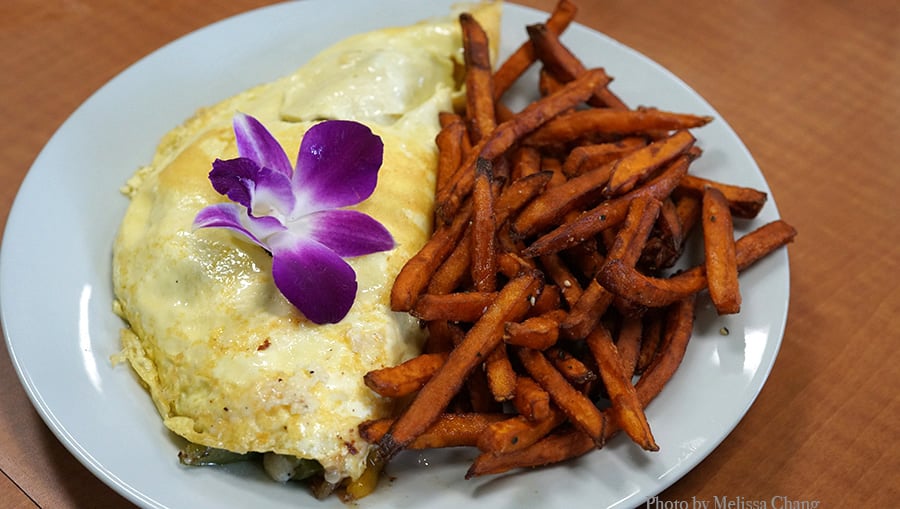 No surprise that Guieb Cafe has a few omelets, but why go with the usual when you can get one stuffed with Philly cheese steak? The shaved, marinated meat is tossed with mushrooms, onions, red and green bell peppers and mozzarella cheese, a nice combination of flavors and textures. You can order your omelet with green salad, rice, hash browns, toast, or sweet potato fries (shown here, super filling).
If you're craving oxtail soup, they have that here, too, but it may not be the kind you're used to. There were no peanuts in our oxtail soup, which was fine with me, but I know many people like that. It was also overflowing with veggies, which was also fine with me, but I know some people don't like that, either.
My classmates have gone back and have raved about the seafood plates, like the garlic shrimp and lobster tail, and the gigantic breakfast platters. The price is right and there's lots of parking, but they're only open from 6 a.m. to 3 p.m. Hopefully, they'll get busy enough to serve dinner, too.
Guieb Cafe
1311 N. King St. (behind Diner's, next to Han Yang, across Kikuya)
Kalihi
913-2131