Guide to Restaurant Week at International Market Place's Grand Lanai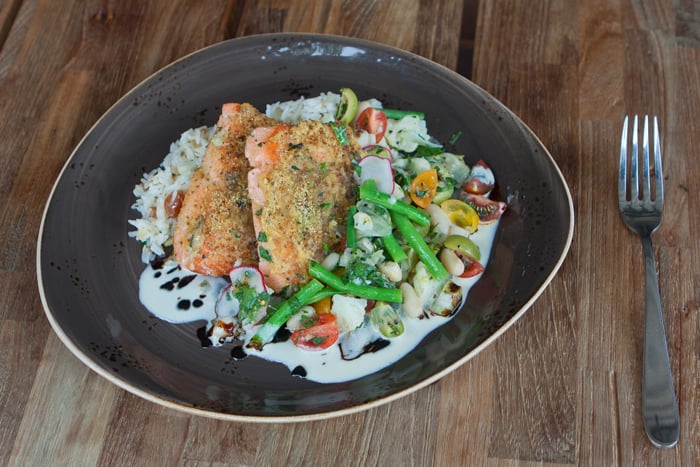 Sponsored
Restaurant Week in Hawaii has become known as an opportunity to try fabulous eats at bargain prices, with off-menu items, specials and extras available for only one week, it's a frenzy to secure some reservations. This year at International Market Place's third floor Grand Lanai, a few of the season's highly anticipated restaurants join the fray.
But not only is it a chance to try something new, a portion of the Restaurant Week's proceeds go to support the Culinary Institute of the Pacific at Diamond Head, making it a win-win for everyone. Here's the rundown on the Restaurant Week-only specials you can find at International Market Place November 14-20.
Eating House 1849 by Roy Yamaguchi
2330 Kalakaua Ave, 3rd Floor Grand Lanai
924-1849
www.eatinghouse1849.com
Open daily for lunch, 11 a.m.–3 p.m. and dinner, 5 p.m.–10 p.m.
Participating with a three-course prix fixe Restaurant Week menu, Roy Yamaguchi's newest concept promises to deliver fine dining for a flat $38.
Start with a combination plate of Szechuan baby back ribs, furikake seared ahi and cocktail shrimp. Then, choose from three entrees: Portuguese sweet bread crusted Ora King salmon with saffron jasmine pilaf and Castelvetrano olive & garbanzo salad; tavern style fried chicken with goat cheese polenta, Waialua asparagus and "1849" gravy; or Makaweli beef loco moco with Hamakua mushroom pan gravy. For dessert, enjoy Honaunau cinnamon dusted malasadas in warm Koloa Rum sauce.
Stripsteak Waikiki
2330 Kalakaua Ave, 3rd Floor Grand Lanai
800-3094
www.michaelmina.net/restaurants/hawaii/stripsteak-waikiki
Open daily for lunch, 11:30 a.m.–2 p.m. and dinner, 5:30 p.m.–10 p.m. (Friday/Saturday: 5:30 p.m.– 10:30 p.m.)
The newest in the world-renowned Michael Mina family of restaurants will be offering both a lunch special and a dinner prix fixe menu. If you find yourself there earlier in the day, stop in for a juicy Stripsteak burger with caramelized Maui onions, Nueske's bacon, American cheese and garlic herb fries – all paired with a bottle of Miller High Life for $21.
The dinner prix fixe menu at $49 per person also offers an optional $25 sommelier wine pairing. The meal starts out with Stripsteak's drool-worthy "Instant Bacon" topped with a tempura oyster and spicy sweet black pepper-soy glaze. The entree is a fantastic surf-and-turf deal composed of an 8 oz. filet with a Maine lobster tail, Okinawa purple potatoes and matbucha sauce. Dessert consists of a rich devil's food cake with Kona coffee mousse.
Kona Grill Waikiki
2330 Kalakaua Ave, 3rd Floor Grand Lanai
756-9591
http://konagrill.com
Open Sunday–Thursday, 11 a.m.–11 p.m.; Friday–Saturday, 11 a.m.–12 a.m.
While the Restaurant Week dish is TBD, it will probably be an offering of one of Kona Grill's signature dishes, like the Macadamia Nut Chicken.
Goma Tei Ramen
2330 Kalakaua Ave, 3rd Floor Grand Lanai
664-0331
http://gomatei.com
Open daily, 11 a.m.–10 p.m.
During Restaurant Week, get any of Goma Tei's signature dishes, including the crowd favorite Tan Tan Ramen, a Chinese-Japanese hybrid of spicy sesame-seasoned ramen, with a free side of special crispy garlic topping, baked in such a way that the bitterness of the garlic is taken out, leaving only the flavor and a light crunchiness to liven up your ramen.
Kona Coffee Purveyors
2330 Kalakaua Ave, ground floor fronting Kuhio Ave.
845-1700
www.konacoffeepurveyors.com
Open daily, 7 a.m.–11 p.m.
These decadent limited-time kouign amann sundaes from artisan coffee roasters Kona Coffee Purveyors are a must-try. If you've never had this pastry with a difficult-to-pronounce name, the house recipe by San Francisco's renowned b patisserie is actually a French pastry fused with a traditional Celtic dish, with layers of butter and sugar folded in. For $8.50, try one of these three amazing morsels of sweet, hot-and-cold gooey goodness:
Vanilla kouign amann sundae is a vanilla kouign amann topped with Fior d'latte gelato, hot fudge sauce and hand-whipped cream, sprinkled with candied almonds and chocolate sable crunch. The matcha kouign amann sundae has a classic kouign amann with an azuki bean filling topped with green tea gelato and finished with butter mochi cubes and a matcha diamont. The apple-pumpkin kouign amann sundae uses a classic kouign amann with apple filling topped with pumpkin gelato, hand-whipped cream and a sprinkle of oat streusel crunch.
For a full lineup of participating restaurants and what they'll be offering, visit www.restaurantweekhawaii.com. A portion of the proceeds from Restaurant Week Hawaii will go to support the Culinary Institute of the Pacific at Diamond Head.