Guide to International Market Place's Grand Lanai eats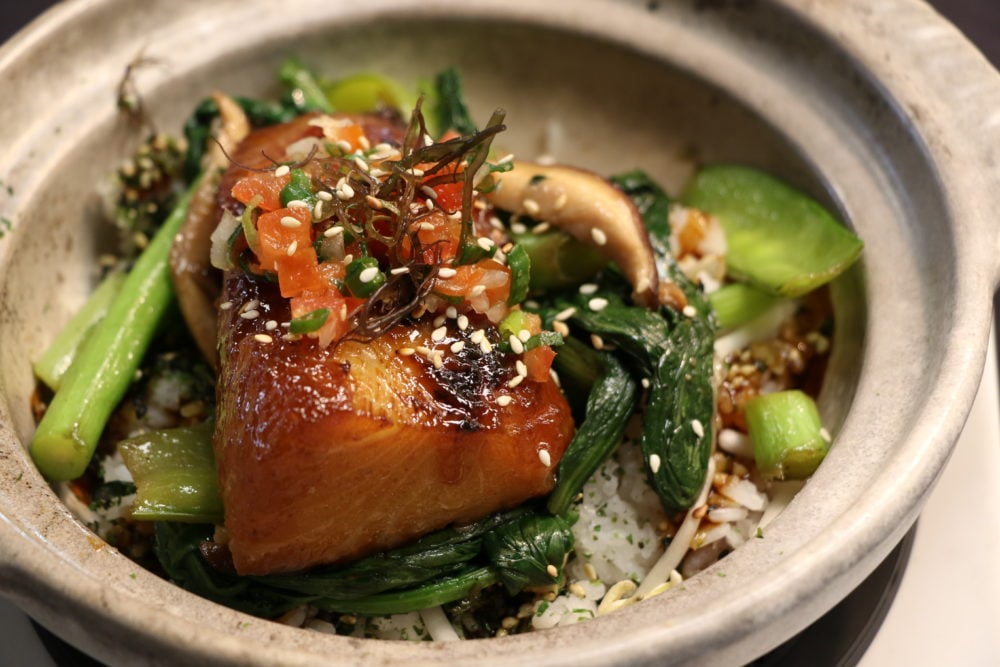 Sponsored
Long regarded as one of the last kitschy bits of old Hawaii, International Market Place holds countless memories for visitors and locals. When the redeveloped complex opens this Thursday, Aug. 25, what you'll find are not only new shops for fashion and omiyage-hunting, but a seriously buzz-worthy dining destination.
Eating House 1849 by Roy Yamaguchi
What: Plantation-inspired eats
From: Hawaii
Opening: August 25
The first chef-driven restaurant to open in the Grand Lanai will be Roy Yamaguchi's Eating House 1849, his second Eating House (the first is on Kauai) and one of two planned for Oahu. Inspired by Hawaii's plantation past, the menu draws heavily on the rustic dishes of Portuguese, Filipino and Japanese immigrant workers. You'll also see iconic Roy's classics redone with a different spin, such as his Kamameshi Butterfish and Slow Braised Honey Mustard Grilled Beef Short Ribs.
Kona Grill
What: Asian-American fusion
From: Arizona
Opening: September 1
Kona Grill, a popular restaurant chain from Arizona, will open its doors September 1 with an Asian-American-inspired menu that appeals to all diners with dishes like macadamia nut chicken, spicy shrimp tempura and sushi.
Stripsteak Waikiki by Michael Mina
What: Classic steakhouse with Japanese sensibilities
From: California
Opening: August 25
The second chef-driven restaurant comes to us from a name well-known across the country. Michelin-starred and James Beard Award-winning chef Michael Mina will open Stripsteak, his first of two restaurant concepts at International Market Place. As someone who visits Hawaii often, he figured it was time to finally put some roots down here. The menu is full of steakhouse classics using locally sourced produce and seafood and premium cuts of beef.
Goma Tei
What: Breakfast, signature ramen bowls and gyoza
From: Hawaii
Opening: August 25
Honolulu's hometown favorite ramen shop is making its Waikiki debut at International Market Place. They'll be serving up specialties like their rich tan tan ramen, housemade gyoza dumplings and chicken karaage, but what sets this Goma Tei location apart is that it will also serve breakfast.
Baku Robata Lounge
What: Japanese small plates, sushi
From: North Carolina
Opening: Coming soon
Baku Robata Lounge will offer a mix of Japanese tapas like Kurobuta pork belly and chicken yakitori, spicy filet mignon and jidori chicken entrees, and maki sushi rolls alongside craft cocktails and sake.
Herringbone
What: Line-caught seafood, free-range meats and seasonal produce
From: California
Opening: Coming soon
Top Chef alum Brian Malarkey's "fish meats field" concept, Herringbone, is slated to open later this year in the Grand Lanai with a heavy focus on fresh seafood paired with seasonal produce and top quality meats. Think whole roasted line-caught branzino for dinner, crab cake benedicts for brunch and orange cardamom-glazed beignets for dessert.
Flour + Barley
What: Brick oven pizza and craft beer
From: Las Vegas
Opening: Coming soon
Flour + Barley is a traditional Italian-American pizzeria from the ninth island serving up brick-oven pizzas and craft brews with a focus on local tastes and ingredients.
Yauatcha
What: Dim sum and high-end desserts
From: London, UK
Opening: Coming soon
Hailing from across two ponds, Yauatcha is a Michelin-starred dim sum restaurant and dessert bar. Dim sum is already photogenic, but imagine delicately pleated prawn har gau and jumbo scallop siu mai steaming as they arrive at your table. You'll probably go for the yum cha experience, but you'll want to stay for desserts like their famous pastel-colored French macarons and a morsel called the chocolate pebble.