Our Guide: Hawai'i State Art Museum
We take a tour of this free downtown museum and find 4 tips to stopping by HiSAM.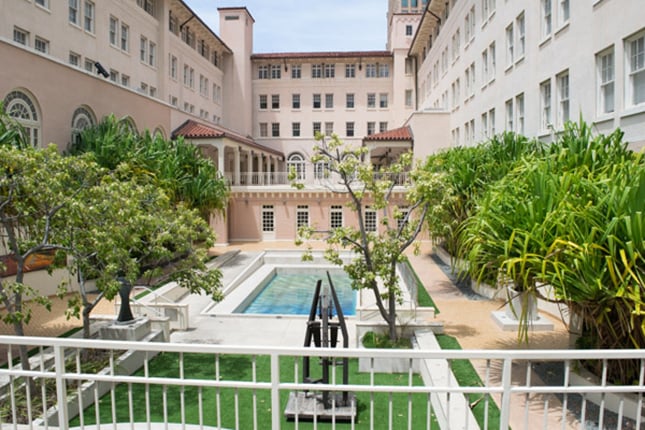 Photo: michele aucello
Where: Hawaii State Art Museum, housed in a historic building in downtown Honolulu.
Who: A family of four, mom, dad and two kids, ages 8 and 10 years.
When: Saturday afternoon during a Second Saturday event.
Length: 1-2 hours.
This little gem would be the perfect spot to spend an hour or two on a hot summer day. We have come here many times over the last five years and have never encountered a crowd. The HISAM is quiet, clean, air conditioned, and easily accessible. Bonus: it has a room meant for little hands to explore.
Here's the layout. On the first floor, you'll find the gift shop, Sculpture Garden and information desk. Upstairs are the 'Ewa, Diamond Head and sculpture galleries.
The galleries are full of intriguing paintings and sculptures. If your children are older and can refrain from touching the artwork, have them tour at least part of the gallery before heading to the kid-friendly "I Love Art" room. We found many, many pieces worthy of discussion. There is a bulletin board inviting guests to leave their comments and suggestions. The kids will enjoy popping outside and walking through the sculpture garden.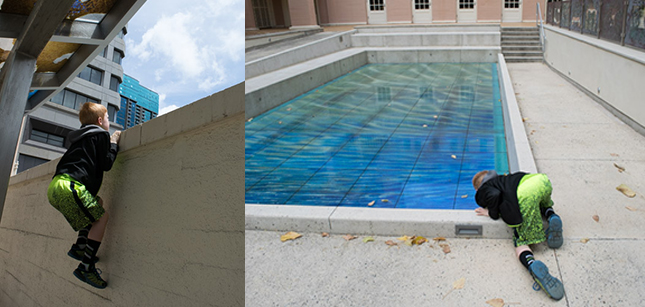 Photo: michele aucello
Then once they've hit that "enough artwork" point, head to the "I Love Art" room. This room is part of the Diamond Head gallery. When you enter the museum on the second floor, head to the right. You will see the Image and Imagination gears painted on the wall. Walk behind this wall and to the right. Have your kids look for the large Blue Angel painting. Behind this, and to the right, you will find the kids' room. Inside kids can play with books, blocks, puzzles, magnetic tiles, a felt board and magnetic bulletin board, PVC pipes, and stations involving colors, light and texture. The curators have managed to slip something for everyone into the small space. Isabella made a beeline to the books and felt board. Luca spent the whole time creating a sprinkling system from the PVC pipes. Neither wanted to leave after half an hour.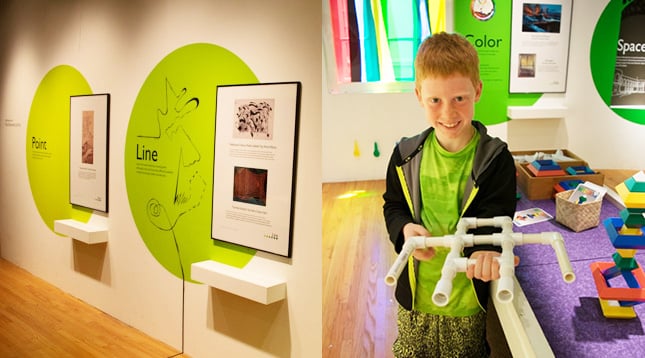 Photo: michele aucello
The gift shop is full of beautiful pieces but seems geared more to tourists. There were not too many items that drew our kids. You might find a special gift for a friend but no inexpensive souvenirs for the little ones.
Our Tips
1 – Parking. You will need to find metered stalls or pay for what can be pricey downtown lots. We always park at Ali'i Place right across the street. Enter from Alakea Street. Rates are just 50 cents a half hour on weekends, 75 cents per half hour for the first two hours on weekends and $1.50 a half hour after that.
2 – Stop by on Second Saturdays. Once a month, volunteers run make-and-take workshops for kids. In the past, there families have been able to do everything from quilting to hat making, sculpting to archery demonstrations. While we were there, the hands-on activity was a group tour followed by some painting.
3 – Pick up the "Art in Public Places" brochure on your way out. It will point to a few self-guided walking tours right in the neighborhood so you can discover art in other places. While you're at the front desk, grab the HISAM brochure with information on special events throughout the month.
4 – Make time for lunch. Artizen by MW is a favorite place for many of the HONOLULU Family and HONOLULU Magazine teams. But it is closed on weekends. Since you already parked, you may want to make time to try out all those new downtown spots you don't venture near during the week. Check out honolulumagazine.com's reviews of some of the newest downtown and Chinatown dineries.
Hawai'i State Art Museum
No. 1 Capitol District Building, 250 S. Hotel Street, 2nd floor, Honolulu, Hawai'i, 96813
586-0308
Hours: Tuesday-Saturday, 10 a.m.-4 p.m. Closed on state holidays.
Free Admission