Galbi sausage with kimchee relish: Seoul Sausage is in town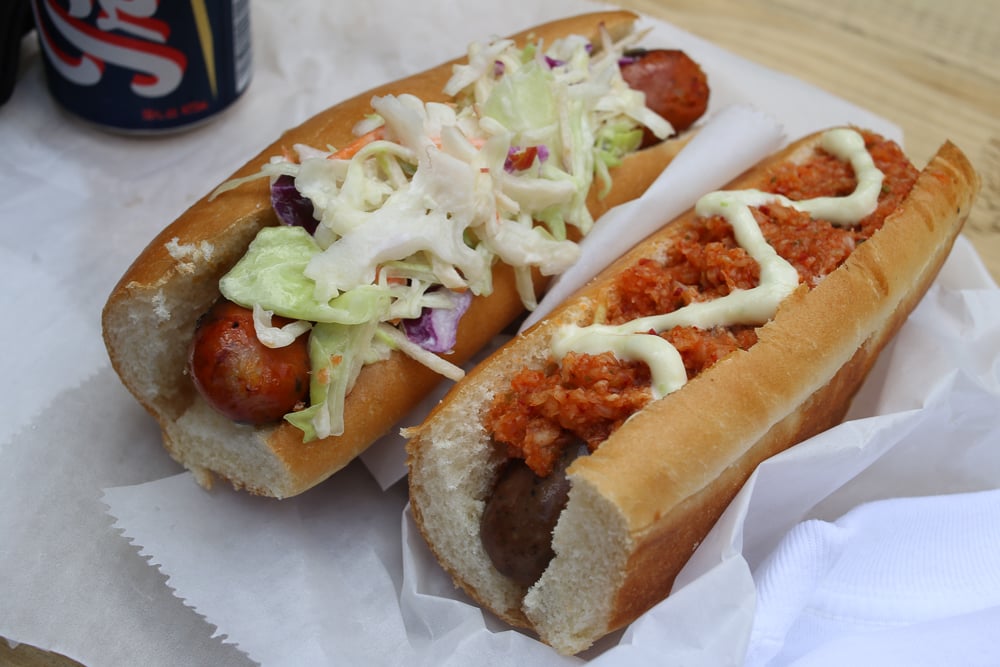 Four years ago Seoul Sausage jumped onto the national scene when they won season three of Food Network's "The Great Food Truck Race" with their Korean-inspired sausages and fried rice balls. I'll say it again: Korean-inspired sausages and fried rice balls!
I rooted for them. Episode after episode, as the contest raced across the country and teams got eliminated, brothers Yong and Ted Kim and their chef friend Chris Oh dished up mouthwatering sausages with traditional Korean seasonings, marinades and garnishes.
Then they got to the final four. Seoul Sausage was up against the Australian Barbie Babes, Coast of Atlanta's comfort dishes and Momma's Grizzly Grub from Alaska. And then they brought out their flaming rice balls filled with spicy pork, habanero peppers and kimchee. I was infatuated.
Seoul Sausage's win got them a food truck and $50,000. It helped quite a bit when they returned to Los Angeles and started a small catering company that today has grown into two restaurants and two food trucks.
So when they landed in Hawaii last week, bringing over 2,000 of their world-famous sausages, I quickly lined up at IN4MATION on Friday night. So did hundreds of other fans. It was worth it.
The sausages did not disappoint. The spicy pork sausage, made from marinated pork and served with apple-cabbage cole slaw, had nice contrasts of texture and flavor. The galbi sausage of Korean bbq beef topped with a garlic jalapeno aioli and kimchee relish was bursting with flavor, just like I imagined it.
Seoul Sausage followed up their Friday night Hawaii debut at IN4MATION by grilling up their two signature dogs at Saturday's Honolulu Night Market.
If you missed them, you have two more chances for a taste: Eat the Street this Friday, June 24 from 5 p.m. to 10 p.m. at Makers & Tasters in Kakaako, and Eat the Street Kapolei this Saturday, June 25 from 2 p.m. to 7 p.m. on Kuou Street between Manawai and Wakea.