FYI, five more days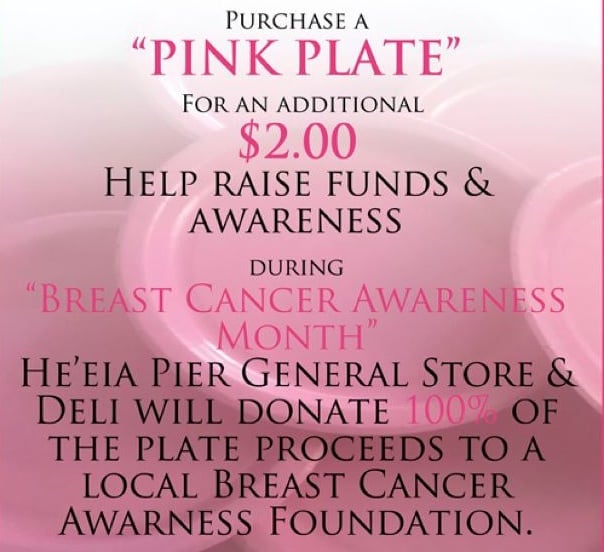 I haven't been out Kaneohe way in a while, so I'm a little late to the party, but I found out yesterday what's going on with all the pink at Heeia Pier.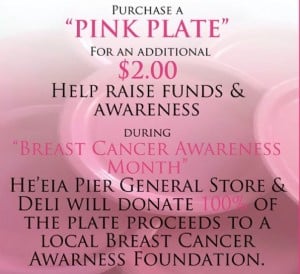 It's cancer, discovered three months ago in the breast of Kainani Inouye, wife of restaurant co-owner Russ Inouye. With two small children, she chose the aggressive route, undergoing a mastectomy and hormone therapy. She seems to be doing well. The tiny eatery, meanwhile, regrouped and turned the entire month of October — National Breast Cancer Awareness month — into a fund-raising campaign for the American Cancer Society.
I wouldn't be telling you this if I hadn't seen a link to a KHON segment yesterday and learned that Heeia Pier has extended its pink plate campaign to Nov. 6. That means that until Sunday, if you pay $2 more for breakfast or lunch on a pink plate, all the proceeds will go to the Cancer Society; and all 12 employees are committing all tips to the cause.
To be honest, I probably also wouldn't be telling you this if I didn't like the food. I vlogged about Heeia Pier shortly after it opened, when my attempt at a review fell through and before I actually got to taste anything. Since then I've become addicted to its simple luau stew (how come we don't see this more on Oahu?), its old-school cheeseburgers, smoked meat with onions and any fish preparation, cooked or raw.
I also like just sitting at the picnic tables, hanging out with friends or whoever else happens to be sitting there. It's a total break from town. That's how I met Ray with the kayak tour business, four retired ladies from Kaneohe, and Watson the old fisherman who only ordered fries.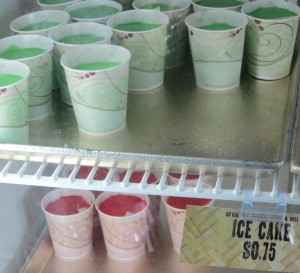 And there's the Green River soda and ice cakes, which seem to excite people.
I love that a tiny place on Kaneohe Bay has taken its place alongside non-profit fundraisers, shopping malls and wineries to do something against a killer beast. A lot of us have known the terror of cancer, or will know it in our families and circles. Rates around the world are rising as we defeat other diseases and live longer, which means even more of us will face cancer.
The Cancer Society funds research into cures, programs to raise awareness about screening, even subsidies to get neighbor island patients to treatments on Oahu. My family turned to them when we needed help. It's in our personal and collective interests to do even small things.
So I'm just telling you that if you like simple plates prepared well and you don't mind the drive, you have five more days.