From New Zealand to Hawaii Theatre: Modern Māori Quartet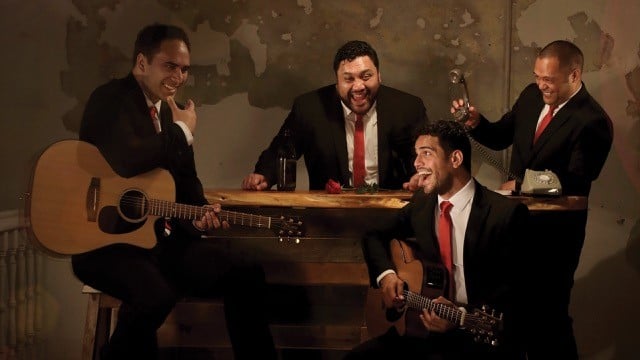 Sponsored
It's a Māori Ratpack for today's crowd: Acclaimed musical group Modern Māori Quartet is bringing their blend of harmony, humor and charisma to Hawaii Theatre for a single performance next Sunday, Nov. 13.
Crooners James Tito, Maaka Pohatu, Matariki Whatarau and Francis Kora take audiences on a trip through New Zealand's musical past and present. The group fuses hearty, humorous storytelling with fresh takes on classic showbands of yesteryear and spins on international hits and Māori waiata (songs).
Accomplished actors and musicians, Quartet members share an irresistible charisma as they weave harmonies with humor. They represent a revival of Māori world-class musical entertainment.
Tickets for Matson Presents: Modern Māori Quartet are available online at www.hawaiitheatre.com, by calling the Box Office at 808-528-0506 Tuesday to Saturday 9 a.m – 5 p.m., or by going in person to the Box Office at 1130 Bethel St.
Tickets are also available through Hawaii Theatre Center's ARTS FOR ALL program. Supported by a grant from the City and County of Honolulu, the program's $5 tickets help make world-class performances accessible to low-income Oahu residents.
Enter to win
We're giving away a prize pack of four tickets to the the show and a $50 gift card to Cake Envy, the cheesecake parlor across Bethel Street from Hawaii Theatre. To enter, fill out the form below to sign up for Frolic Hawaii and Hawaii Theatre's newsletters. Even if you're already a subscriber, you can still enter.
The giveaway ends at 4 p.m. on Tuesday, Nov. 8, 2016. We'll be randomly selecting one winner, who will be contacted via email.