From Greece to Papakōlea: Get Your Greek Fix in the Hills of Tantalus
Greek Aloha Kitchen's pork belly gyros, feta fries and baklava ice cream are worth seeking out just past Punchbowl.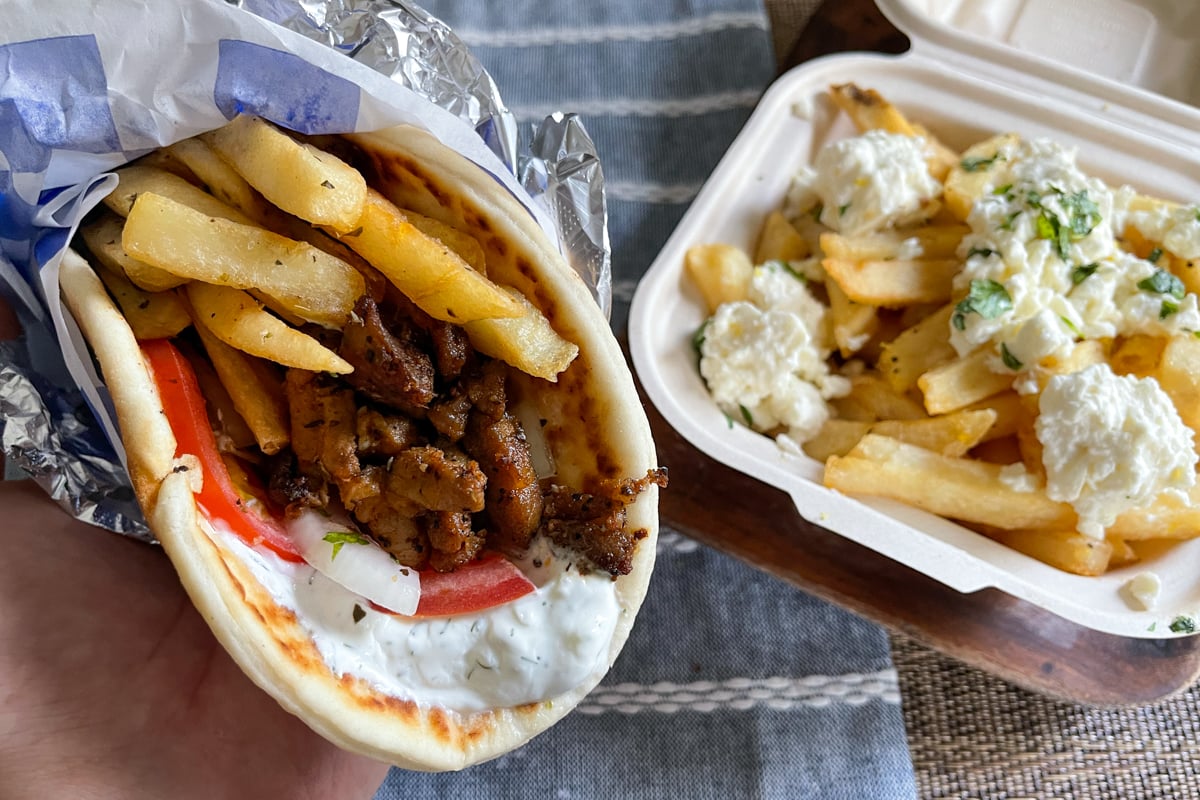 Editor's note: Greek Aloha Kitchen outgrew its space in Papakōlea and has moved to 517 N. Vineyard Blvd. in Liliha.
"You won't find beef or lamb on the menu in Greece," says Stella Sarros of Greek Aloha Kitchen. "Our gyros are made with pork belly or chicken." The scorching afternoon sun makes her squint as she peers through a small window at the commercial kitchen at Papakōlea Community Park. I stand outside gazing at the menu, overwhelmed by the scents of herbs and garlic and the fact that I'm buying Greek food in Hawaiian homestead country.
"You can get it with tzatziki, or Thessaloniki-style with ketchup and mustard like they serve it in Northern Greece," Sarros adds. I opt for the yogurty solace of tzatziki on my gyros ($12) because personally, I don't think I can desecrate seasoned strips of pork belly with ketchup and mustard.
I also order Greek fries ($6) and the last 6-ounce tub of Sarros' baklava chocolate chip ice cream ($8) to round out my meal. I'm a happy camper and I haven't even tried the food yet. I take note to try more on my next visit up the hill: souvlaki skewers of pork and bacon-wrapped chicken ($15) and a Greek-style lasagna dish called pastitsio ($10).
---
SEE ALSO: 2021 Hale 'Aina Award Winners: The Best Restaurants in Hawai'i
---
Avraam Terzopoulos, Sarros' very Greek husband, wraps up my pita sandwich with slivers of his marinated and broiled pork belly, tomatoes, onion, tzatziki and fries. There's a larger version they've christened the Mount Olympus with double the fillings and melting mozzarella for $3 more; I almost wish I got it because this gyros is seriously delicious. If the pita were softer and the pork belly crispier, it would be even better.
Despite being a little limp from the trip home, the Greek fries—tossed with salt, herbs, garlic, feta and finished with lemon zest—are incredible, too. I challenge you to find a better loaded fries for six bucks. Tucking in, I'm shocked that these are practically half-feta and half-fries, making them a bit salty but addicting.
---
SEE ALSO: Taste Flavors from Turkey at the New Istanbul Restaurant in Kaka'ako
---
After whacking those I'm so full, but there's always room for a scoop of baklava chocolate chip ice cream, right? If you've ever wanted baklava a la mode, this is a good alternative because you get both pastry and ice cream in one cool bite. The shreds of phyllo dough no longer have their crispy edge, but sweet layers of honey and nuts push this dessert to Olympic heights.
Sarros, a pastry chef by trade, prepares all of the sweets and works the front. Terzopoulos, who moved over 8,000 miles from Kastoria, Greece earlier this year, handles kitchen duties. They began popping up a month ago and are trying to enter the farmers market circuit in addition to expanding their Friday and Saturday schedule at the park.
I prefer to visit new restaurants or businesses a couple of times before I post but Greek Aloha Kitchen bucks the trend. We rarely get the chance to cover Greek cuisine and are likely on the verge of blowing up. Despite being in the hills of Mount Tantalus, it's completely worthy of a visit.
Open Friday and Saturday from noon to 4:30 p.m., 517 N. Vineyard Blvd., @greek_aloha_kitchen