From Dark Horses to Debuts: The Fall Book Season is Dazzling
Our friends at da Shop: Books + Curiosities share their top 6 picks for what local Hawai'i readers will love this fall.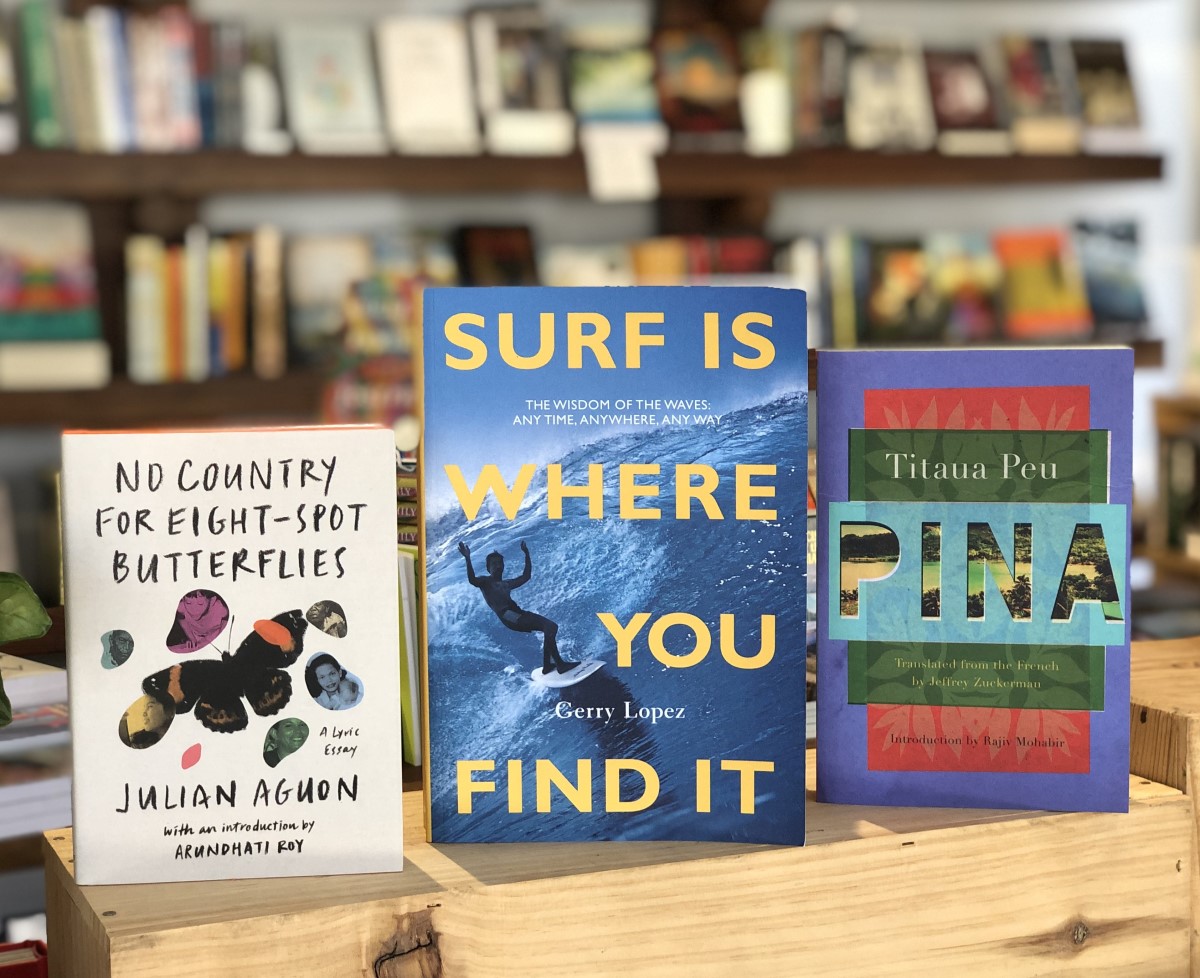 Bridgerton fans greet it as "The Season": an annual coming out of the ton, celebrated with balls and the presentation of debutantes and rife with speculation on what romance and scandal may ensue. In publishing, the book industry greets the fall season with no less fanfare, as debut novels and highly anticipated works make their way to market, awards and festivals are presented, and authors are feted across the nation. The reemergence of live author appearances in 2022 is even greater cause for celebration.
And so, dear reader, we present a few thrilling highlights of the upcoming fall book season, set in Hawaiʻi and beyond.
Hokuloa Road by Elizabeth Hand is the ghostly story of an unemployed carpenter from Maine drawn to an unsettling fictional Hawaiian island during the pandemic. En route to his new digs, Grady Kendall sees the words "Never forget the missing #Islandnalowale" in block letters on a concrete bunker and learns the names of the vanished are painted over every few years. He emerges from quarantine to a world ablaze with the endemic koʻolua ʻula plant, air sweet with the scent of nānū and what seems to be a terrifying hallucination.
Over decades, writes The Washington Post, "[Hand] has proved that she's eclectic, genre-bending, and comfortable in fantasy and mystery, crime, myth, magic — and more. In Hokuloa Road, she explores the rich and diverse culture and environment of Hawaii — and seamlessly stitches this fascinating material into a girl-gone-missing story. It's refreshingly and originally creepy."
---
American master Paul Theroux delivers a chilling psychological novel in The Bad Angel Brothers, relaying the fraught relationship between a younger brother and his lifelong rivalry with his older brother, a manipulative and domineering lawyer with a pattern of gleefully vicious betrayals. Theroux draws on his travel writing prowess to follow his protagonist from the Mexican border to the chill of Alaska, from Central Africa to Colombia, uncovering a devastating threat that culminates in the ultimate plan for murder.
Theroux, who lives in Hawai'i and Cape Cod, is the author of 33 novels and 20 works of nonfiction and literary criticism, including The Mosquito Coast, which returns for a second season on Apple TV this fall, executive produced by Theroux and his nephew Justin. Originally published in 1981, The Mosquito Coast was previously adapted into an award-winning film starring Harrison Ford, Helen Mirren and River Phoenix.
---
SEE ALSO: Essential Hawai'i Books You Should Read: The Next 134
---
Pina, by Tahitian writer Titaua Peu, is the devastating story of a family torn apart by the legacy of colonialism and held together by 9-year-old Pina, a girl shouldering the immeasurable weight of her family's traumas. Translated from French by Jeffrey Zuckerman, the novel traces the history of a family, an island and a people, imagining a more hopeful future of independence, with the promise of redemption. Award-winning author Titaua Peu is known for her fiery prose and politically charged realistic portrayal of the effects of colonialism on contemporary Polynesia.
---
Ten years and more than 50,000 copies later, Patagonia is relaunching Surf is Where You Find It, a fully redesigned edition of the Gerry Lopez classic, in tandem with a new feature film, The Yin & Yang of Gerry Lopez, produced and directed by surfer and skateboarder Stacy Peralta that lifts the veil on one of surfing's most enigmatic heroes. The book comprises 38 stories and hundreds of photos; in it, Lopez pays homage to those who shaped surfing today.
---
Part memoir, part manifesto, Chamorro climate activist Julian Aguon's No Country for Eight-Spot Butterflies is a coming-of-age story and a call for justice.
In bracing poetry and compelling prose, Aguon weaves together stories from his childhood in the villages of Guam with searing political commentary about matters ranging from nuclear weapons to global warming. Undertaking the work of bearing witness, wrestling with the most pressing questions of the modern day, and reckoning with the challenge of truth-telling in an era of rampant obfuscation, he culls from his own life experiences—from losing his father to pancreatic cancer to working for Mother Teresa to an edifying chance encounter with Sherman Alexie—to illuminate a collective path out of the darkness. Previously published as The Properties of Perpetual Light, No Country for Eight-Spot Butterflies publishes Sept. 13, with a new forward by Arundhati Roy. Aguon will appear at da Shop on Saturday, Oct. 8.
---
SEE ALSO: What to Read in Summer 2022: 5 Hawai'i Books to Bring to the Beach
---
In Novelist as a Vocation, Haruki Murakami, one of the greatest novelists of our time, invites readers into his creative process. The result, says the Boston Globe, is a revealing self-portrait that answers many burning questions about its reclusive subject, like: Where do Murakami's strange and surreal ideas come from? When and how did he start writing? How does he view the role of novels in contemporary society? Novelist as a Vocation, concludes the Globe, is a rare and welcome peek behind the curtain of a singular mind.
---
Also look for buzzworthy new books from Maggie O'Farrell, Sandra Cisneros, Elizabeth Strout, Ling Ma, Yiyun Li, Kate Atkinson, Hua Hsu, Celeste Ng, Annie Proulx, Constance Wu, Cormac McCarthy, Kamila Shamsie, Ian McEwan, John Irving, Stephen King and former first lady Michelle Obama.
Preorder at da Shop or browse the shelves as new titles are released weekly. 'Tis the season.
---
SEE ALSO: Explore the History of Hawai'i's Sculptures in Cheryl Soon's New Book
---
All of these books can be ordered through da Shop, our 2020 Best of HONOLULU winner for Best Place to Find Your Next Great Read. Find more suggestions here. The Kaimukī bookseller is open for browsing Tuesdays through Sundays from 11 a.m. to 4 p.m.
Da Shop: Books + Curiosities, 3565 Harding Ave., (808) 421-9460, dashophnl.com, @dashophnl