Frolic's Poke Fest is back! All-New Drive-Thru Event Coming Oct. 17.
(Sponsored) Get poke creations from 8 iconic shops across Oahu in a fun, zero-contact format.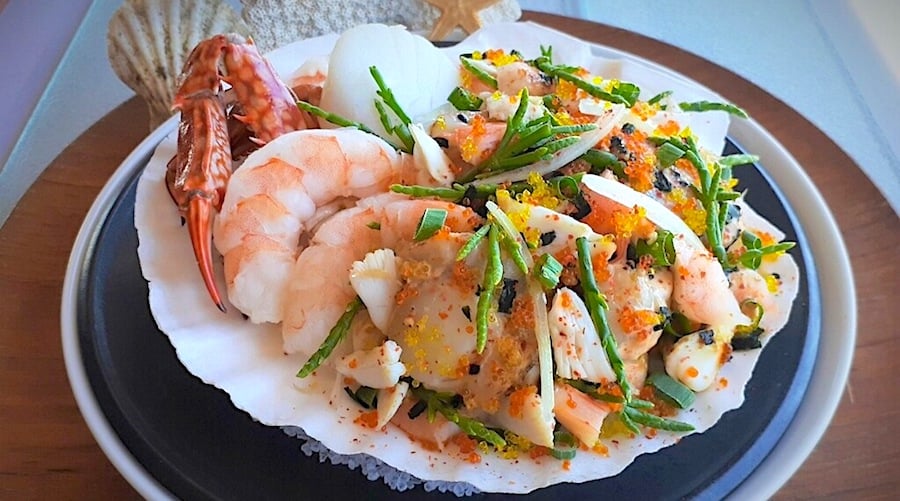 Update: As of Oct. 6, Poke Fest is SOLD OUT. Mahalo!
P
oke fans, the most onolicious day of the year is back: Frolic's 3rd annual Poke Fest is happening Saturday, Oct. 17 — an all-new pre-order and drive-through event presented by Fresh Island Fish that lets you indulge in original poke creations from eight of your favorite poke shops across Oahu. Big bonus: All this takes place in a zero-contact setting!
Picture this: You'll order and pay online, choosing between a small box with 3.5 ounces of poke from four poke shops (14 ounces total) or the large option with poke from all eight (28 ounces total). Craving a sweet finish? Add-on dessert options include sherbet from Scoop Scoops, Honolulu's new sherbet shop, in all flavors including special limited-edition Schmean Green green river sherbet; and a four-pack of mini pies or full 9-inch lilikoi pear or caramel apple pies from Hawaiian Pie Co.
Choose a drive-through pickup time between 10 a.m. and 2 p.m., then on Poke Fest day you'll cruise to the corner of Ala Moana Boulevard and Ward Avenue to pick up your treats. A deejay will provide live entertainment, while an optional drive-through photo booth will provide professionally shot mementos of a poke-licious day!
Poke Fest online pre-order form
From legendary Tamashiro Market in Kalihi to Off the Hook in Manoa, from Foodland's new Redfish poke restaurant in Kakaako to Nico's Pier 38 on Nimitz, you'll have your pick of the best. Here's your Poke Fest 2020 parade of poke:
Alicia's Market, Kalihi — Abalone Squid Poke: Back in the poke case after three years, this special creation features squid with the luxe taste and chew of abalone, and a hint of spice at the end
Dean & Deluca, Waikiki — Ulu Vegan Poke with roasted ulu and parsnips, mango chili pepper water, Ho Farms tomato, Maui onion and Kahuku sea asparagus
Kalapawai Market, Kailua and Kapolei — Shichimi Seared Ahi Poke with Okinawan sweet potato, limu, sweet and green onion, lemon peel and yuzu wasabi tobiko mayo, all topped with ume, pickled ginger and bubu arare
Hibachi Honolulu, Kakaako — Ahi Poke marinated with chiles and Sriracha soy and topped with fresh cucumber and wasabi sprouts
Off the Hook, Manoa — Original Cold Ginger Ahi Poke with sushi rice — a spin on the classic Chinese cold ginger chicken
Nico's Pier 38, Iwilei — Poisson cru: Tahitian-style au (marlin) poke with coconut milk, cherry tomatoes, cucumbers and lime on a bed of cabbage with a side of Hawaiian Chip Co. taro chips
Redfish, Kakaako — Pho Poke with ahi, hoisin aioli, bean sprouts, Thai basil, jalapeno, chile oil, onion and wonton chips
Tamashiro Market, Kalihi — Da Real Kine Poke with real kine crab meat, real kine scallops and real kine shrimp
Order online and we'll see you at the Poke Fest!
Editor's note: Poke on da Run had to cancel its participation because of circumstances beyond their control. Stepping in is Nico's at Pier 38, whose commitment to freshness is so tantamount that the restaurant opened literally next door to Honolulu's fish auction.
3rd annual Frolic Poke Fest presented by Fresh Island Fish
Saturday, Oct. 17
10 a.m. to 2 p.m.
210 Ward Ave. (corner of Ala Moana Boulevard)
Poke Fest online pre-order form