Frolic picks: Weekend events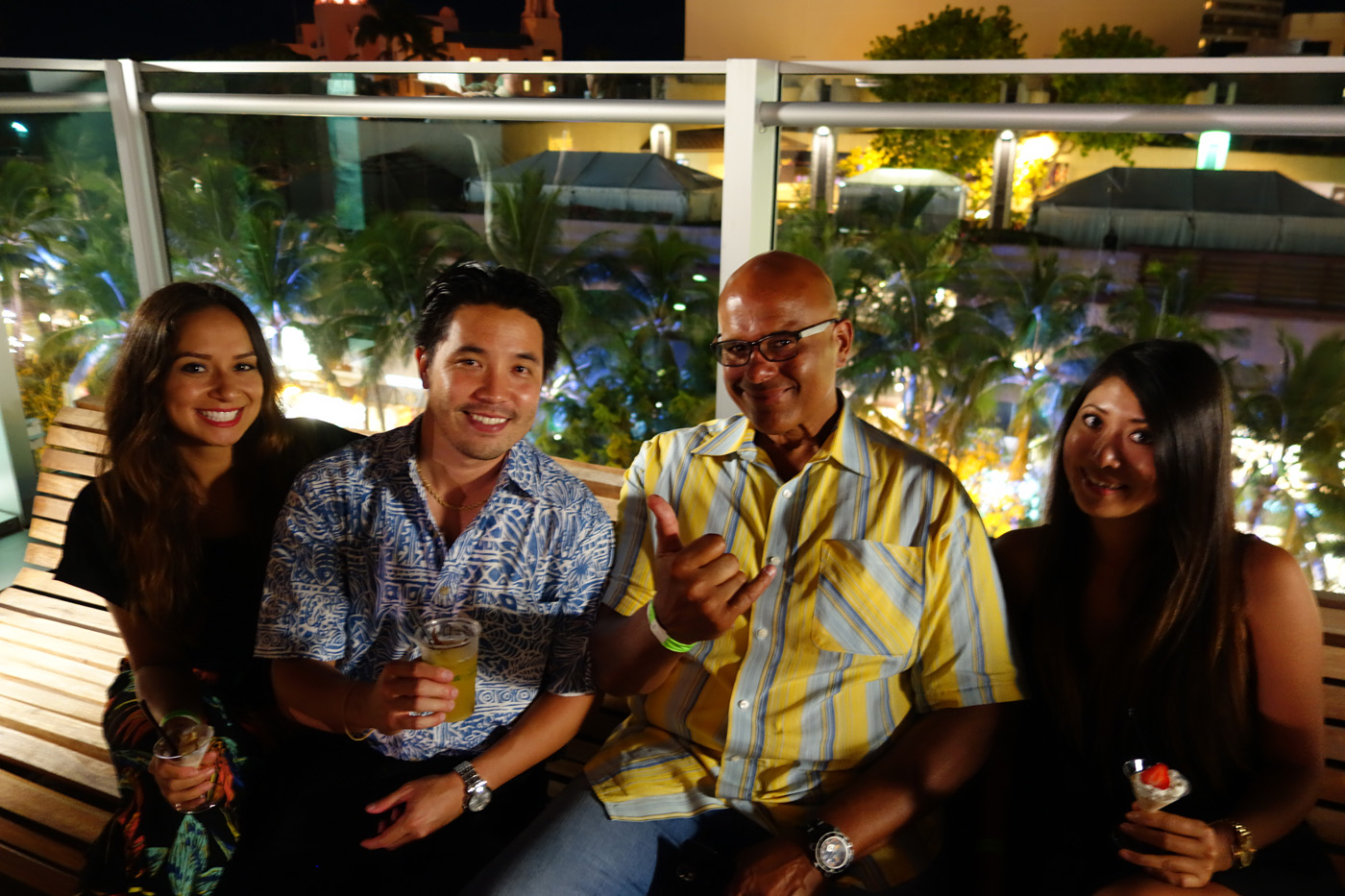 Thursday, Oct. 2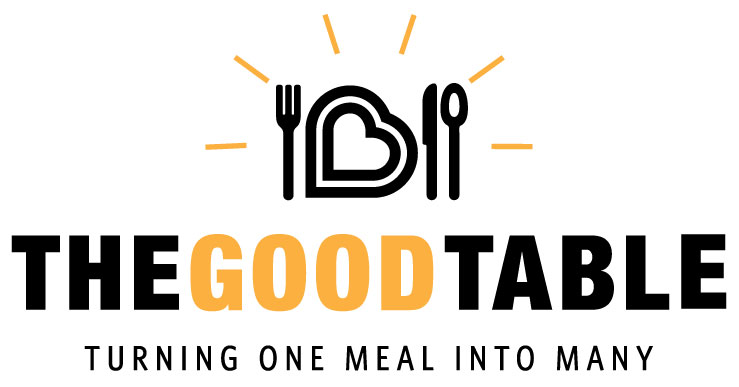 Oct. 2, 6 p.m.
Various restaurants

The Good Table is an island-wide dining event to benefit Lanakila Meals on Wheels and Hawaii's elderly citizens in need. Attendees will sit down to a special dinner with family and friends, and enjoy VIP treatment at restaurants such as 12th Ave Grill, Alan Wong's and Chef Chai. A complete list of participating restaurants, along with the menus and prices can be found at lanakilapacific.org.
Tables are purchased in advance, and a unique dining experience is created by the chef and staff. Your participation turns one meal into many for Hawaii's kupuna.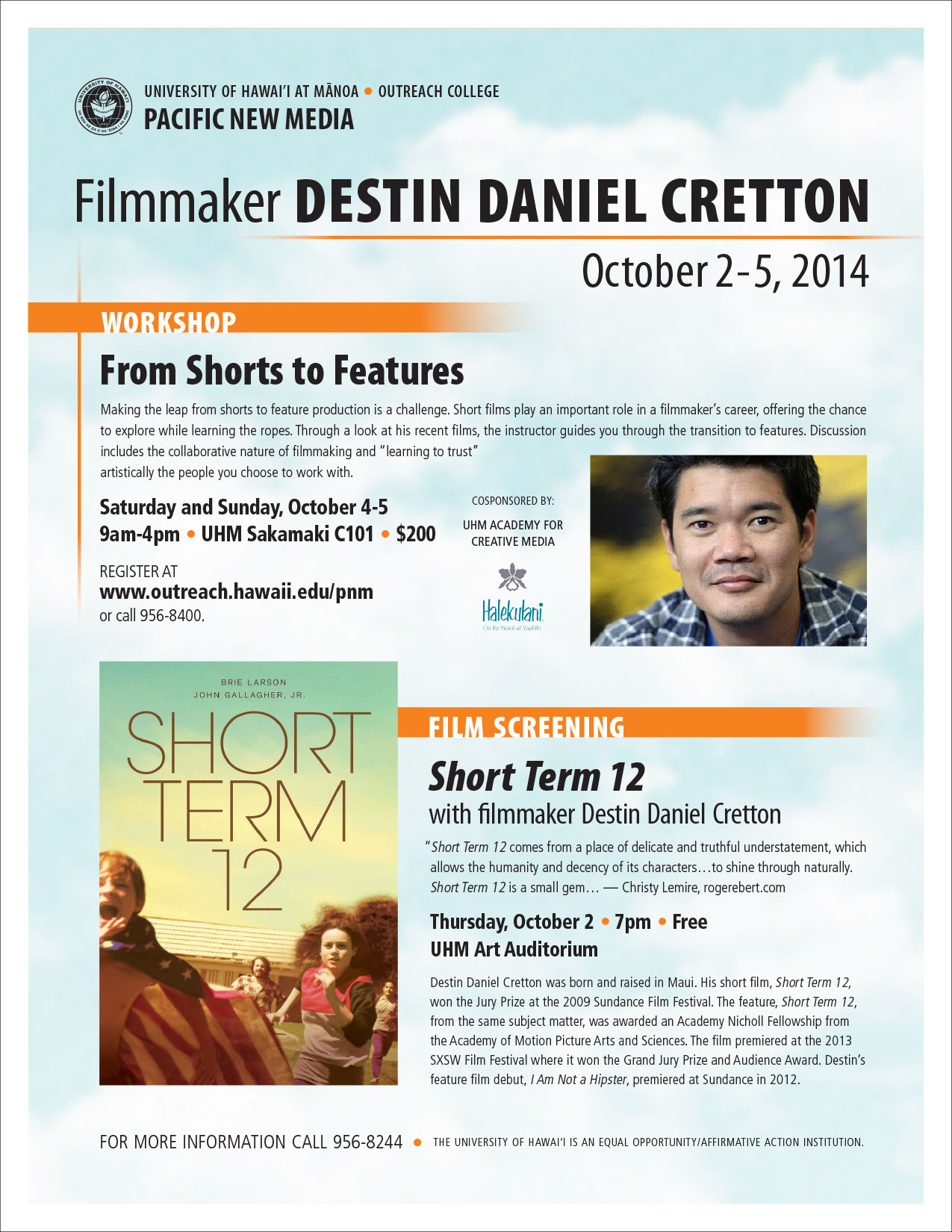 Oct. 2, 7 p.m.
University of Hawaii Manoa Art Auditorium
McCarthy Mall

Enjoy a free screening of "Short Term 12" with filmmaker Destin Daniel Cretton. The critically acclaimed film, which premiered at the 2013 South by Southwest, is based on Cretton's experiences working at a group facility for teenagers. The film — which won South by Southwest's Grand Jury and Audience Awards for a Narrative Feature, as well as three Independent Spirit Award nominations — has been widely praised for its realistic portrayal.
Along with the screening, Cretton will be holding a weekend workshop, called From Shorts to Features, from 9 a.m.-4 p.m. on Saturday and Sunday. Visit outreach.hawaii.edu/pnm or call 808-956-8400.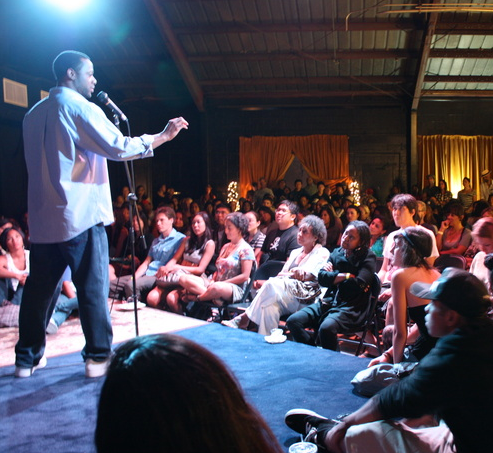 Oct. 2, 8:30 p.m.
Fresh Cafe
831 Queen St.

The 12th official HawaiiSlam season rolls on with its monthly qualifiers at First Thursdays. The top two poets will qualify for the HawaiiSlam Final next May that will determine the team to represent Hawaii at the 2015 National Poetry Slam in Newark, New Jersey.
Local singer/songwriter Tavana will perform, and Kealoha will host. There will also be live painters and a guest DJ, who will provide turntable sorcery throughout the evening.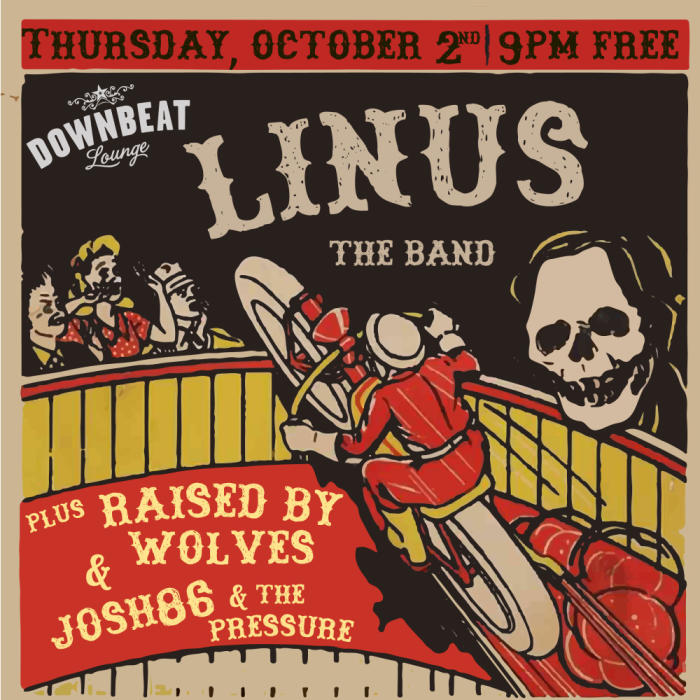 Oct. 2, 9 p.m.-1 a.m.
Downbeat Lounge
42 N. Hotel St.
Head over to Downbeat Lounge for the return of the London-based Linus the Band, plus Raised by Wolves and Josh 86 & The Pressure to hear their own blends of American folk revival.
Doors open at 8; no cover; 21+
Friday, Oct. 3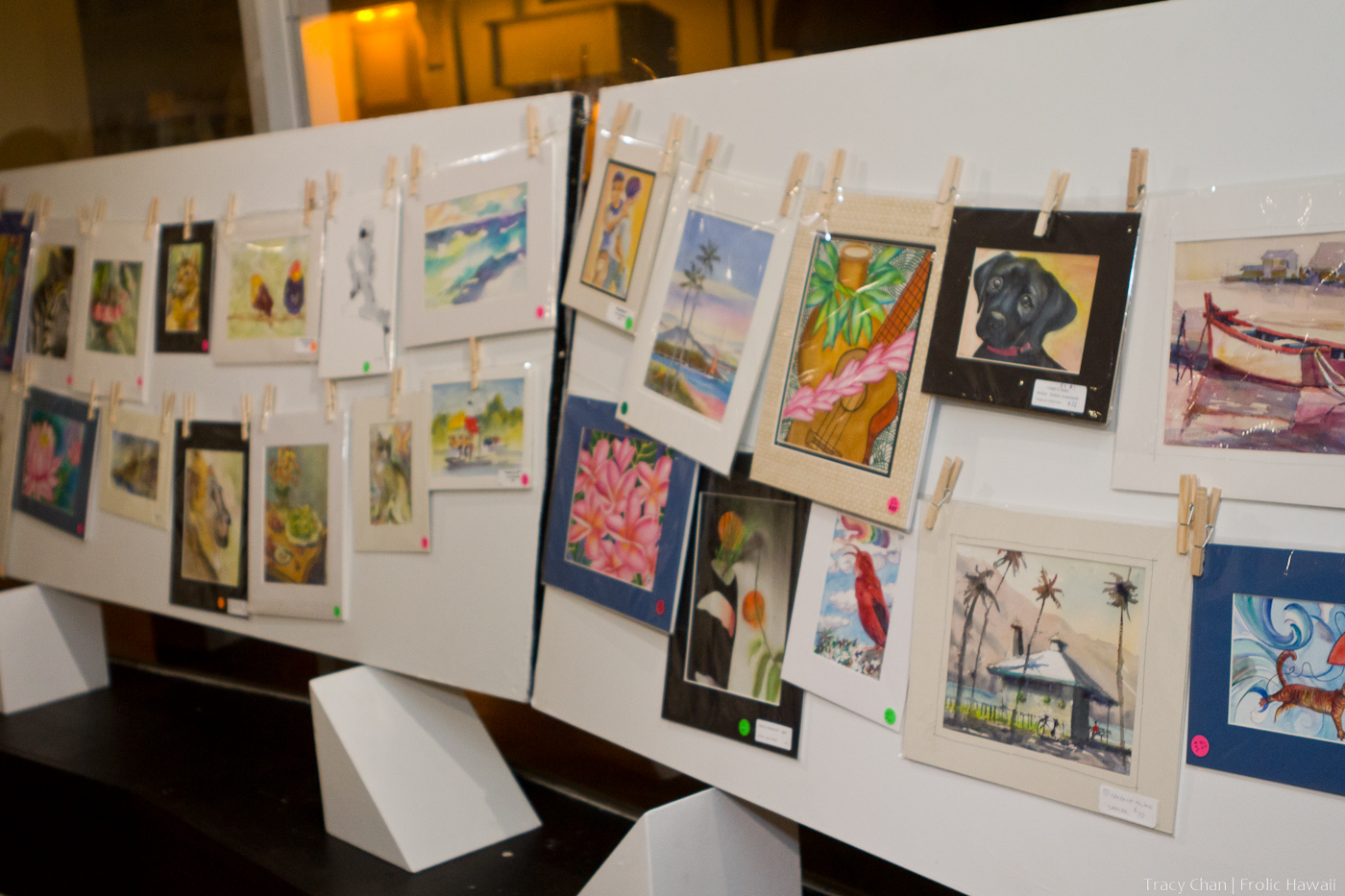 Oct. 3
Various locations across Chinatown
It's time for another First Friday. Some highlights from this month's event:
• Acoustic guitarist Dayton Watanabe performs Hawaiian slack key classics and contemporary favorites at the Hawaii State Art Museum, from 6-9 p.m.
• Hawai'i Watercolor Society Annual Open Exhibition from 5-9 p.m.
• Omer Kursat presents photographs that were rejected by various local and international juried competitions in his new Hang the Jury! exhibit, which runs from Oct. 3-23 at Deuxmers Gallery at Chinatown Artist Lofts, 1109 Maunakea St. #215-5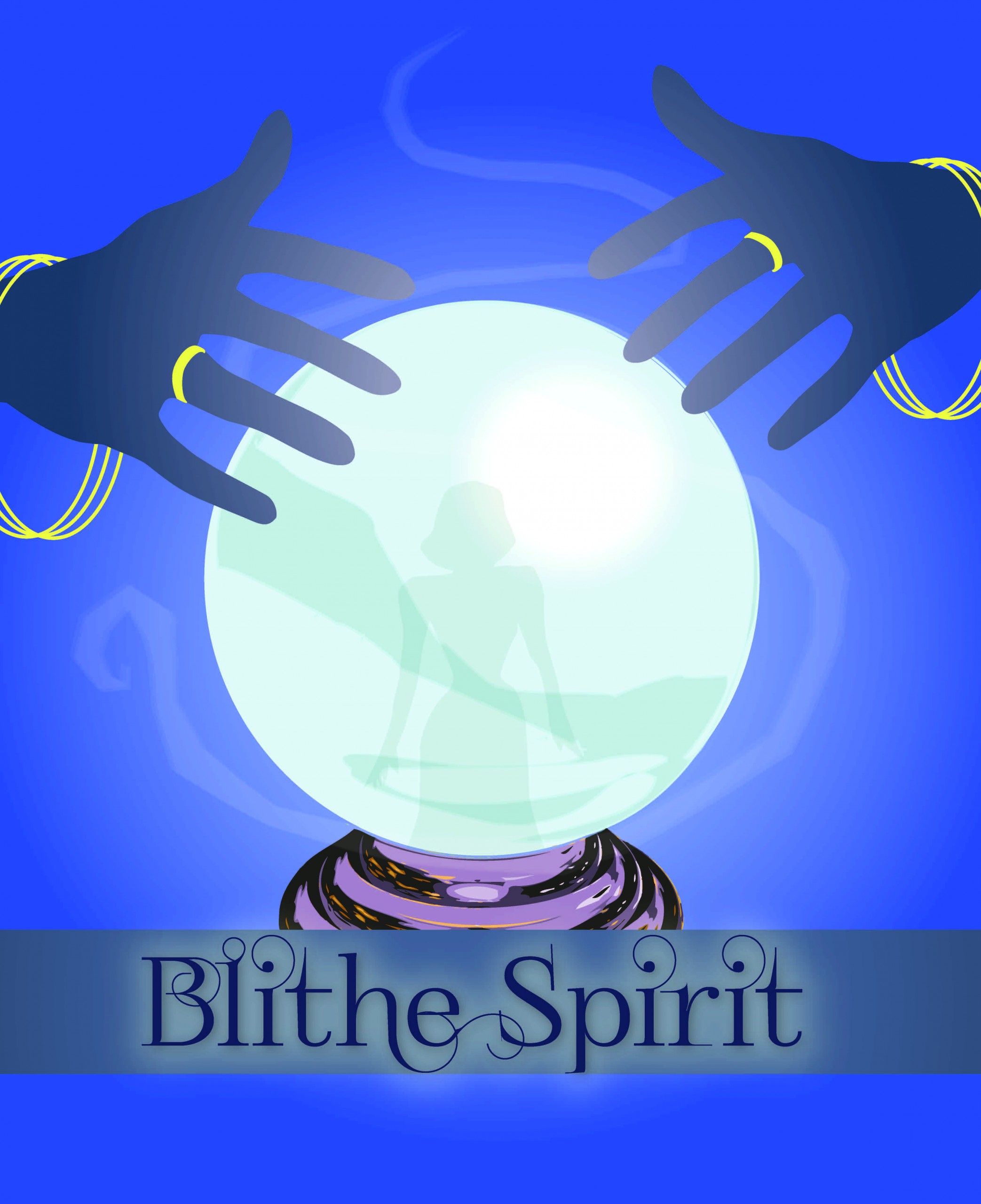 Oct. 3, 4, 10, 11 at 8 p.m. and Oct. 5 and 12 at 2 p.m.
Kennedy Theatre
1770 East West Road

In the run-up to Halloween, Kennedy Theatre presents this charming and witty ghost story. This classic hit of the London and Broadway stages offers up a cantankerous novelist who is haunted by the ghost of his first wife after he hosts a séance by "happy medium" Madame Arcati. His present wife is none too pleased to be sharing her house – or her husband – with the spirit world. Worldly and unworldly personalities clash in a "spirited" battle of wills.
Showtimes: Oct. 3, 4, 10, 11 at 8 p.m. and Oct. 5 and 12 at 2 p.m.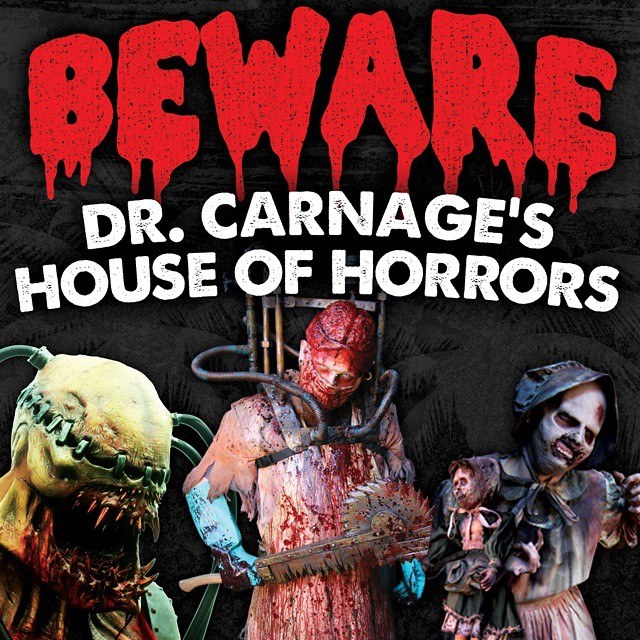 Oct. 3 – Nov 1
Windward Mall (theater parking lot)
46-056 Kamehameha Highway

The Scream Team returns from a one-year hiatus with their biggest and best haunted attraction, Dr. Carnage's House of Horrors, which takes fright fans on a journey with their worst fears and the gruesome reality of one man's nightmare. The Scream Team traveled the world and returned with never-before-seen props and special effects. To accommodate for the size and magnitude of this attraction, it's being hosted in the theater parking structure.
Saturday, Oct. 4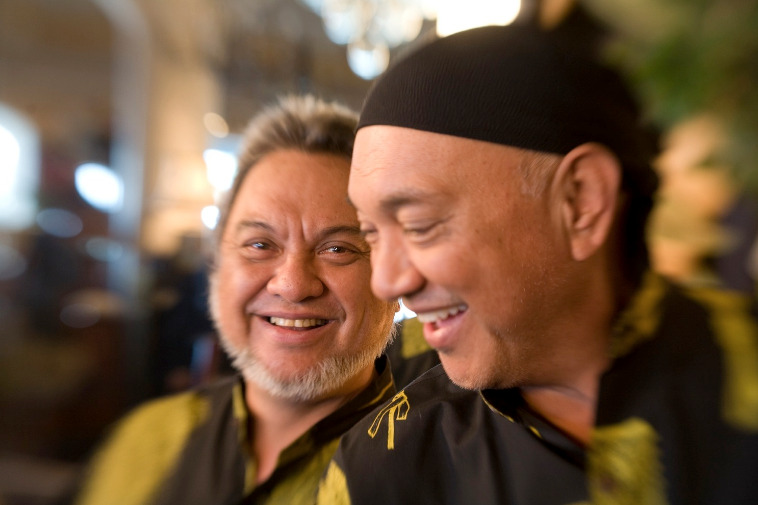 Oct. 4, 10 a.m.- 8 p.m.
Windward Community College

The 14th Annual Windward Ho'olaule'a will be a free, homegrown celebration featuring top island music, food and other activities. Performers include Jerry Santos and friends, The Brothers Cazimero, Mailani and others.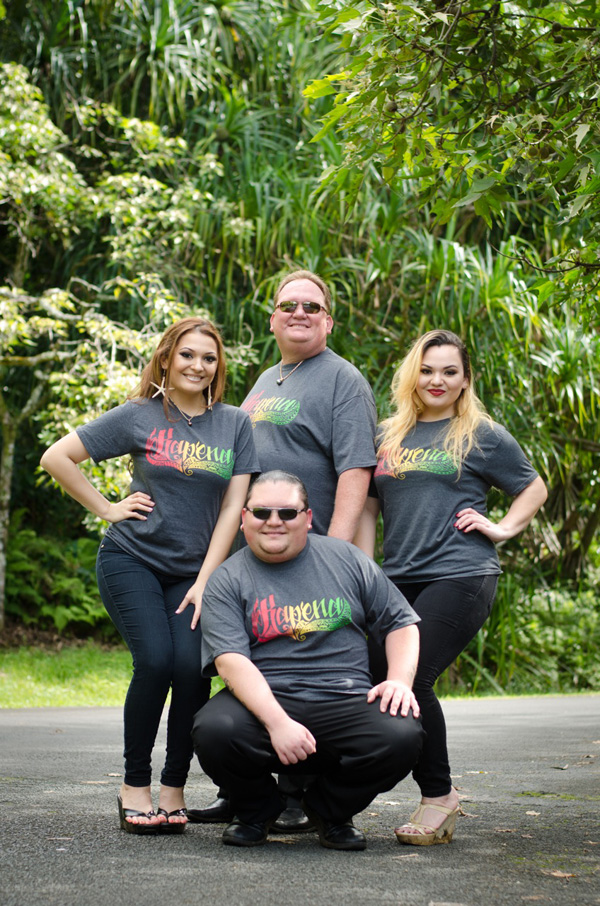 Oct. 4, 11 a.m.-4 p.m.
Waimea Valley
59 Kamehameha Highway

The Hawaii Tourism Authority (HTA) presents its next 'Ahamele concert on Saturday, Oct. 4 at Waimea Valley. This concert is part of HTA's 2014 'Ahamele: Monthly Hawaiian Music Series, which is a series of free Hawaiian music concerts.
Headlining the event will be Na Hoku Hanohano award-winning group Kapena, who plays a mix of Hawaiian, country, Jawaiian and contemporary island music. Hula will also be a part of the show with dancers of Ke Kai o Kahiki present under the direction of Kumu Hula Laakea Perry. Other local music groups such as Kaiholu and Fresh Ea will open the show.

Oct. 4, 2- 9 p.m.
Ward Warehouse Amphitheater
1050 Ala Moana Boulevard

Hip Hop Culture Day celebrates the true essence of hip hop — peace, love, unity and having fun. The free event will be held at the Ward Warehouse Amphitheatre. The keiki hip hop classes and showcases will be free to join, and the Cypher Etiquette Workshop and dance battles are $15 and $20 respectively (the fee for Battles includes the fee for the Cypher Etiquette Workshop).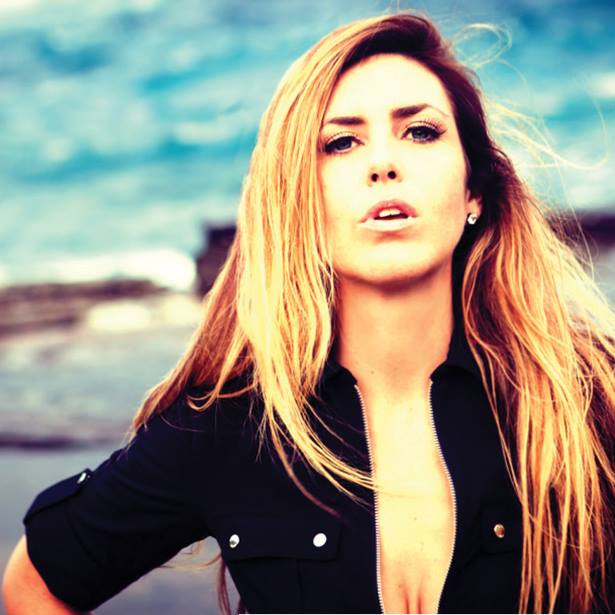 Oct. 4, doors open 6 p.m.
The Republik
1349 Kapiolani Blvd.
The Show Must Go On is Erin Smith and her band's tribute to Paramore, with special guests Sing the Body and The Bitten.
Prices: $10 plus applicable fees (21 and over), $15 plus applicable fees (18 and over)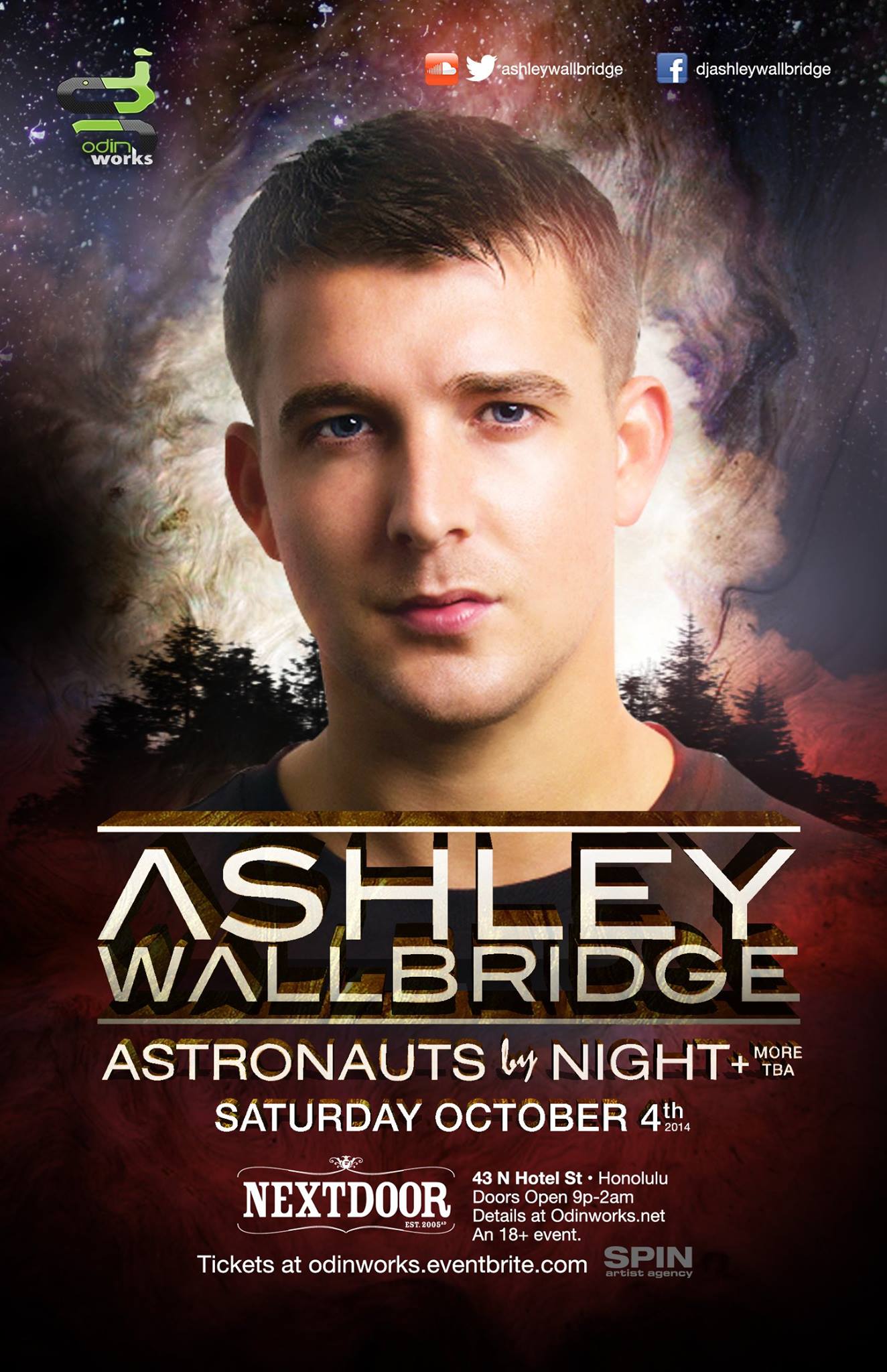 Oct. 4, 9 p.m.-2 a.m.
Next Door
42 N. Hotel St.
Securing a charging position as one of electronic music's esteemed DJ's and producers, Ashley Wallbridge is riding his own fresh wave in and out of the studio. From the United Kingdom's Stoke On Trent, he has amplified a career from the undying passion of the crowds in front of him, the enthusiasts tuning in and the fellow talent that surrounds him.
Sunday, Oct. 5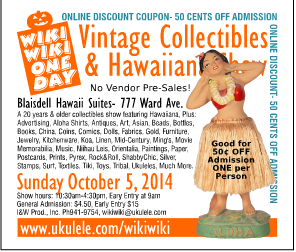 Oct. 5, 10:30 a.m.-4:30 p.m.
Blaisdell Exhibition Hall

Shop for great buys in antiques, Hawaiiana, art, estate jewelry, vintage fashion, dolls, tribal art, beads, tiki, gold & silver, koa, furniture, kimono, kitchenware, ukuleles, toys, kokeshi, Mid-Century décor, ivory, Chinese & Japanese antiques, Mings jewelry, Niihau shell leis, lauhala hats, stamps, coins, shabby chic, Victorian, sportscards, Hawaiian Monarchy items, prints, textiles, postcards, aloha shirts, lighters and more.
General admission is $4.50 and Early Entry is $15.
http://www.ukulele.com/wikiwiki.html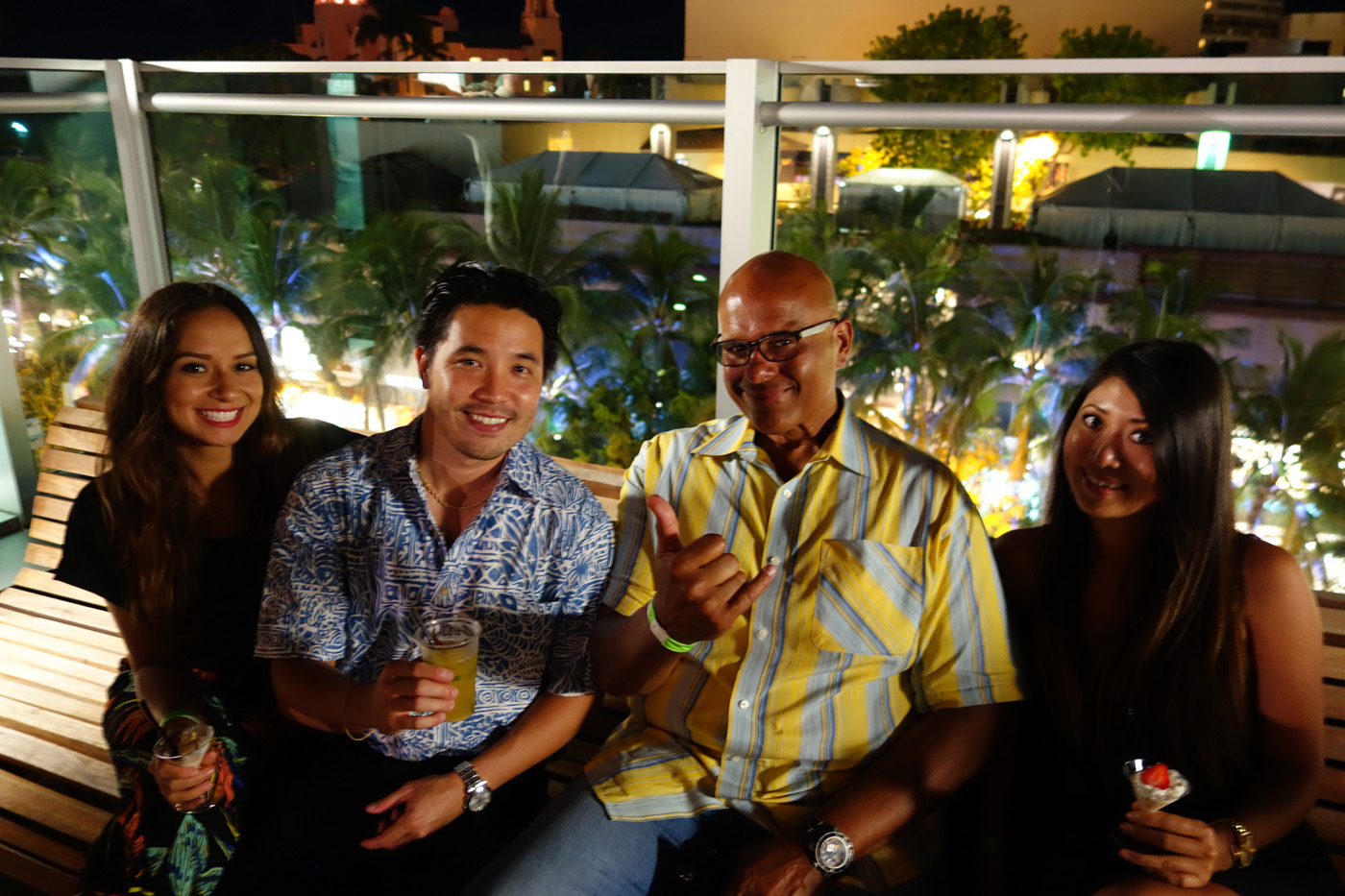 Oct. 5, 6 – 10 p.m.
Buho Cucina y Cantina
2250 Kalakaua Ave.

The famous Bacardi party head to the roof at Buho Cocina y Cantina to take over the most talked-about rooftop venue in Waikiki. This is a free party featuring music by DJs Mr. Nick, Jimmy Lee, Ramyt Ramit Zilla and COMPOSE. There will be live cooking stations, $3 tacos, $5 margaritas and Buho's infamous taco-eating contest.
There's a $5 flat rate parking in the Waikiki Shopping Plaza.