Frolic picks: Weekend events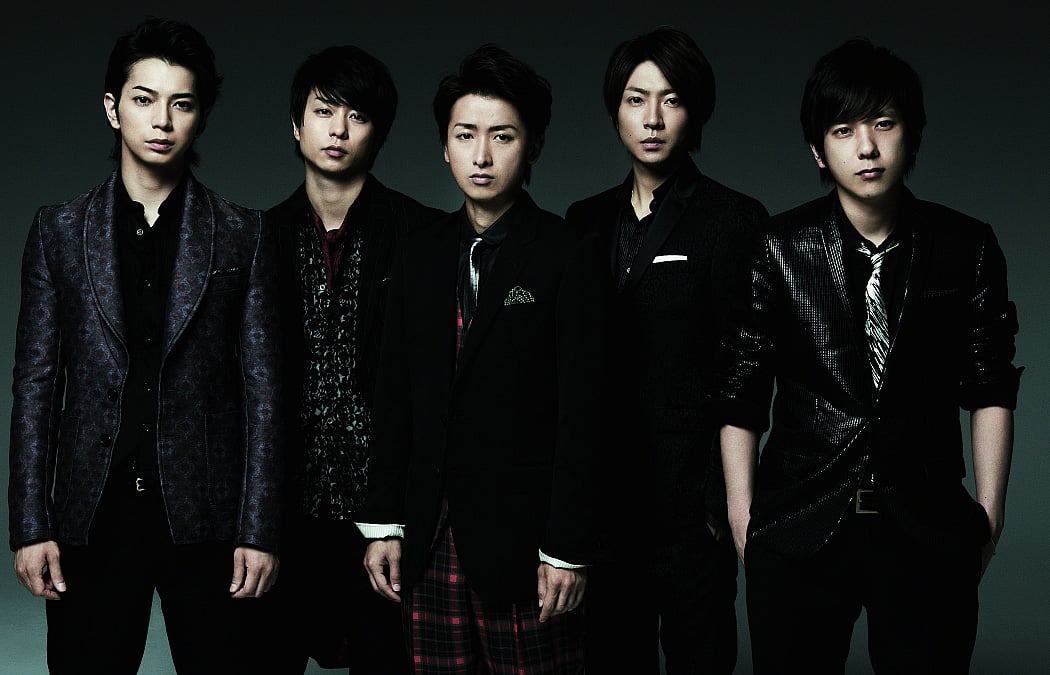 Thursday, Sept. 18
RAW Honolulu: SCOPE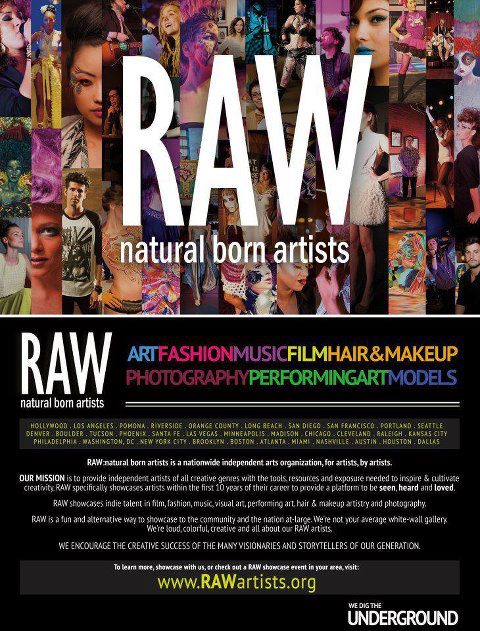 Sept. 18, 7-11 p.m.
The Crossroads at Hawaiian Brians
1680 Kapiolani Blvd.
RAW:natural born artists is an international independent arts organization that hand-selects and spotlights independent creatives in visual art, film, fashion, music, hair & makeup artistry, photography, models and performing arts.
RAW events feature a cash bar for cocktails while you enjoy the night. Dress code is cocktail attire, so dress the occasion and get ready for an artistic circus of creativity.
Friday, Sept. 19
Arashi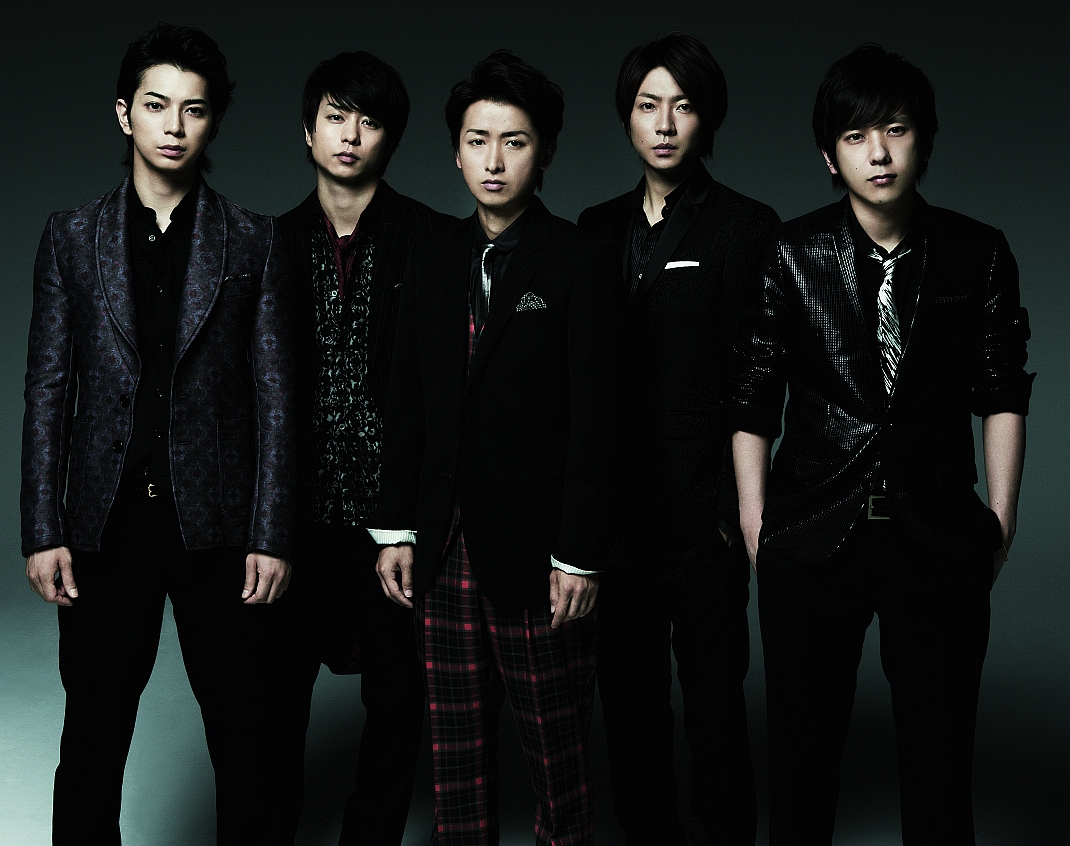 Sept. 19 & 20, 5:30 p.m.
Ko Olina Resort
92-1220 Ali'Inui Dr.
Japanese superstars Arashi will perform in two concerts in Hawaii to commemorate their 15th anniversary on Friday, Sept. 19 and Saturday, Sept. 20 at Ko Olina Resort, outdoor fronting Nai'a Lagoon 3. Gates will open at 4:30 p.m., with the concerts starting at 5:30 p.m.
General admission tickets available here or by phone at 1-800-745-3000. Prices are $150 for adults and $75 for youth from 3 years of age to 15 years of age.
Signature Chefs Food Festival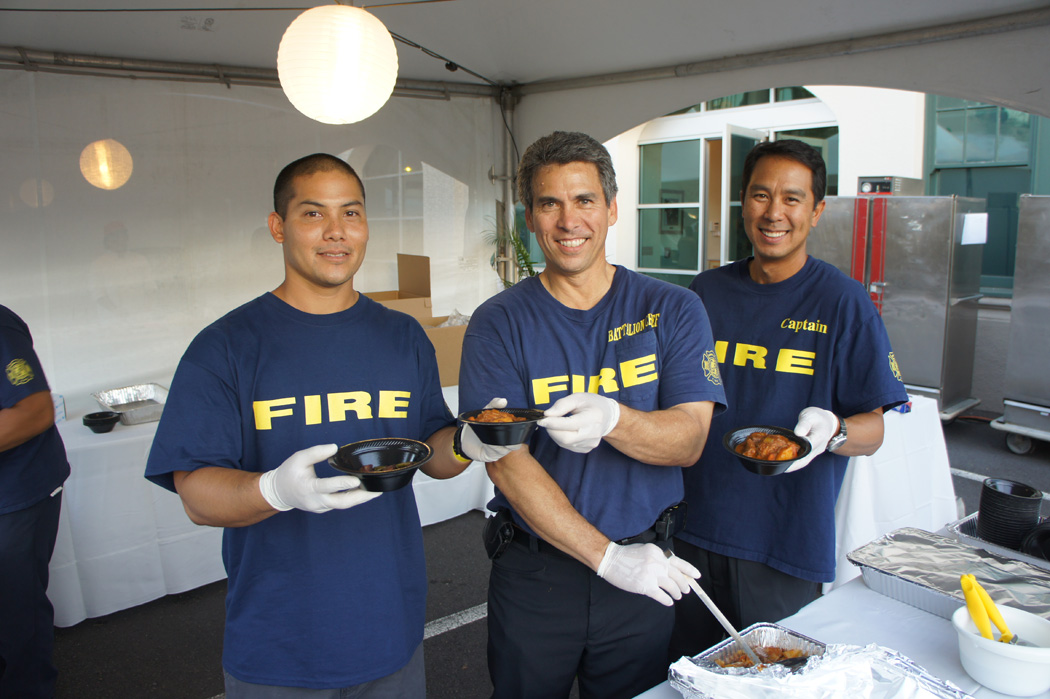 Sept. 19, 5:30-9:30 p.m., Royal Hawaiian, 2259 Kalakaua Ave.
The Honolulu Firefighters Foundation will hold its 5th Annual Signature Chefs Food Festival at The Royal Hawaiian. This year's festival will feature some of the best Honolulu chefs from The Royal Hawaiian, Sheraton Waikiki, Moana Surfrider, Sheraton Princess Kaiulani, and Honolulu Fire Department (HFD).
The event will be an evening filled with delicious cuisine by some of Honolulu's top chefs and firefighters, live entertainment, and exclusive silent auction offers, all in support of a good cause.
Tickets are $150 per person ($63 tax deductible) and $2,500 per table of 10 people ($1,630 tax deductible). Proceeds from the event will benefit the Honolulu Firefighters Foundation and its mission to promote, educate, and support public safety. For more information or to purchase tickets, contact Lynn Takahara at (808) 723-7102 or by email at ltakahara@honolulu.gov.
Eddie Wen' Go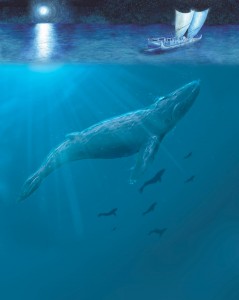 Sept. 19, 7 p.m.
Sept. 20, 2 p.m.
Hawaii Theatre
1130 Bethel Street
Coinciding with Hokuleʻa's round-the-world voyage, this imaginative production based on the children's book by Marion Lyman-Mersereau uses hula, chant, masks and puppetry to tell of Eddie Aikau's act of sacrifice through the eyes of sea creatures who watched from underneath the upside-down canoe.
Tickets are $10 for General Admission. HTC Members, Seniors, Students with ID and Military with ID can get tickets for $7. Youth pricing is $5. Children aged 3 years and younger are free. Click on Friday or Saturday to get links to purchase tickets online.
CBC: Night Circus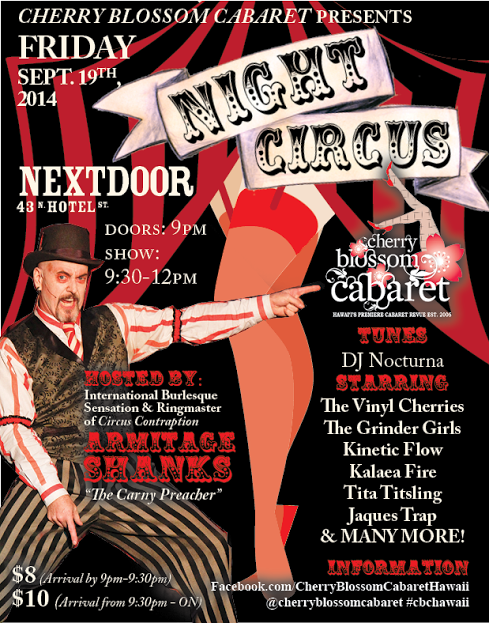 Sept. 19, 8 p.m.
Sept. 20, 11:45 p.m.
NextDoor
43 North Hotel Street
The wicked side of the Circus takes over NextDoor for a one night, dark, gothic, steampunky, kinky, CRAZY bacchanal! Cherry Blossom Cabaret presents a mixed night of circus arts, live music, burlesque, DJ sets for dancing, audience participation & MORE, curated especially for those who cultivate the darker tastes. Honolulu's resident "Queen of the Night" DJ Nocturna will provide only the finest in Gothic/Dark Wave/Industrial music.
Doors open at 9:00 p.m., show starts at 9:30 p.m. $8 before 9:30pm, $10 after 9:30pm. This event is 21+
Rusko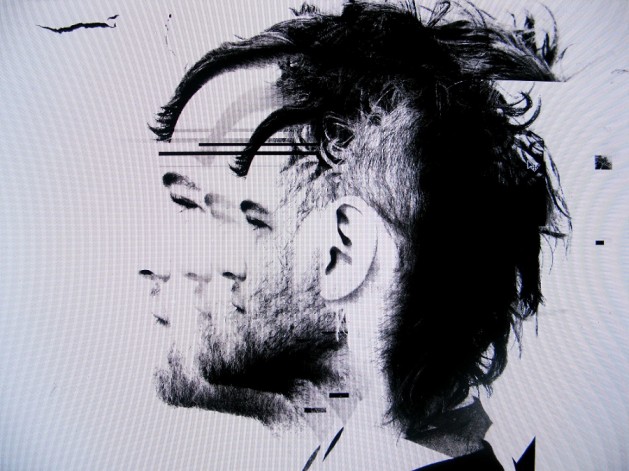 Sept. 19, 10 p.m.
The Republik
1349 Kapiolani Blvd. #30
Electric Palms Hawaii presents Rusko, performing live in Honolulu at The Republik.
Christopher Mercer, aka Rusko, discovered the world of dubstep through SUB DUB and a debut appearance from the "Digital Mystikz." Veering away from the dark, serious side of the sound Rusko has coined his own take on the genrey. His huge hit "Cockney Thug" has been played by everyone from Pete Tong, Switch, Diplo and Santogold. Only 23, Rusko has been lighting up the radio airwaves with his own productions and remixes of artists such as Adele.
General Admission is $25. This is an 18+ event.
Saturday, Sept. 20
Samadhi Live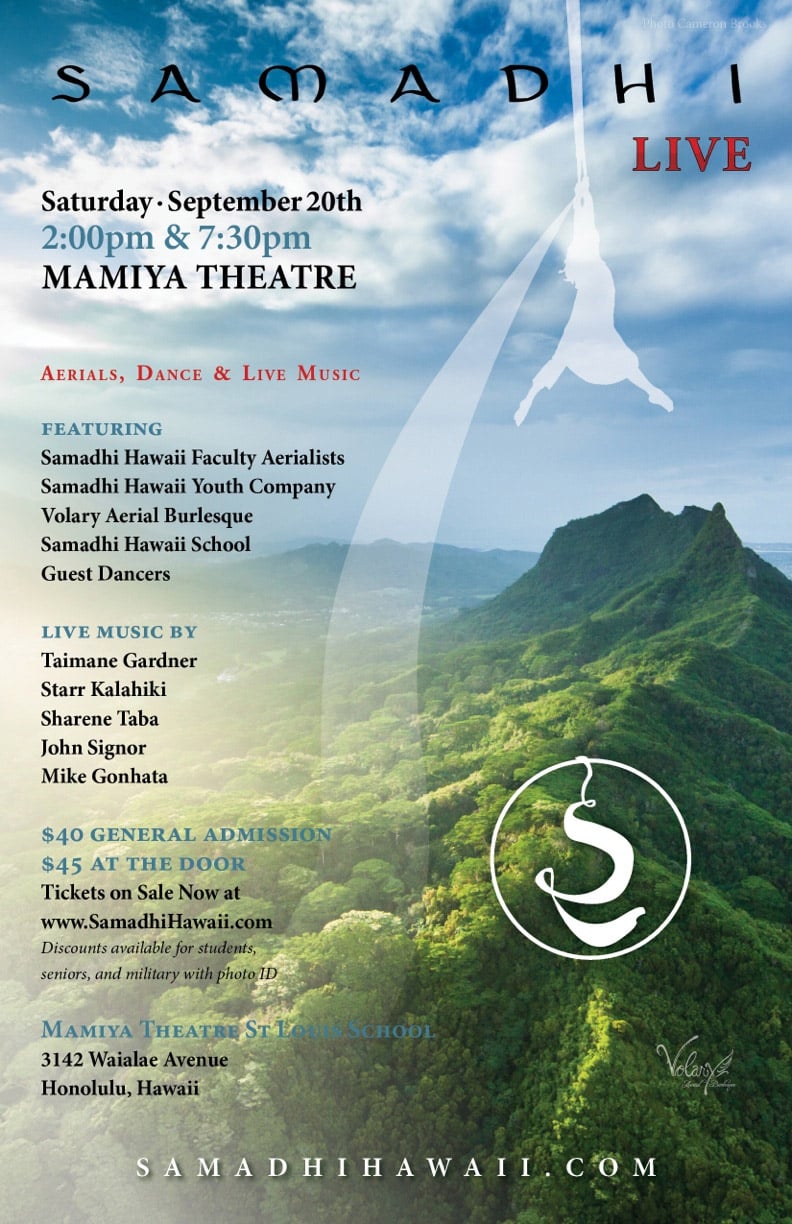 Sept. 20, 2 p.m. & 7 p.m.
Mamiya Theatre
3142 Waialae Ave.
Samadhi Hawaii Faculty Aerialists collaborate with musical artists to present mesmerizing, original works on silk, trapeze, hammock, and ring. Along with performances by various aerialist groups, there will be live music by Taimane Gardner, Starr Kalahiki, Sharene Taba, John Signor and Mike Gonhata.
There are two shows, one at 2 p.m. and the other at 7:30 p.m. Tickets are $40 when ordered on samadhihawaii.com and $45 at door. Students, seniors, and military get $5 off their ticket price.
Honolulu Night + Market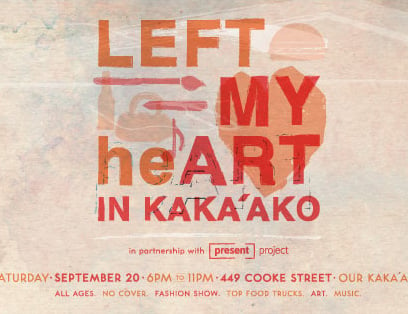 Sept. 20, 6-11 p.m.
449 Cooke St.
Kakaa'ako's monthly streetfest happens on Sept. 20 along Cooke Street, with a theme of "Left My Heart In Kaka'ako." Once again, there will be food trucks, shopping, fashion, entertainment and lots of people watching. Additionally, Our Kaka'ako is teaming up with PRESENT Project to showcase their art installations during the Night Market.
Ward Village NiteRun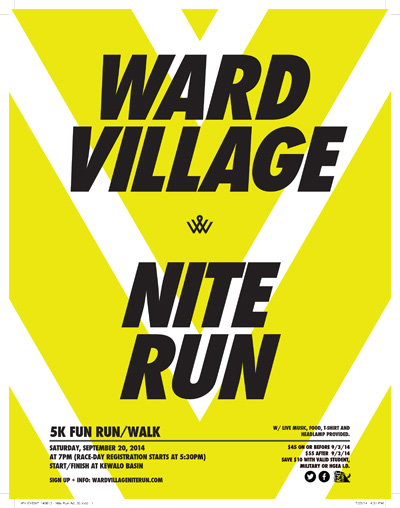 Sept. 20, 7 p.m.
Kewalo Basin Harbor
On Sept. 20, Ward Village will host the inaugural Ward Village NiteRun, a 5k fun run that will raise funds and awareness for JDRF Hawai'i – a foundation that works to improve the lives of Hawai'i's children, adults and families living with type 1 diabetes. The family-friendly event will start and finish at Kewalo Basin Harbor, and feature a post-race celebration including, a glow-in-the-dark street party with an LED dance performance, specialty food and beverages, and live entertainment.
To register, visit wardvillageniterun.com. Registration is $45 per person before Sept. 3, $55 after Sept. 3, and includes a headlamp, t-shirt and refreshments for each participant. A $10 discount is available for registrants with a military, student or HGEA ID.
Miranda Lambert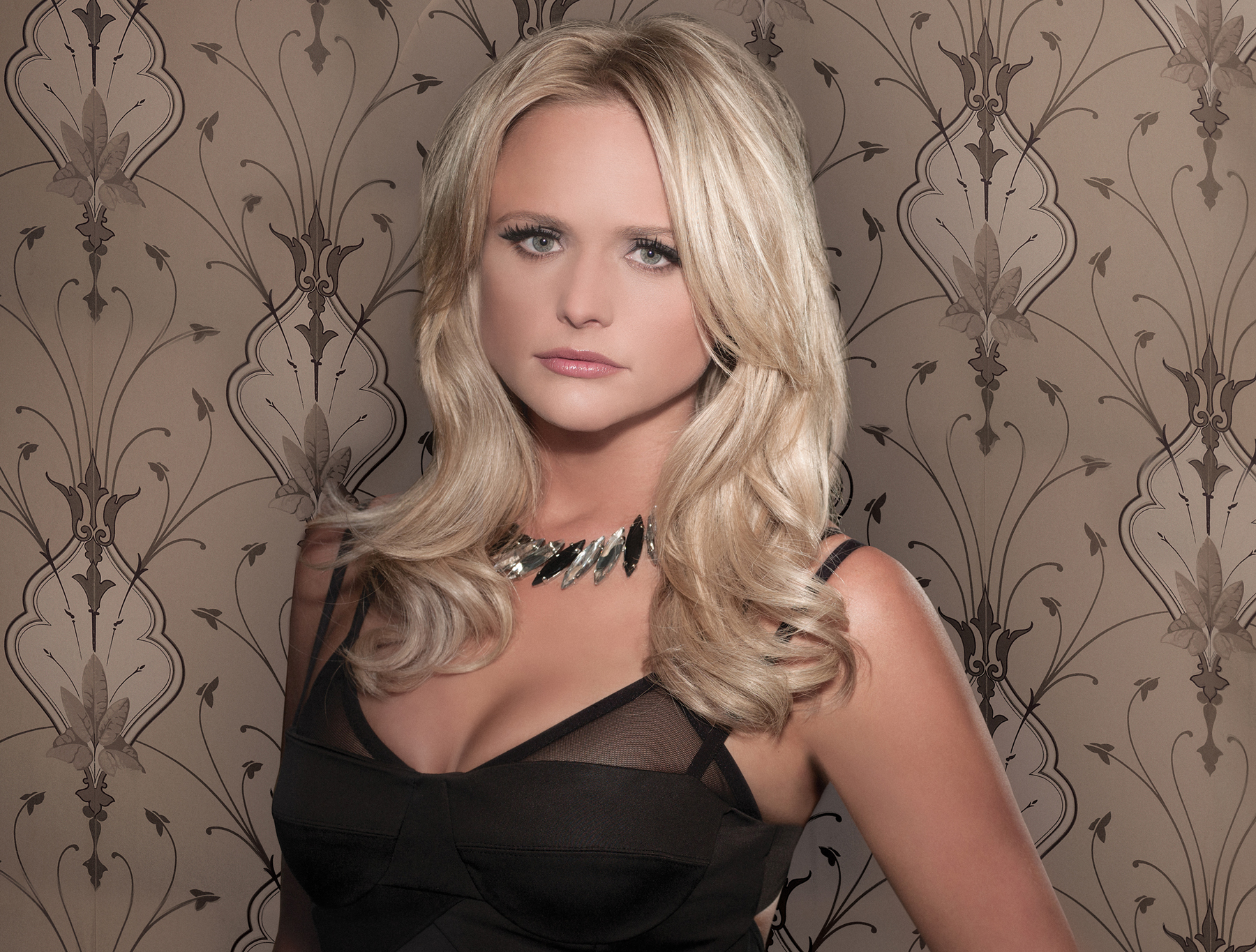 Sept. 20, 8 p.m.
Blaisdell Arena
777 Ward Avenue
Country music star Miranda Lambert will be performing at Blaisdell Arena, featuring songs from her upcoming album, "Platinum."
Lambert gained recognition when she became a third place finalist in 2003′s "Nashville Star." Some of her best singles include "Baggage Claim," "Famous in a Small Town" and "Crazy Ex-Girlfriend." Her new album is set to release on June 3 with featured performance by Carrie Underwood, Little Big Town and the Time Jumpers.
Tickets are available at Ticketmaster from $35-$65.
Ron White: Nutcracker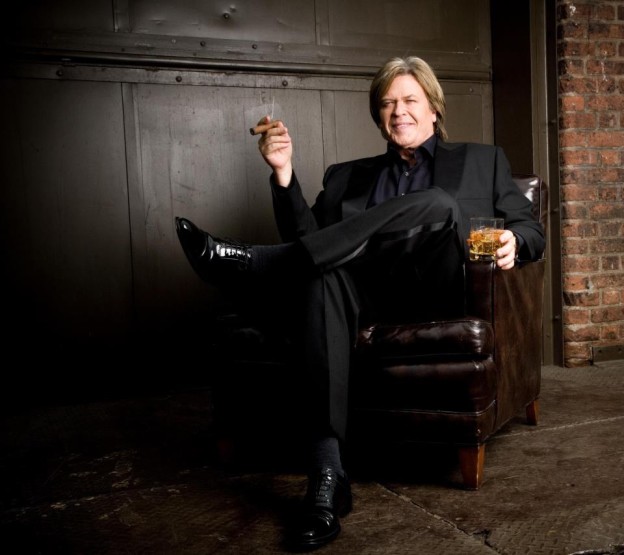 Sept. 20, 8 p.m.
Blaisdell Concert Hall
777 Ward Avenue
Ron White will perform a stand-up routine with scotch in hand at the Blaisdell Concert Hall.
Known for touring with the Blue Collar Comedy Tour, White has also achieved three Grammy nominations, a Gold Record, two of the top rated one-hour specials in Comedy Central History, CD and DVD sales of over 10 million units, and his book "I Had the Right to Remain Silent But I Didn't Have the Ability" that appeared on the New York Times Best Seller List.
Tickets are available here from $35-$65.