Frolic picks: Holiday gift ideas for foodies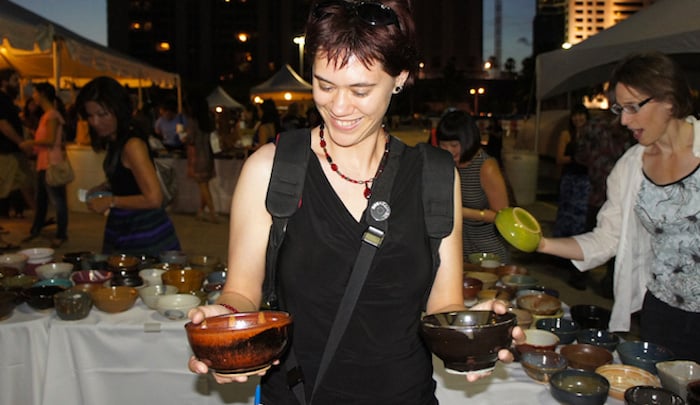 From cooking classes to booze-barrel coffee to, umm, piggy poop, when we asked Frolickers for their best foodie gift picks, suggestions flowed as fast as bubbly on New Year's Eve. Last-minute shoppers, take note – there's something here for every type of foodie!
FOR THE HOME COOK (OR ASPIRING ONE)
Brrr, it's 62 degrees in Hawaii, which means winter is officially here. Cookspace Hawaii is hosting the perfect way to warm up – by cooking up some yummy Portuguese bean soup. On Jan. 14 from 1-3 p.m., join Maui-born chef Jonathan Mizukami for a special cooking class. Mizukami, who perfected his cooking skills at the world-renowned French Laundry, will get back to his roots as he shares his mom's Portuguese bean soup recipe. He will show you his step-by-step process and pair a crusty housemade bread to enjoy with the class. Start salivating now.
Where to buy: Reserve your seat in Chef Jonathan Mizukami's class online at Cookspace Hawaii
Cost: $68.06
– Rebecca Pang
For dishes beyond Portuguese bean soup, Lindy Hashimoto has got you covered. The popular home chef, craft fair queen and webmaster of Lindy's Ono Recipes has curated hundreds of her favorite tried-and-true local recipes and is eager to share. Recipe cards are laminated, printed in large font and color-coordinated by food category. Examples include Nori Wrapped Mochiko Chicken, BBQ Pulled Pork & Cole Slaw, Shrimp Doria, and Chicken Long Rice.
Where to buy: Order online or call 808-226-3589 today to ensure delivery by Christmas, otherwise consider this a New Year's gift.
Cost: A la carte recipe cards run $1 each. Buy 10, get one free. Da Mini ($22 plus shipping) is a starter set with 20 recipe cards, a recipe holder and container. Da Works ($98 plus shipping) has all 149 recipe cards, a recipe holder and container.
– Rebecca Pang
FOR THE THIRSTY FRIEND
MauiWine has come a long way since they were first known as Tedeschi Winery. In addition to the wines that you may find in restaurants and some grocery stores, they now produce small batches (about 200 cases or less) of estate wines, which are so good that they're winning awards. The estate wines aren't available for sale except through their wine club, so you might want to gift the oenophile in your life with membership. The winery does have "pickup parties" for members twice a year, and we hear those are quite fun.
Where to buy: Order online from MauiWine.com
Cost: $180 for a six-bottle shipment, plus shipping. No shipping cost if you make the trek to Ulupalakua to pick them up yourself.
– Melissa Chang
Haliimaile Distilling Company is known for Sammy Hagar's Beach Bar Rum and Pau Vodka, but most people don't know about their Paniolo blended whisky … yet. Master Distiller Mark Nigbur says it's the perfect balance of Kentucky Straight Bourbon Whiskey blended with Haliimaile Distilling's Maui Gold Pineapple Distillate, which is distilled to neutral to allow for an extremely clean and smooth finish without any pineapple flavor.
The whisky comes in original, brown sugar, coffee, and chocolate and coconut flavor (our favorite!). You'd think whisky with chocolate and coconut would be cloying, but it's not at all. It's smooth and rich, and seems to appeal to both men and women. While it's great on its own, you may find yourself trying it with your coffee on Christmas morning.
Where to buy: Haliimaile Distilling Company on Maui. On Oahu you can find it at Tamura's, Foodland or Safeway, but call first to verify availability.
Cost: $37
– Melissa Chang
If you're tired of the same old morning coffee, Keola Warren at Moke's Bread & Breakfast has something new to wake up your palate. The restaurant has been working with Kailua Town Coffee Roasters on its own house blend, but Warren got a crazy idea to age some of their roasted beans in barrels previously used for spirits. He got one that was used for bourbon, another for tequila — oddly enough, from local beer companies — and experimented with roasters Brad and Donna Sultzer and some beans. After months of R&D, they finally have a product to market: Lanikai Coffee, small-batch coffee beans infused with tequila or bourbon aromas. The beans are 40 percent Hawaiian, complemented by a bean from around the world, similar to wines from Bordeaux or Napa, where different grapes add optimal qualities to the final product.
Don't expect the coffee to taste boozy, though. The beans take on the barrel's essence, so you get new flavors that evoke smoky, sweet or tannic, to complement the original beans' citrusy notes.
Where to buy: Moke's Bread & Breakfast in Kailua
Cost: Each 8-oz. bag is $15 and available in limited quantities
– Melissa Chang
Holiday parties and potlucks can be exhausting, but toting around wine and whisky shouldn't be. With adorable wine totes from Hello Happy Town, you can transport these or any other beverages in style. The wine totes are decidedly feminine with graphics expressing everything from "aloha" to "celebrate" to "oh happy day." They're made from ethically sourced, 100 percent recycled cotton.
Where to buy: Eden In Love at Ward Warehouse or South Shore Market
Cost: $14
– Rebecca Pang
Eden in Love is a goldmine for last-minute gifts. For friends who are OCD about having coasters under drinks at all times, Workshop 28, a Honolulu-based home goods company, makes these cork must-haves that are easy to mix and match. My favorites evoke an easy beach lifestyle: "Life Is A Beach," "SURF" and the aloha pineapple print.
Where to buy: Eden In Love at Ward Warehouse or South Shore Market. Additional retail locations here.
Cost: $7 apiece
– Rebecca Pang
FOR THE FRIEND WHO CAN'T STOP SNACKING
Shh … Since Breadshop quietly opened in Kaimuki in early December, baker Chris Sy – a veteran of some of the best fine dining kitchens across the country – has been selling his artisan loaves. I'm a huge fan of the semolina, country and brioche bread. They taste fantastic by themselves, but it's easy to make Sy's bread the piece de resistance of a basket with accompaniments like charcuterie, local dipping oils, jams or curds.
Where to buy: Breadshop in Kaimuki
Cost: $8.50 per loaf
– Grant Shindo
Who wants to eat piggy poop? Probably everyone … when it's pushed out by the pastry chefs at The Pig & The Lady. Holiday Piggy Poop is made of Valrhona dark chocolate peanut butter covered bits of Chex and honeycomb mix, salted pretzels, walnuts, dried cranberries, mini marshmallows, chocolate crinkle cookies and Maldon salt tossed in coconut powered sugar. Treat someone you like with an order of these, or sneak an order for yourself.
Where to buy: Best to pre-order two days in advance from Pig's online store – Thursday is the last day to guarantee pick up on Saturday. Limited quantities are available for walk-ins at The Pig & The Lady and Piggy Smalls.
Cost: $10
– Rebecca Pang
FOR THE WANDERLUSTING FOODIE
Go big and make a foodie's dream come true by booking a weekend trip to Vancouver! Cohica Travel has curated a fabulous Foodie Getaway to Green Vancouver: You'll stay three nights in a chic downtown boutique hotel, then go wild exploring the city's best eateries, craft beer, food trucks, chocolate and markets.
Craving a longer, more exotic trip? Most of Cohica's travel packages include a foodie element, like cooking lessons in Bali, street food tours in Vietnam, or gelato-making in Italy. There is no better gift than travel, and you're not getting any younger, so start working on that bucket list and go!
Where to buy: Online at CohicaTravel.com
Cost: $395 per person, excluding airfare. The Vancouver foodie package contributes to local businesses and supports sustainable cuisine, aboriginal artists and marginalized women in Vancouver.
– Rebecca Pang
FOR THE BOOK-LOVING FOODIE
Every season, there is one book that every local foodie wants. This year, it's Food To Write Home About, an homage to restaurateur Bill Tobin's love affair with Hawaii cuisine. Tobin, a former head of the Hawaii Restaurant Association, explores his family roots in Nebraska and how this relates to the nuances of cuisine in Hawaii. The book highlights stories from 21 of the state's top chefs, like Alan Wong, Roy Yamaguchi, George Mavrothalassitis, Bev Gannon, Andrew Le and Chris Kajioka, and features new Hawaii recipes to master at home.
Where to buy: Costco, Barnes & Noble, and Amazon
Cost: $20
– Rebecca Pang
FOR THE FRIEND WHO HAS EVERYTHING
I got this cute, handy idea for a Calorie Free Musubi from a craft fair several years ago. Simply fold a white dishtowel lengthwise, then fold it again into thirds to make the "rice." Place a pink sponge on top, then wrap with black crepe paper "nori." Seal in plastic wrap for the full effect.
In the past, I've paired this with other musubi items like musubi ornaments, a musubi pillow or a decorated musubi reusable bag. Regardless of how you package it, this Spam musubi is sure to please, especially since it's calorie-free!
Where to buy: It's DIY!
Cost: Under $20
– Kelli Shiroma
My foodie gift pick is a ticket to Empty Bowl Hawaii. It combines charity giving, delicious food and a hand-crafted ceramic bowl that will hold many meals to come. Proceeds will benefit Aloha Harvest.
It's simple: Purchase a ticket online for $25 (early bird rate) and your recipient goes to the March 31 event at Dole Cannery ballrooms and selects a unique bowl from among thousands crafted by the Hawaii Potters Guild. Plus they'll get a soup and bread from participating chefs like Andrew Le, Mark Noguchi, Jon Matsubara and more. Since Empty Bowl only happens every other year, it often sells out and can be a riot. But when your recipient finds a bowl that speaks to them, you'll be in their thoughts every time they eat something delicious from it.
Where to buy: Online at emptybowlhawaii.org
Cost: $25 early bird til Jan. 2, $30 til March 30, $35 at event on March 31
– Thomas Obungen